Smart Systems
Smart systems (such as smart cities or smart grids) make optimal use of all the interconnected information and agents available to more efficiently optimise the use of limited resources for the benefit of society.
Today, more than half of the world's population live in cities. By 2050, urbanisation is forecast to be a whopping 70 percent and rising. Here in Aotearoa, Auckland's population is forecast to grow to about 2.3 million by 2043. Those New Zealand businesses that find ways to make cities smarter and better connected through data and IT will reap the financial and environmental rewards of solving urban density challenges. Traffic congestion is but one of the vexed issues that will gain.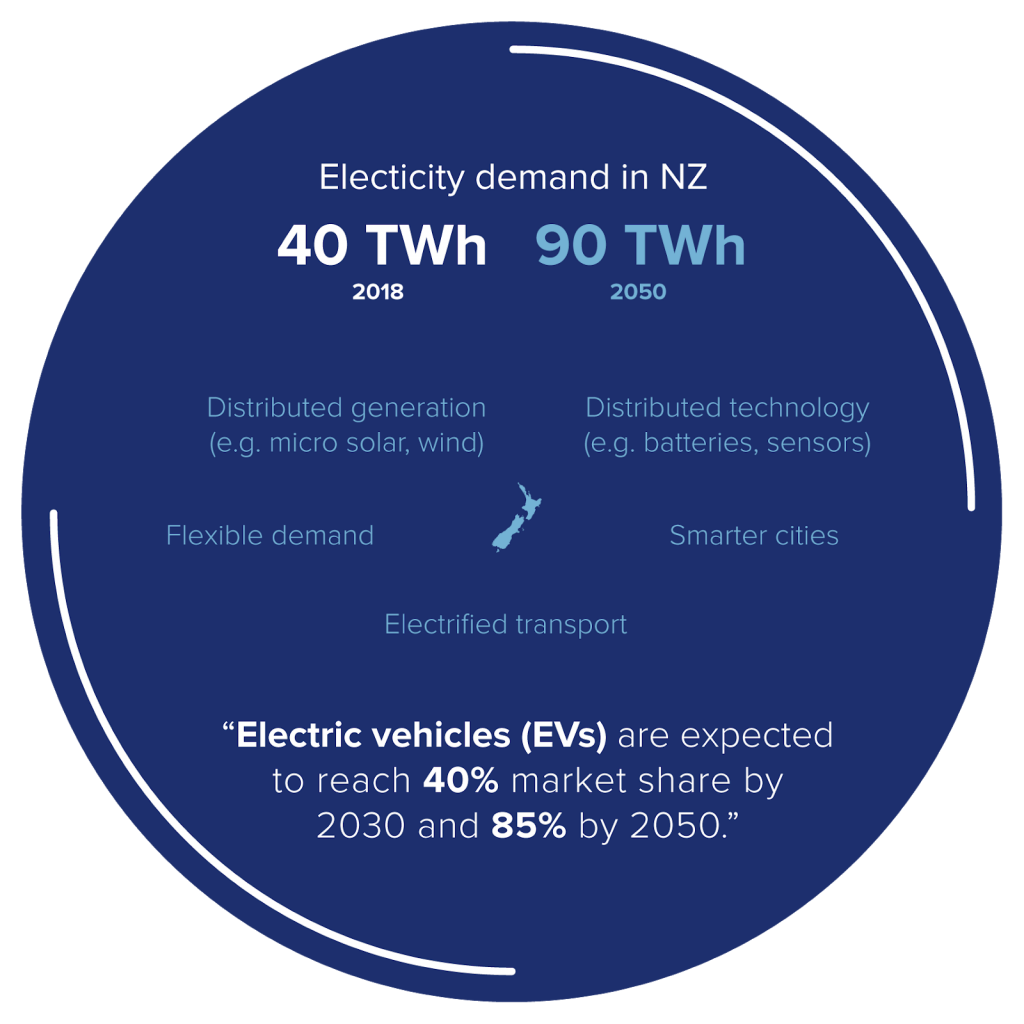 The International Data Corporation has previously commended New Zealand for "demonstrating the economic benefits of turning smart city technologies into tangible solutions". However, they forgot to mention the amount of work New Zealand has yet to do. Smart cities have fast become an international norm: Vienna began its smart city plan in 2011 (already, it's saved an estimated $248 million); Vancouver launched its plan in 2013; Singapore's Smart Nation initiative came online in 2014. In 2018, Auckland (which ranked 48th in the latest Top 100 Smart Cities Index) couldn't even get the word "smart" into its 10-year budget plan. If New Zealand is serious about forging ahead at the forefront of the city-centric world, the difficult questions concerning urban productivity, sustainability and efficiency must be answered today. In particular, the energy efficiency question (and opportunity) continues to be ignored to New Zealand's detriment, and with it, the potential to reduce its emissions, enhance energy security, and increase productivity. As with other smart opportunities, enhanced energy efficiency would do well by starting in a city.
Designing for and implementing a renewable energy grid — and in turn, economy — over the next two decades will take improved smarts too. For example, by implementing industrial demand-side responses, energy storage and communication technologies, we can meet our 100 per cent renewable vision and lay the groundwork for the mass uptake of electric vehicles (EVs), distributed solar and battery storage. The potential savings could be huge: by acting now, we could save billions by 2050. The Te Mauri Hiko project by national grid operator Transpower estimates that around a quarter of future electricity generation will be distributed — mostly solar photovoltaics located on residential and commercial buildings. Horizon technologies and flexible demand could make that proportion even higher. Transpower estimates that the existing core transmission network could handle nearly 2 GW of grid-connected solar capacity in addition to current generation and demand. But as we more than double electricity use to 90 TWh by 2050, more capacity will need the support of smarter capacity.
A smart systems strategy will make the future possible: managing a higher proportion of renewables while maintaining security of supply, distributing energy generation and preparing for the growth in EV ownership. It can also lay the infrastructural foundations for New Zealand's future position as a world leader in low-carbon transport and electricity generation.
The 2018 updates to our original Advantages were written and designed by John Lang, founder of Consult Climate.

Reference:
Transpower, Te Mauri Hiko – Energy Futures, 2018