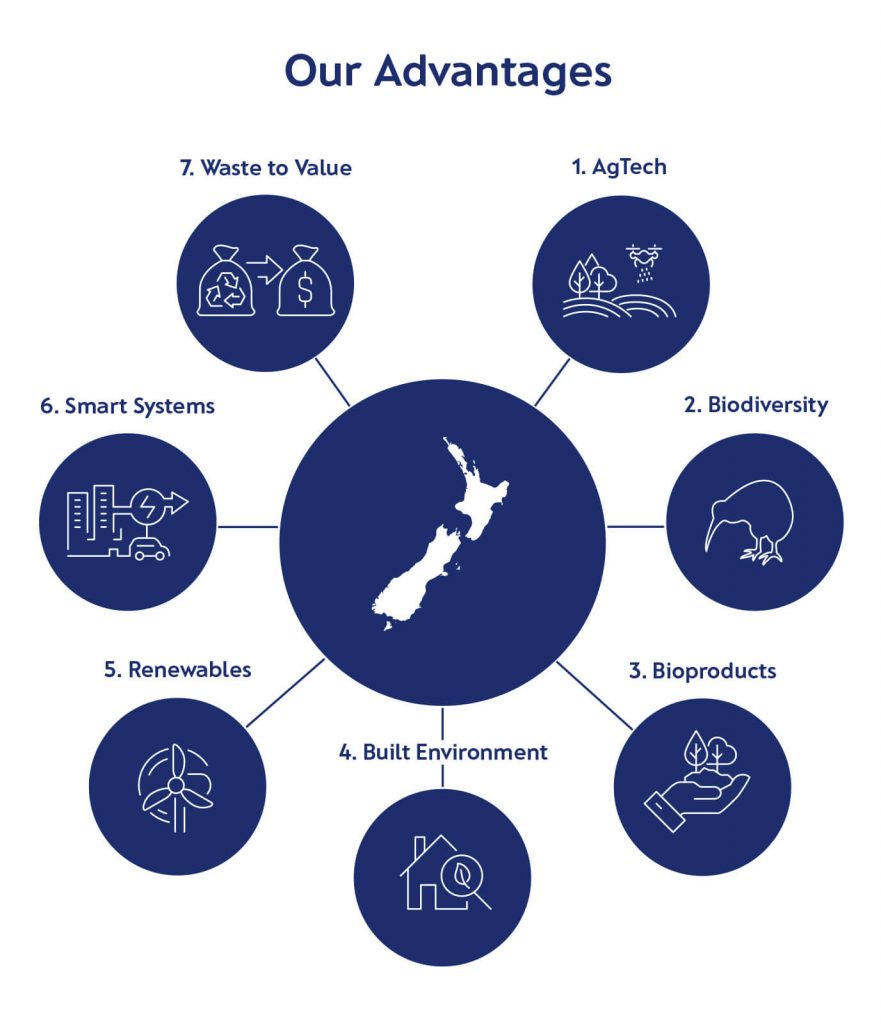 Spirits were high when we released our macroeconomic report Green Growth: Opportunities for New Zealand. It was November 2012. In collaboration with Auckland University and Vivid Economics, we'd just identified and prioritised our competitive advantages. The government established Callaghan Innovation two months later. Suddenly, New Zealand had a renewed greenprint and an engine of innovation that would allow us to embrace the biggest economic opportunity since the Industrial Revolution. Invigorated, Pure Advantage began marshalling the conversation: unleashing sustainable innovation would generate a wealthier, greener and more resilient New Zealand — a country that was better. For our people, and the world.
But proactivity and advantages only get you so far. As we prepare to enter the twenties, New Zealand has lost its lead. In 2006, we were first in the world for environmental performance. Now we're 17th. In 2011, we were first in the world for green economic performance. Now we're 24th. Visions for infrastructure and investment have fallen short. Innovation is down, productivity is below OECD par, high-tech exports as a percentage of total trade have fallen and climate change performance has been found wanting. Still, real progress has been made. Most encouragingly, the sands of public and political opinion have shifted, in many cases irreversibly. For example, the 2015 Paris Agreement put wind to the sails of the $20 trillion investment opportunity in low-carbon technologies globally. The Zero Carbon Act is about to put wind to those sails in New Zealand. It is in this context that our advantages must be put to work.
Pure Advantage has reflected and reevaluated. We expect our seven advantages to continue to guide us, but they must do more — and a little less. Let us explain. Like all good conversations, the green growth opportunity has had to answer to change and respond to questions. Pure Advantage projects like Net Zero New Zealand, Our Forest Future and our upcoming work on Impact Investment were commissioned to do just that. They, like other Pure Advantage projects, have emerged to move New Zealand's global conversation from a focus on what makes us good to a broader one about what will make us great. Our advantages will always guide our approach to driving the conversation, but, let's explicitly note, they will never constrain us from moving beyond those advantages and into a truly clean green future.
When Pure Advantage first selected the signature seven, we based them on a set of empirical criteria. That criteria still stands. But we've added two more to keep apace with our changing world. New Zealand's seven pure advantages were originally selected for their ability to:
Deliver the '

triple bottom line

' of economic growth, social resilience and environmental performance

Secure success

irrespective of government support or policy change

Go

above and beyond

the ambitions of other New Zealand organisations

Succeed independently

from other initiatives influence (i.e. to operate as stand alone initiatives if necessary)

Advance global green growth

trends alongside New Zealand's unique economic and environmental profile

Respect Te Ao Māori

and the principles of the Treaty of Waitangi, especially

Kaitiakitanga

(protection, guardianship and stewardship)

Meet the 'reality check test' of implementation. In other words, they had to be

practical
Return commercial profits

to those bold enough to lead, but at the same time, be

distributive

so that benefits could be shared more broadly with all New Zealanders.
As we prepare to hit the twenties, we've added their ability to:
Support New Zealand's transition

to a net zero carbon economy

Be

responsive

— to be dynamic and reviewable as circumstance dictates.
It's not good enough to simply rely on our advantages to prop us up in an exponential world. By 2030, the world will see a 50 per cent increase in energy demand (IEA), a 50 per cent increase in food demand (FAO), and a 30 per cent increase in water demand (IFPRI) — all while climate change turns up the heat politically, socially and climatically. This perfect storm provides enormous commercial opportunities for New Zealand — like we've never seen before. But don't just take our word for it. According to the latest FTSE Russell stock indices, the green economy is growing; the fossil-fuel market is shrinking. The global green economy now represents a total market capitalisation of ~$54 trillion (similar in size to the fossil fuel sector) with projections pushing that figure to $90 trillion as green investment accelerates.

So New Zealanders, please help Pure Advantage become smarter skippers by joining this conversation. Let's draw upon and nurture our pure advantages more — every one of them — to allow safe passage into unchartered waters. But at the same time, let's stay vigilant to future challenges and be prepared to tack before the seas get choppy. Like you, we want to see New Zealand take back its lead in the biggest economic race ever — and embrace its myriad opportunities. The world is transitioning. So too, are we.
The 2018 updates to our original Advantages were written and designed by John Lang, founder of Consult Climate.