Just over a year ago, Pure Advantage published an opinion piece entitled First World Travel, Third World Facilities. In it, I argued that the long-distance bus industry could play a small, but important, role in reducing New Zealand's transport carbon footprint. It highlighted key factors which hinder greater use of this transport mode. A version of this article was then published on the Greater Auckland transport site, a blogging and discussion website aimed at improving public transport, primarily in Auckland. Both posts generated extensive, informed feedback. This was then incorporated into a Working Paper which considered some possible policy responses. 
So, has anything happened to improve long-distance bus travel since the publication of this opinion piece?
In the lead up to New Zealand's 2017 election, no political party had long-distance bus travel high on its agenda. Rather, the development of rapid rail joining up Auckland, Hamilton and Tauranga received the lion's share of attention. Following the election, many New Zealand public transport advocates welcomed the change from a National to a Labour led coalition government as potentially offering more support for carbon-reducing public transport. The recent release of the Government Policy Statement on Land Transport places a new emphasis on rail, public transport, regional links and carbon reduction.
While there is no denying the potential of rail to provide high quality, rapid transport between cities, the required infrastructure upgrades mean that it will be many years before such services are operating, even if fully supported by the current government.
So, in the meantime, can improved bus services compete with air and car travel in New Zealand's Golden Triangle? Certainly, travel by long- distance bus is a carbon bargain, but can it also be efficient and pleasant?
In relation to air travel, Air New Zealand's withdrawal of services from some regions – most recently Kapiti – has led to extensive public debate. There is even some suggestion that regional air services should be taxpayer, or ratepayer, subsidised. But, the concept of subsidising air travel – more often undertaken by the better off members of society –  appears to be at odds with governmental goals to reduce the national carbon footprint and to promote social equity.
First, let's consider the Auckland, Hamilton and Tauranga transport triangle. New Zealand's two main long-distance bus companies –  InterCity and ManaBus – already promote long-distance bus travel as a means of reducing carbon emissions:
'[i]ndependent assessments indicate that a visitor to New Zealand will create a 90% lower carbon footprint if they use InterCity transport services than if they drive themselves in a modern 2.0 litre rental car.'
A New Zealand carbon calculator allows more independent local calculations to be made. For the Auckland to Tauranga trip, emissions per person are estimated at 41 CO2-E(kg) for air travel and just 7 CO2-E(kg) for coach travel.
Carbon emissions per person for a flight between Auckland and Tauranga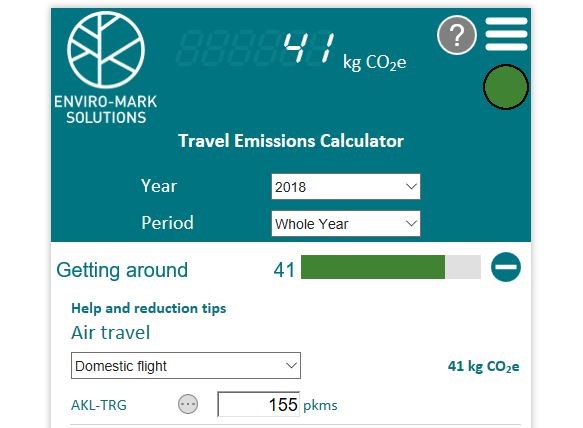 Electric propelled aeroplanes or air travel that is fuelled primarily by biofuel may become common in the future. But our national carrier, Air New Zealand, does not expect any major breakthrough anytime soon. Instead, travellers are encouraged to use carbon offsets, with these generally regarded as the main strategy for carbon reduction.  In contrast, trials of long-distance buses and trucks using either electric motors or hydrogen fuel are already taking place.
London transport planners aim for the central city to have all double-decker buses running as hybrids by 2019 and, by 2020, for all single-decker buses to have zero exhaust emissions. By 2037 at the latest, it is anticipated that all of London's 9,200 buses will have zero emissions. While the goal of zero emissions represents a greater challenge for long distance than short distance travel, the New Zealand long-distance bus industry could signal that it is investigating a switch to low carbon fuel options. Already, diesel buses in New Zealand can potentially use biodiesel produced by the local Z biodiesel plant. So, the potential exists for the carbon benefits of bus travel to increase significantly.
A London hydrogen fuelled bus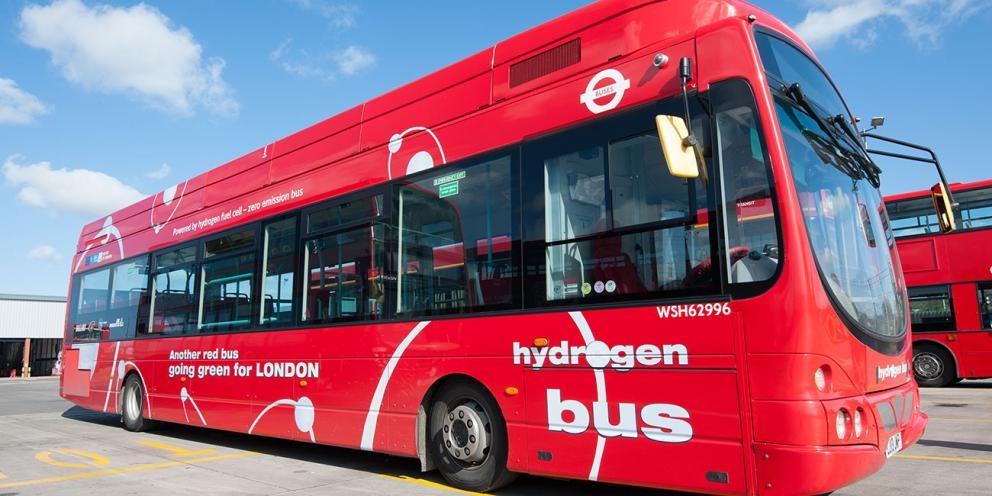 But are long- distance buses simply too slow for the average traveller? Currently, one can travel from downtown Auckland to downtown Tauranga by InterCity or ManaBus bus; a trip that is estimated to take three and a half hours. This is obviously much slower than the estimated flight time of 40 minutes. But, if coming from downtown Auckland, additional time is required for: transport to Auckland airport; the check in process; and travel to Tauranga from the Mt Maunganui based airport. These unavoidable, non-flight times significantly narrow the time gap between these two modes of transport.
Unless one charters a plane, there are no direct flights between Hamilton and Auckland.
As far as trains go, the Northern Explorer – which runs between Auckland and Wellington, with a stop in Hamilton – runs only three times a week from either direction. This is not a practical alternative for many people. It is also quite expensive.
Depending on the time of day, the estimated travel time between central Hamilton and downtown Auckland for ManaBus or InterCity is anywhere between two and two and a half hours. The AA travel time calculator puts the driving time at one hour 37 minutes. So, the time gap between taking the bus and driving is not that large.
Already, InterCity has developed a regular, direct bus service from Central Hamilton to Auckland International Airport that takes an estimated one hour 45 minutes.
The development of a fast train service between central Hamilton and central Auckland (or Auckland airport) with regular departures would require significant infrastructure investment if driving or bus service times are to be improved upon. So, while rapid rail is a worthwhile goal, travel between these three cities is unlikely to be by fast train in the immediate future.
Could travel time by bus between Auckland, Hamilton and Tauranga be reduced further still? Long-distance buses, especially express coaches, can make use of newly completed or soon-to-be completed Roads of National Significance. But one current drawback of using highways is that buses are caught up in any traffic jams coming in and out of cities, with Auckland being an obvious example. Although it might be challenging to achieve, the creation of bus lanes during congested times to allow faster travel times via the use of new technology may be possible.
Technological innovation also offers greater choice over transport connections. When you arrive at your destination and need to travel further locally, in addition to catching a local bus or a taxi, you can now hail an Uber cab or perhaps hire an electric car. Buses could also be better designed to easily carry bikes so there is another transport option on hand when reaching a destination.
In my original blog, one of the issues raised was the lack of a good quality, downtown long-distance bus depot in Auckland. I also argued that the Manukau bus stop was of poor quality. Feedback on this blog pointed out that many countries have adopted a model for low cost, long-distance bus travel with departures taking place on mid-city streets, thereby eliminating the need for depots. If New Zealand is to adopt this approach, then, at the very least, all our major bus companies should depart from/arrive in the same part of town to allow for easy transfer between services. Also, good quality toilets and, ideally, café facilities ought to be accessible at these departure/arrival locations.
Until early October 2017, the ManaBus 'terminal' was located in downtown Auckland. This 'terminal' consisted of an unsheltered bus stop located in Quay Street opposite the Ferry Building (approximately 1km from the InterCity stop). The Auckland pickup/drop-off point for ManaBus is now 115 Mayoral Drive – which is close to many hostels – including the YHA. Google Maps show ManaBus' location as approximately 0.9km from the InterCity depot and not on a flat route, so transfers between these long-distance bus companies are potentially difficult, especially for elderly or disabled people. Both InterCity and ManaBus' 'terminals' are a long way from the Britomart train station.
A contrasting, but expensive, model involving investment in high quality, downtown bus depots has been adopted in some overseas cities, for example, the city of Adelaide in Australia.
Adelaide bus station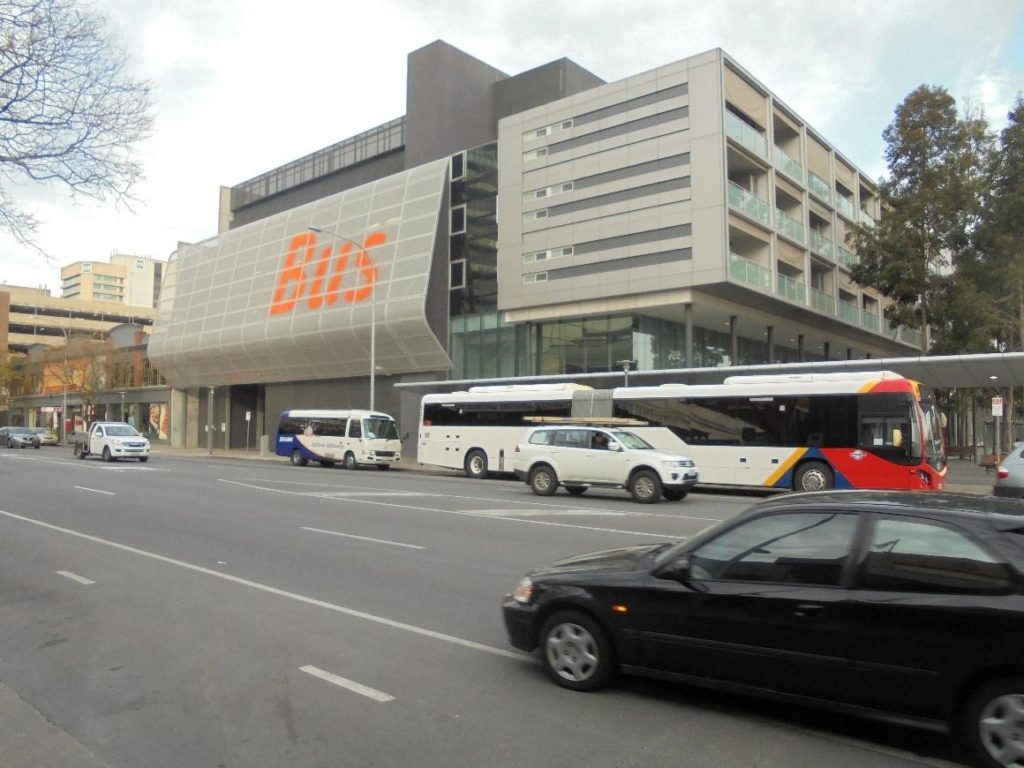 Similarly, in South Auckland, the completion of the new bus station at Manukau represents a significant gain. This bus station serves to link long-distance buses to the local bus network while being conveniently located next to the train station.
Manukau bus station: Auckland Transport
But also needed are good quality bus shelters in smaller centres. In an ideal world, these would be heated; no one expects to wait for a flight in an unheated air terminal. However, innovative solutions may sometimes be required – such as designated waiting points at cafes or country pubs – with the buses' arrival signalled via electronic devices, including on Smartphones. The construction of a simple bus shelter would represent a good start in many areas.
InterCity stop Paekakariki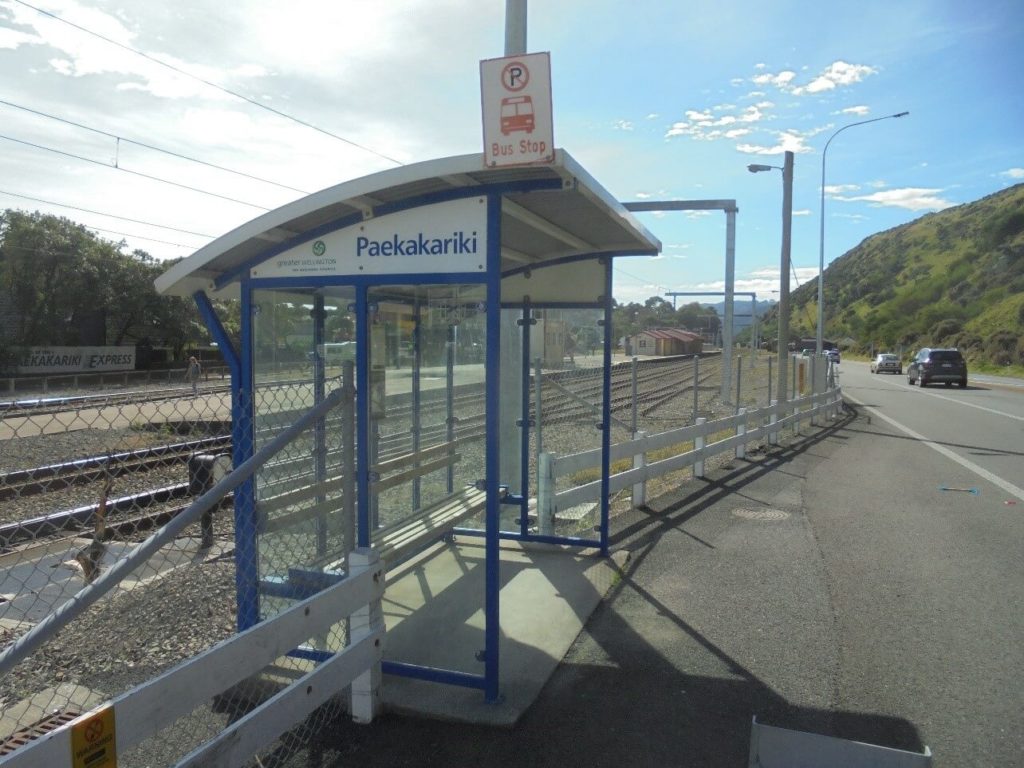 Improved coordination between modes of transport is often required too. In the lower North Island, many bus stops are next to railway stations, but not in Palmerston North. So, if someone catches the early morning Capital Connection train from Palmerston North to Wellington and parks their car (or bicycle) at the station then returns mid-afternoon or late evening by bus they will be dropped off in the city centre, some distance from the railway station. It would surely make sense for buses to incorporate a small diversion from their normal route if passengers wished to be picked up or dropped off at the station. Across New Zealand, these types of integrated travel options should be the norm.
Linking some bus routes to regional airports also needs to be considered as part of the policy mix. Not all small centres can provide economic support for regional airlines. But improving bus links to a bigger centre may help remedy the withdrawal of some air services. For someone setting out on a European holiday, a bus trip to the nearest regional airport would not add a significant amount of travel time overall.
But what about personal mobility, especially as New Zealand's population gets older? Many buses still require people to board via steep steps. In an ageing society, investment in buses with wheelchair and wider disability access is critical. Designing buses that allow easy access for people who are confined to wheelchairs or who are mobile but have difficulty walking up steep steps should be achievable.
The ManaBus website states '[t]he majority of ManaBus.com coaches have low access and an extendable ramp. This allows off-the-curb access for wheelchairs. Each coach also has three downstairs seats available for less mobile passengers.' InterCity merely states that it can carry wheelchairs or mobility scooters if they are collapsible and able to be stored in the luggage hold. This appears to rule out those passengers who are unable to leave their wheelchairs easily and require assistance to board and disembark the bus.
Overseas examples of a commitment to carrying disabled passengers can be found. For example, in Germany, there is a future requirement for all long-distance coaches to be equipped to carry at least two people in wheelchairs.
Closer to home is the example of Queensland, Australia. According to Bus Queensland, its long-distance coaches are designed to carry wheelchairs; its drivers 'are trained in the use of the wheelchair lifts to ensure passenger safety'; and the carer of a wheelchair bound passenger 'will travel free of charge'.
Bus Queensland wheelchair hoist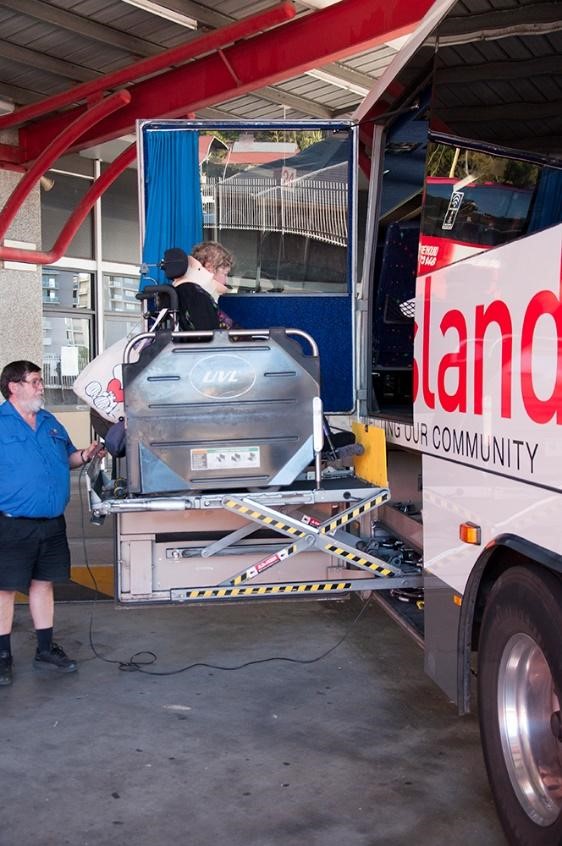 Should all long-distance buses have toilet facilities on board? Some bus companies appear to have decided this is not part of their marketing strategy. Bus companies with young people, including tourists, as their target market tend to have on-board toilets and fewer stops. Many passengers, particularly the elderly and disabled, experience difficulties using on-board toilets when the vehicle is 'in motion'. But if buses do not have on-board toilets, then two factors are important: regular stops and, at each stop, good quality toilets. My own journeys suggest that many drivers deliberately 'ration' toilet stops, often creating much physical and psychological discomfort among travellers. 
But exemplary models also exist. I have travelled on a bus between Palmerston North and Auckland where the driver's stated target of a toilet stop every hour and a half was achieved with the service remaining on schedule. A voluntary code of practice needs to be developed that ensures all long-distance bus companies are committed to a regime of regular stops. These must be regarded as a traveller's right rather than as a 'favour' as currently appears to be the case. If bus companies are unwilling to accommodate regular stops, then such a requirement needs to be introduced as part of their transport licence.
Providing good quality 'off-bus' toilets and bus shelters is costly. Small communities struggle to provide good quality infrastructure to support tourists and other travellers, as witnessed in debates over who pays for facilities at campervan sites. Infrastructure subsidies often go to recognised major tourist areas so, in places where tourism offers little or no direct return, small communities often have little incentive to fund infrastructure. Unless passing buses stop for café food or other retail services, the provision of a toilet for passengers creates a cost for small communities but no direct revenue. Central and regional government therefore have a role to play in providing this much needed infrastructure.
From both my own and others' reported experiences, improved driver training is also required if long-distance bus travel is to become a more attractive travel option. Customer comfort, including the importance of regular toilet stops for those buses without on-board toilets, needs to be prioritised in driver training requirements.
Then there is the issue of booking fees. Consumer New Zealand recently focused on booking fees that add an unexpected cost to purchased services. New Zealand's two main long-distance bus companies charge these fees, including as part of an automated booking system. For short distance travel, booking fees can be a significant proportion of the ticket cost. With an automated booking system, it is also difficult to see how these fees can be justified.
Clearly, buses are unlikely to become the preferred option for 'time-poor' people travelling long distances between main centres. Ideally, the use of carbon offset schemes for the privilege of using this high emission mode of travel will be encouraged. But, if bus services significantly improve, they would represent a more appealing option for: people who wish to reduce their carbon footprint when travelling shorter distances; people in more remote regions where airlines cannot economically service the area, and long-distance travellers with little or no time pressure.