This year during Global Entrepreneurship Week, in the spirit of celebrating all that New Zealand has to offer, Pure Advantage have teamed up with Kiwi Connect and the Edmund Hillary Fellowship to promote some of the incredible work that is being done in the green growth and clean-tech space in New Zealand, and showcase the opportunities that exist here.
With small test populations, a spirit of resourcefulness, business friendly regulations and a beautiful natural environment to protect, New Zealand is a perfect place to develop and incubate clean-tech and green growth ventures. We were also recently named the #1 place in the world for the ease of starting a business, so no excuses for not getting into it!
This week, we'll be bringing you stories of entrepreneurs working on innovations relating to energy, food production, freshwater protection, marine environments and the built environment.
New mini underwater robot offers fresh opportunities to explore underwater environments.
Only in New Zealand would three potential competitors meet randomly out on a lake far away from the office, get chatting and then to decide to collaborate and build something great together.
An innovative New Zealand developer and operator of mini-HROVs (Hybrid Remotely Operated Vehicles) is creating waves with its new offering to the market. Boxfish Research, a boutique Auckland-based company, provides sophisticated and accurate means of collecting live video, data, samples and measurements from underwater environments that may have been previously inaccessible. Their powerful new tool, the Boxfish HROV, combines the functionality of a traditional ROV and AUV (Autonomous Underwater Vehicle) in one portable package. It offers tremendous opportunities for scientists, cinematographers, explorers and educators – just some of the potential market.
"I'm a cave diver and my motivation for developing our submersible was to gain more access to caves and to help source more information about underground streams," says Axel Busch, one of Boxfish Research's three founding partners. "So little is known about how we affect the water and, conversely, how it affects us. As a diver I've really noticed changes and reductions in the types and numbers of species in the water in recent years. As our population increases our negative impact on our underwater environment also increases. We are enabling scientists to precisely calibrate the scale and nature of this impact."
Boxfish partner Ben King previously spent years developing medical equipment.
"I want to apply the same principles to geological or biological services to expand the capabilities of what scientists can achieve," he says.
The team believe there is is a significant market in New Zealand for their technology. "There's no competition in New Zealand for a similar locally made product,' says Ben. "Even internationally it is unique."

Axel and Ben and fellow technology industry veteran Craig Anderson, have very complementary backgrounds and expertise and share a passion for conservation, exploration, underwater video – and diving. They met by chance at Auckland's Lake Pupuke in April 2014 when they were each testing early versions of their individually developed underwater devices at the same time. The three recognised each other as kindred spirits, and after heading off for a coffee decided they were better off combining their skills and expertise to create a cutting-edge mini submersible.
The roles of the three partners overlap.
Ben is a creative inventor, mechanical engineer, bicycle explorer, Médecins Sans Frontières

volunteer and diver, responsible for the mechanical design and waterproofing.

Craig, an electronics and software entrepreneur, communications expert, technical diver and sailor, guides the R&D effort and focuses on electronics and software.

Originally trained as a physicist, Axel is a data scientist and software entrepreneur, videographer, mountaineer, technical CCR (Closed-circuit Rebreather) diver and solo sailor. He focuses on business and communications, and overlaps in software and the mechanical area.
The team set their sights on building a high-quality and long-lasting robotic underwater vessel and a 360 spherical camera to provide their target market with a user-friendly way of capturing video and data.
"We focused on a mini-HROV because we wanted to create a device small enough (30kg) to be operated by one person in a small launch, controlling and directing their own data sourcing or filming," says Axel.
"Two features of our HROV that are exclusive are the control system and the 360-degree vision. That's our head start – we need to maintain this advantage."
"The unique dynamic stabilisation of the Boxfish HROV provides an exceptionally stable platform for filming," says Craig. "And because the Boxfish can move so precisely, it also offers significant opportunities to shorten the time required to accomplish many underwater tasks that are now being carried out by divers."
The company's name was inspired by the underwater environment in which they operate. Members of the boxfish family (Ostraciidae) are known for their exceptional stability in turbulent waters due to their unique shape.
"I'd seen boxfish when diving. The shape of our prototype evolved naturally, resembling a boxfish, sharing the same qualities of exceptional stability and manoeuvrability, hence the product name," says Axel.
Their major task was to construct a product at the right price capable of delivering the required level of video quality and providing accuracy in control and collecting of samples. They wanted to source materials responsibly and to manufacture in New Zealand.
Research and development of all critical mechanical, electronic and software systems has been carried out in-house. There's no local company manufacturing many of the more specialised off-the-shelf components, such as fibre-optics and sensors, and these have to be sourced globally. After two years of intensive R&D, Boxfish arrived at a successful prototype ready for market. The Boxfish 360 spherical camera is the first offering that has now entered production, with the Boxfish HROV to follow soon.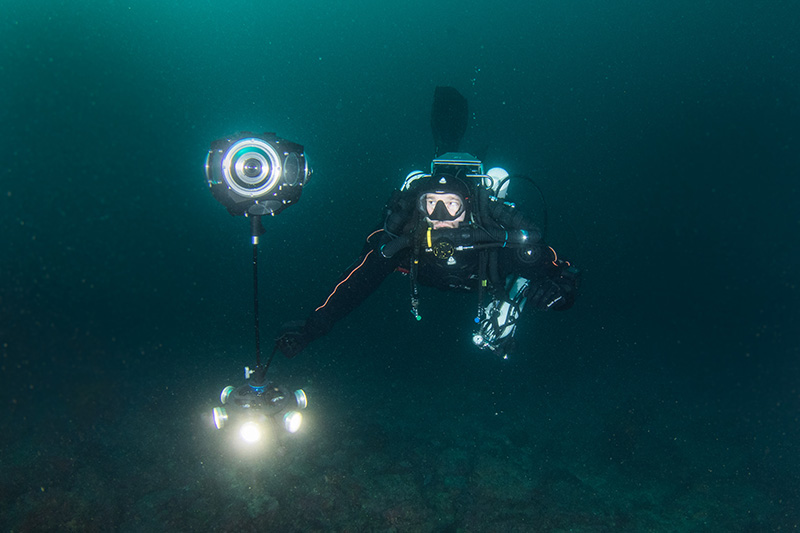 Practical applications
The company has received enquiries from marine farms whose resource consents may need to be renewed by 2024. Increased seafloor monitoring will then become mandatory. Marine farms could use the Boxfish HROV for inspection of nets and structures, as well as for small repairs. When operated without a tether the Boxfish HROV can be used autonomously to monitor large areas of the sea floor to assess the marine farm's impact, e.g. feed and faeces. With a regular tethered ROV only labour-intensive spot inspections are possible.
The potential
"We see a potential for meeting market demand for compliance with new environmental protection legislation when solutions are being sought," says Axel.
The HROV could be used by museum staff in field research, or by marine biologists, volcanologists or tertiary institutions, for starters. Forums and local bodies responsible for maintaining the health of their harbours could also use the Boxfish to inspect structures or specific areas of interest, tethered with video and sonar, or send it away autonomously to make a map of a large area. That could be a depth map, or it could measure salinity, dissolved gases, turbidity, etc. Such data would be invaluable for these organisations when developing a comprehensive harbour management plan.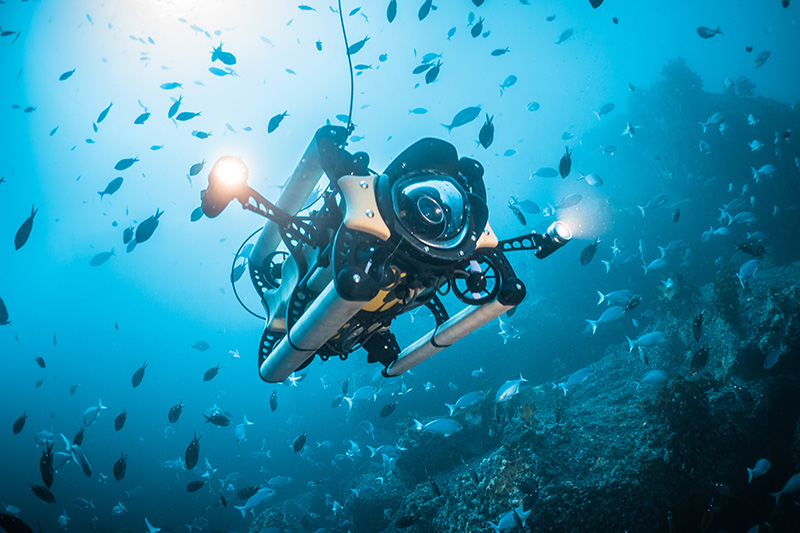 The future
Once the standard model has been established, Boxfish Research envisages developing a number of custom-built accessories to enable their underwater vessels to carry out a wider range of operations, e.g. taking gas or water samples, temperature monitoring, checking salination or oxygen levels. Another example is gas sampling for trace gas analysis for isotype identification to determine the state of a volcano.
Boxfish Research is working with Dr Ian Schipper from the School of Geography, Environment and Earth Sciences at Victoria University, designing a gas sampling system to enable the collection of gases from subsea fumaroles.
Another possible accessory is a plug-in sensor to capture sonar and video imagery for maps charting the ocean or lake floor. Other applications could include search and rescue, e.g. to look for a vehicle on the sea floor.
In addition to adding accessories as the product evolves, Boxfish Research also plans to develop software to evaluate the data collected by the HROV and 360 camera.
"We are the only company with a fully integrated software interface to all components and that's a key point of difference. It makes the whole system much more user friendly," says Axel.
"The HROV is the solid platform. After we have gained more exposure to market we can focus on accessories. Initially our focus has been on perfecting the standard model," says Ben.
The company's goal is to become the preferred provider of mini-HROVs for science, exploration and filming. The fledgling company's big challenge will be to move quickly enough and develop sufficient capacity to exploit the market potential here and abroad.
To date their enterprise has been self-funded, but they are fully aware that at some point external investors will be required.
Another challenge faced by the company, as with any New Zealand operation, is its remoteness from global markets. On the other hand, being small and nimble also has its advantages.
"New Zealand is a special place in which to develop innovative technologies," says German-born Axel. "Here there are just two degrees of separation. If you need to find people to collaborate with, it's pretty easy."