From Fencepost to Skin Care and Animal Health – How one Kiwi biotech company is en-route to transforming the global natural health care paradigm.
Gnarly old fence posts aren't exactly the first things that come to mind when conjuring up the next greatest idea for going global in biotech. Nor is the humble tōtara tree, a mythical NZ native the Maori typically prized for its long lasting qualities as a timber. But for two smart Kiwi entrepreneurs, Doug Mende and Reinhard Hueber, the brains behind the Wairarapa based healthcare company, Mende Biotech Ltd, the idea of a wood that refused to rot, despite reaching up to 1000 years in age, sowed some very real seeds of commercial inspiration.
Mende Biotech is the first company in the world to develop, commercialise and trademark Totarol™- a powerful, naturally occurring and organic antimicrobial chemical compound extracted from recycled Tōtara heartwood.
Resembling a fine, yellow reddish powder, the compound is scientifically proven to provide protection against a raft of human and animal skin bacterial infections such as acne, tooth decay and penicillin and methicillin resistant strains of staphylococcus aureus (a nasty type of bacteria commonly found on the skin). Today, following over 15 years of extensive bio medical science R&D and rigorous product and process testing, Totarol has wide spread application across the cosmeceutical and dental sectors. Toothpaste, haircare and anti-acne cream are among those on the growing list of products now using Totarol as a natural, organic and active ingredient to cure their customers' beauty woes.
The idea for Totarol sprouted more than 15 years ago when founder Doug Mende noticed after reading in a newspaper, how compared to other wood, Tōtara trees were able to live for up to 1000 years free from microbial attack and produce top quality, durable wood long after other NZ timbers had rotted away. At the same time research on commercial qualities of Tōtara wood was also being conducted by Industrial Research Ltd (now part of Callaghan Innovation) and Mende was busy taking note. Seeing the huge potential in the compound he approached Hueber (his now business partner), a long standing entrepreneur in the NZ tourism industry, with decades of international marketing experience to help transform the Tōtara's magical, medicinal qualities into a viable process and product for commercial use they could sell to the world. The two have been busy ever since.
At face value, Totarol mightn't seem cheap. Sold as a commodity, predominantly in powder form, Totarol fetches between $1350 and $1700 a kilogram on the market. But the amount needed to give health and beauty products a strong boost of health giving properties is minuscule. 0.2% into formula co-founder Hueber says. In other words, a little bit of Totarol goes a VERY long way. The company has also developed a liquid formulation for customers who require the ingredient for water soluble product ranges but Totarol powder is still the preferred option for customers. "In the end because the product is just so incredibly active, it is reasonably cost effective and, of course, a valid alternative to the nasties used at the moment."  Totarol's naturally occurring preservative qualities make it a perfect organic alternative to chemical, synthetic preservatives, commonly loaded into our everyday cosmetic and health products marked as "natural" yet which are potentially hazardous to our health.
Customers seem to agree. L'Oreal is one of the company's biggest customers and other premium global cosmetic manufacturers specialising in natural botanical-based personal care and cosmetics such as Kiehl's (USA), Vichy (France) and Jurlique (Australia) are among Mende Biotech's steadily growing customer base. More locally, New Zealand's own Red Seal, Snowberry, Living Nature and Ozospa, a new player on the block, are transforming the global personal care and oral care sector with Totarol's natural and holistic alternatives across their respective natural product ranges.
And thanks to growing global market demand for organic and natural alternatives to chemical ingredients and extraction methods, interest in Totarol is steadily on the rise. For 2016 sales forecasts for Totarol rose 130 per cent due to increased demand, and for the first time since 2007 oral care will overtake cosmetics as the biggest use for Totarol. Hueber also says the company has sizeable international companies, including one of Korea's leading cosmetic manufacturers, examining Totarol, who are presently in the testing process.
Mende Biotech is a fine example of a Kiwi company riding the wave of the increasingly lucrative and growing natural health sector, while slowly but surely growing a high profit potential company.
It has all the text book characteristics of an emerging company NZ needs to breed more of. A recent survey by Natural Products New Zealand indicates that New Zealand's natural products industry alone (comprising functional foods, complementary medicines and cosmetic products with medicinal properties) contributed an estimated $1.4 billion annually to the local economy in 2015. A 40 per cent increase in just five years. So it's safe to say the future outlook looks prosperous for this small yet innovative Kiwi company, and any other company adding value to this broader sector.
But what makes Mende Biotech a cut above other cosmetic companies leveraging the power of flora derived naturally active compound in the health and beauty industry, is the fact the company has developed a novel, patented, super critical CO2 extraction process, making it the only company in the world that can extract and sell Totarol as an 'organic' ingredient for use in cosmetic, food and health products. "Other companies can still use the solvent method (for extracting Totarol) but they couldn't then sell it as a certified organic product."
Hueber says since all wood (including Tōtara) that leaves NZ has to be chemically treated, their process is the only way you can make organically certified Totarol and claim it to be organic in the product it's used in. Boding well for the duo particularly given the growth in demand for natural and organic products worldwide continues its ongoing ascent. Hueber adds that additional advantages of its patented super critical extraction (SCE) of CO2 method include its ability to produce higher yield of product and the fact that it is a relatively "green" processing technology that recycles all CO2 used in the extraction process. More wins for the company. The process has enabled the company to keep competitors at bay and finally reap the rewards of the ongoing investment that its founders have poured into the business – totalling more than NZD$3 million to date.
Beyond beauty, teeth and pimples.
Mende Biotech's commercialisation of Totarol is a perfect case of how the clean green essence of NZ, when merged with biotech can become a major disruptive and competitive player in some of the world's most lucrative industries in desperate need of sustainable, organic and healthy alternatives. With momentum gaining on the international stage, the company is now looking at new ways of using Totarol to shake up the animal health industry – another huge market starving for natural alternatives backed by world first science and technology. Another smart move in light of global trends. Reports by Animal Health Global Analysis indicate the animal health sector in 2014 alone had a valuation of US$ 32.08 billion and by 2020 this is projected to reach 43 billion.
Seeing this potential value, Hueber says the company is currently busy undertaking significant new research in the animal health sector and is partnering with Masterton based veterinary organisations and surgeons to develop a range of Totarol based animal products to treat mastitis and metritis infections in cattle. "New Zealand has huge challenges for treating mastitis and Totarol offers an alternative to traditional antibiotics for both animal and eventually human use". So far the research partnership has yielded promising results. Leading Masterton Veterinary Orthopedic surgeon, Dr Heidi Ward- McGrath, trialling the new product, is singing its praises and its efficacy over traditional antibiotics. "Antibiotics acting in the body, they can have a lot of side effects. Totarol is a bio active and acts in a different way in the body than antibiotics do. Totarol is anti- inflammatory and antimicrobial – but it's also antigenic. It speeds up the way the body heals the tissues".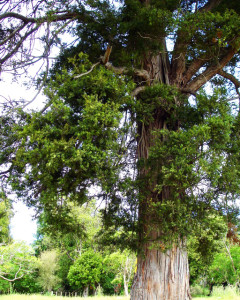 Farmers trialling the product also say the beauty of using Totarol in natural treatments for livestock with skin infections contracted from the paddock, lies in the fact that applications provide an effective long lasting barrier against and treatment for infection, even in the smallest of quantities, since the product doesn't degenerate. "I believe that's where the product needs to be heading. It's one thing to fix eczema in small animals. But if we can provide a solution for mastitis that is organic, that is a natural new product and that acts in a completely different way, without relying on antibiotics, then that's got to be a winner for NZ".
Although Hueber says the company has yet to dip its toes directly into the realm of human health, if Totarol's preliminary results in animal health are anything to go by, then the potential for the company to also gain a foothold in the biopharma space is huge. A German company has recognised already that Totarol is an alternative to antibiotics, as it is safe, stable and non-toxic and they are making very good progress with their testing program. It might just be the logical and profitable next step the company needs to sky rocket its growth and success.
A report on biopharmaceuticals released by McKinsey indicates the opportunity in biopharmaceuticals is huge and growing too rapidly to ignore. By the end of 2014, the industry generated global revenues of $163 billion globally and is now by far the fastest-growing sector of the industry with a current annual growth rate of more than double that of conventional pharma. Claiming 2015 to be "a watershed year" for biotech in NZ, the Technology Investment Network  2015 TIN100 Report also highlighted strong growth in New Zealand's top ICT, biotech and high tech manufacturing companies across all major export markets and technology sectors. Gaining a small slice of this pie clearly has the potential to yield rich returns for Kiwi companies like Mende Biotech with the foresight and confidence to enter this space.
Investment Ready
Totarol is a promising case of Biotech meets natural health. But like any small business on the path to growth, Mende Biotech's further market expansion is currently being stifled by growing pains, namely lack of capital. The company is now actively seeking investment to ramp up R&D in new industry verticals and secure additional capital-intensive milling machinery it needs to transform old Tōtara fence posts into Totarol. With the biotech, human health and cosmeceutical industries continuing to boom, securing the right investor has the potential to take the company and NZ's economy to new levels and reap rich rewards for the right investor. Not to mention help to completely redefine the conventional animal and human health care paradigms. A beautiful, profitable and healthy outcome for all, in more ways than one.
For more info visit http://www.totarol.com