Restoration need not cost the earth – managed natural regeneration at Waikereru (Longbush) Ecosanctuary
Some thirty years following destructive Cyclone Bola, an alluvial strip of forest and adjacent steep erosion-prone hill country on the East Coast of the North Island has had new life breathed into it through a private restoration endeavour. Relying largely on natural regeneration processes, the proponents of the project are achieving reversion of marginal pastoral hill country with minimal expenditure within the Waikereru (Longbush) Ecosanctuary. Like much of New Zealand, the landscape is highly denuded and indigenous biodiversity conservation relies on not just protecting what is left, but on regenerating ecosystems and maximising indigenous cover.
Background
Waikeruru, owned by Jeremy Salmond and Prof Dame Anne Salmond for the last 20 years, is located beside the Waimata River, 9km out of Gisborne, and covers 110ha, some of which is very steep hill country. It is managed by the Longbush Ecological Trust for conservation purposes. Ecological restoration can be a costly and intensive endeavour and ways to achieve good biodiversity outcomes with limited budgets will always be popular.

Waikereru was purchased in 2000, and large parts vested under the QEII National Trust shortly thereafter. The site had been significantly deforested from the 1900s for grazing and only fragments of bush cover remained, meaning large swathes of planting were required to sustain indigenous biodiversity.
The vision to re-establish native forest
While pastoral farming interests at the time recommended the planting of swathes of poplars to stablise the slumping hillsides left by Cyclone Bola, the Salmonds eschewed this idea in favour of planting eco-sourced natives from the local Native Garden Nursery as a way of preventing erosion and fostering natural reversion of their hill country. As the foothills were planted with natives, grazing stock on the hillside were progressively removed by 2010 so native regeneration could take place. As is typical of reverting hill country on the East Coast, the steep aspect at Waikereru has been regenerating into kanuka dominant shrubland from wind dispersed seed. 
A small number of fruit-bearing native tree species such as puriri, titoki, rewarewa, totara and kahikatea were planted in clusters of 20-30 trees each along the lower slopes and some are now well established 18 years on. The foothills are accessible and have more moisture and topsoil, and very few of these plantings have been lost, even in drought conditions. While planting of a range of native shrub and tree species has continued in small pockets, this project has largely relied on local native birdlife to feast on the fruits of established native trees and shrubs from both planted stands and local forest remnants, wrap the seeds in nitrogen pellets and distribute them without charge amongst the regenerating kanuka-dominant reverting hillsides, thus saving time and cost of further planting.

Options for restoration
The funding for ecological restoration in the East Coast Gisborne region especially for large scale marginal hillcountry is scarce at best, and a poorly resourced council struggles to provide much in-kind support or expertise. Tāne's Tree Trust have been working for many years with establishment of native forest to meet multiple objectives including reducing erosion and improving biodiversity on steep hill country. Current research by Tāne's Tree Trust includes Our Forests Our Future, a project funded by The Tindall Foundation aimed at demonstrating options for cost-effectively restoring permanent native forests. This includes profiling the work by Jeremy and Prof Dame Anne Salmond at Waikereru in their quest to see the hill country in a diverse native forest cover. 
Options that are being explored and demonstrated by Tāne's Tree Trust for restoring native forest as part of the Our Forests Our Future programme including on steep hill country especially on a large scale comprise:
Allow natural reversion of the unpalatable kanuka and manuka where it can occur in the presence of grazing stock – but for this reason no regeneration of native shrub and tree species that are palatable;

Remove grazing stock to allow regeneration of a wider range of native species that are slower growing and highly reliant on proximity of local seed sources of a diverse range of native forest species for both wind and bird dispersed seeding;

Supplementary or enrichment planting of the reverting kanuka-dominant shrubland with selected native tree species along hand cut lines or in cut gaps which is labour intensive and requires significant maintenance to keep planted seedlings within light wells;

Planting of scattered

seed islands

on accessible sheltered sites amongst the regenerating shrubland across the hill country to provide a great diversity of species for wind and bird dispersal of seed to enhance high forest diversity; or 

For any open sites establishment of native tree groves in large open areas using a nurse cover of early successional shrubland species such as manuka and kanuka to provide initial shelter for developing interplanted native tree species.
Seed island approach
Many of these concepts have been part of the vision and work undertaken by the Salmonds at Waikereru. In particular, planting groups of native trees as seed islands at accessible sites across parts of reverting hill country may be a practical method to supplement seed sources from adjacent bush areas or to re-introduce tree species that have been lost locally or are scarce. 
The aim is to enhance the indigenous biodiversity in a cost-effective way by working with (and supplementing) the natural processes of regeneration and to accelerate succession to high native forest. 
As demonstrated at Waikereru the seed island approach that is currently being evaluated by Tāne's Tree Trust at this site and others is a cost-effective method for large scale restoration of native forest for marginal hill country and includes the following concepts:
Planting groups of single or mixed native tree species in accessible locations across hillslopes or within close proximity to the steepest hills such as along toe slopes;

Select sites 10-30 meters in diameter where establishment of natives is likely to be most successful that may need to be fenced if grazing or pest animals cannot be completely controlled;

Planted groups to include the later-successional high forest species that would eventually assist infilling open areas and increase diversity of kanuka-dominated reverting shrubland across the adjacent steep hillsides;

Depending on the size and characteristics of the planting site available, each

seed island

could vary in size and planted with 10-30 trees;

If the site is particularly exposed, then planting the hardy early successional shrub species such as kanuka and manuka to supplement any natural regenerating kanuka is recommended to provide shelter for interplanted tree species;

Spacing of planted natives within

seed islands

approximately 1.5-2 m apart within each group is recommended with trees interplanted at 4 m apart within a matrix of native shrub species; 

Selection of tree species to be mixtures of conifers and tree hardwoods appropriate to the site, e.g. kahikatea and pukatea on lower slopes and moist flat ground, totara on mid slopes: and

Undertake regular monitoring and maintenance to ensure planted natives within each

seed island

are not being suppressed by aggressive grass and weed growth, or from pest animals causing damage.

Funding and acknowledgements
Funding for the project at Waikereru has been sourced over the years from the project founders Anne and Jeremy Salmond, the Afforestation Grants Scheme, Lotteries, DOC Community Partnerships and others. The trust were early adopters of Good Nature traps and are on their third lot with earlier versions being replaced. 
Recent support has included the Our Forests Our Future programme managed by Tāne's Tree Trust funded by The Tindall Foundation, and support for supply of seedlings by the Department of Conservation's Community Fund as part of Trees That Count managed by The Project Crimson Trust. Planting at Waikereru and ongoing management has been undertaken by Robyn Wilkie and Steve Sawyer of Ecoworks New Zealand. 
Implications of managed restoration model
Ecological restoration is undertaken in a variety of ways and for a variety of reasons in New Zealand. It is important to consider the value and the potential pitfalls of any given approach in different scenarios. 
Managed regeneration holds enormous promise for large scale restoration, particularly on steep country with poor and perilous access. The relatively low cost is appealing as funding is typically limited and can be irregular. 
It will be important to ensure that the use of this approach in a regulatory setting is carefully monitored. The appeal of low cost and low intervention models would be high to those mandated to undertake restoration for legal purposes (biodiversity offsets and other compensation projects for example). It may be that more traditional approaches, with greater checks and balances and greater emphasis on prediction and documentation of outcomes are more appropriate.
Next steps
Upcoming steps are the planting of the next succession of high forest tree species either as seed islands or interplanted in gaps in the regenerating shrubland. The vision of the Salmonds is to set up their groves along the base of the slopes on easily accessible land, where higher fertility, moisture and sheltered sites align to this concept. Planting additional native tree species including native conifers kahikatea, totara, rimu etc and hardwood trees such as rewarewa, titoki, puriri etc will, in time, provide additional sources of these mostly bird dispersed seeds across the regenerating hill sides of kanuka. The kanuka will act like nurse cover to nurture the establishment of a wider range of native trees species. 
A key initiative alongside the planting programme has been sustained and long term pest management. Tackling bird predators has helped boost the bird populations which are the main vectors for spreading the seed for most of the later successional native forest species, plus reducing rodents predating on valuable seed banks building up in the soil. 
---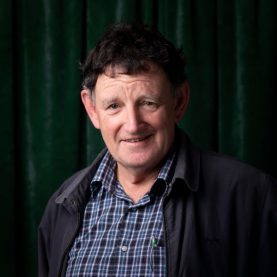 Dr. David Bergin
Dr. David Bergin contributed to this article

David is director of Environmental Restoration Ltd (ERL) where he is a scientist specialising in restoration ecology and promoting the planting and management of indigenous timber species. Until recently he was a senior scientist with the Crown Research Institute Scion with 35 years of applied research experience. David has a long history of research with totara including involvement with the Northland Totara Working Group promoting management of naturally regenerating totara on farmland. He is a founding trustee of both the Tane's Tree Trust and of the Dune Restoration Trust of NZ, and trustee of The Project Crimson Trust.