The home is a central point of focus for much of our daily lives and it's in New Zealand homes that one of the world's newest manufacturing frontiers – nano technology is making a big difference.
The nanofibres that go into SETA ventilation filters are miniscule, yet one of the most effective ways of removing air borne nasties that lurk inside homes.
It's the harnessing of SETA's innovative green technology used exclusively in HRV's ventilation systems that is helping keep almost 150,000 New Zealand homes healthy – along with the people and families who live in them.
Key to the health of a home is replacing stale indoor air with fresh filtered air. SETA filters are extremely effective at doing this because the ultra-thin nature of nanofibres, which are 500 times thinner than a human hair, meaning there is a greater surface area and therefore higher efficiency.
SETA has taken the filter's effectiveness a step further by infusing them with natural anti-bacterial Manuka extracts.
The nanofibres in these filters can capture more than 90% of dust particles, spores, pollen, and bacteria (as small as 0.4 of a micron) that circulate throughout a home.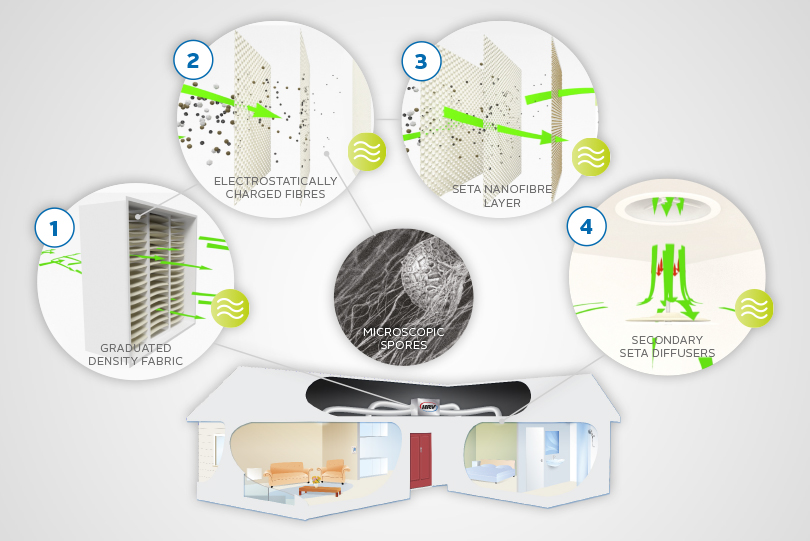 A ventilation system, run in conjunction with top quality insulation and heating (and cooling) solutions, will help dry out a house, and reduce mould and condensation which can lead to respiratory problems such as asthma and chronic allergy symptoms.
And a home that can do that has got to be good for all Kiwis.
Sadly this isn't the case in many New Zealand homes. The proof is in the accelerating number of media and coroners reports that keep surfacing about the state of the country's homes being to blame for ill health, suffering, and even most tragically fatalities.
Poor indoor living conditions in many New Zealand homes, brought on by cold temperatures, airborne nasties and substandard buildings, impacts on everything from health and well-being to everyday things such as a child's learning capability at school and a person's work output.
In the last two years HRV has conducted The State of Home Survey to gain insights into what issues are facing the public when it comes to their homes. The drive behind the survey is to help address the current state of New Zealand's housing stock, the health of their occupants and to increase awareness around the importance of insulation, ventilation and heating solutions to create healthy homes.
One of the most striking differences in this year's survey compared to last year was the increase in the number of people who have moved out of a home because it was cold – up from 20% in 2014 to 26% in 2015.
On the one hand, this increase shows a raised awareness about the importance of living in a healthy home, yet it also highlights that more needs to be done to get homes up to a safe and healthy standard.
Other key findings from this year's survey include:
82% of homes experience condensation
Just over a quarter would like to be living in a warmer, drier, healthier home in the next five years
55% of New Zealand households are affected by asthma and allergies
25% of those who suffer from asthma or allergies say they think their living arrangements aggravate their symptoms
The poor state of many New Zealand homes leads to gross inefficiencies when it comes to running a household. Occupants become sick, miss work and school, which impacts on productivity, earnings and education.
Results from this year's survey found a third of NZers are concerned about the impact of a damp, cold or mouldy home on their family's health and almost 40% have had between 2 and 5 sick days in the last 12 months.
The condition of our homes also leads to a huge amount of wastage in terms of energy and power.
However, on an everyday level, there are savings to be made with a combination of insulation and ventilation meaning heat sources run more efficiently which results in savings on monthly power bills, especially during winter.
A healthy home is, by definition, an energy efficient one.