Is it time for New Zealand's traditional science institutions and the archaic and painfully inefficient research and commercialisation funding model to move with the times?
We live in an exponential era (cliché but true) – where technology, biology and science are rapidly affecting every industry – at a profound level. Even the NZ government and our primary industries are starting (thankfully!) to get their heads around the fact that even our prized agriculture sector is no longer immune to these radical and disruptive forces and the impact this will have on our economically vulnerable nation. 
Yet, it seems that New Zealand's (NZ) publicly funded science and research institutions have yet to come to the realisation that the current model for developing, funding and commercialising our scientific prowess on the world stage is no longer an appropriate, efficient or relevant way to remain internationally competitive.
Take my all-time favourite subjects as an example. Food and agriculture. The monumental and rapid transformation of global food production and agriculture occurring currently is nothing short of incredible. As I have written prolifically about for some time now, plant based proteins, cellular agriculture (clean/lab meat and agricultural products), indoor controlled environment farming, gene editing for food, microbiome technology for crop production are just a smattering of the ways science and biology are disrupting the very essence of the quintessential Kiwi farm (read from more than a dozen articles on the subject here on Pure Advantage). And the pace at which this is happening is exponential.
Thankfully, certain players in the NZ ag sector seem to be slowly wising up to the fact that its current state of play (i.e. if you're in the business of raising animals for protein and/or producing low-value commodity agricultural products) may no longer be a viable or sustainable business model capable of withstanding the fast changing food-tides ahead. Some Kiwi players are even thinking about getting on the alternative protein train (meat without the cow) before it well and truly leaves the station and without NZ on it. 
However, the imminent tsunami of change about to crash into NZ's food and agriculture's back paddocks, raises another very important and topical question about our current science and innovation system. And one that is worthy of urgent attention, particularly given it concerns the broader economic livelihood, welfare and competitive advantage of NZ's largely agrarian bankrolled nation.
Is it possible that our current science and research institutions could become a defunct – or notably ineffective – system that can no longer move NZ and our economy forward fast enough in this new exponential era? And is there a better way NZ's national science and research system should be operating to help keep our key sectors abreast and maintain any semblance of a competitive edge on the international stage?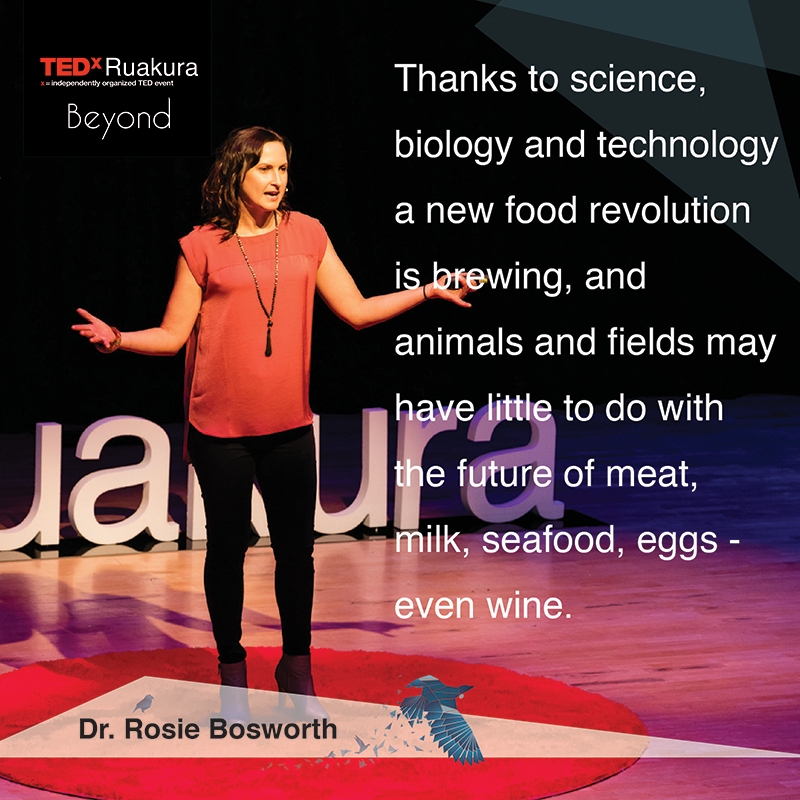 The Current State of Play: Slow Science
This story is certainly not intended to rubbish NewZealand's scientific nous and prowess. We undoubtedly have a wealth of world leading biotech and food technology related capability and talent on our shores and that is for sure. However, it would appear that some of NZ's CRI's and science focused tertiary institutions might be ill equipped to cost-effectively execute fast-to-market, 100% commercially driven and risk-taking entrepreneurially minded science and innovation. The type of innovation that NZ desperately and rapidly needs to now compete on the international stage.
Academic and research institutions (both in NZ and worldwide) are typically marred by dated and archaic cultural legacies, politics and mindsets that often fail to move with the times. And at times constrained by a State sponsored science and national funding system that has unintentionally resulted in individual institutional efforts instead of more collaborative national interests.
Yes, there is a national mandate requiring that NZ's crown funded science and research institutes work in a cross collaborative, multi party manner that serves our national and commercial interests. However, at times we still get a silo'ed, slow to market, largely non-commercially minded approach to science that is expensive and inefficient. Numerous anecdotal stories from scientists and engineers across a raft of NZ's publicly funded research institutions lament this lack of collaborative and entrepreneurial efforts.
The Way Ahead for NZ? Science, meet Business
Fortunately, there is a better way forward for NZ. If NZ genuinely has the desire to remain competitive and better still, not become a banana republic, in this exponential era, we urgently need our national science system to cross the chasm into the world of business and entrepreneurship. 
Having observed competitive science systems internationally, perhaps the most efficient and cost effective way for NZ to accelerate innovation and commercialisation of science and biotech is to foster, fund and support an innovation system that is entirely fast paced and market-driven. We need to take the politics out of science and post doc research and foster a national science and innovation system steeped in the real world of business.
To establish a national scalable science and innovation ecosystem founded entirely on market driven principles and key performance indicators (KPI). A business bootcamp approach to science and innovation that connects science to the world's venture capitalists and global innovation ecosystem of entrepreneurs, talent and thinkers.
We need a science system that is nationally collaborative yet doesn't tolerate complacency and inefficiencies, one that will fund and foster a network primed to pump out multiple world leading innovations and start-ups annually and who can go on to attract global or local venture funding within six to twelve months of inception. A system where scientists have their own skin in the game. And in the case of food and agriculture, to promote science driven food innovation that takes us beyond milking cows.
This cut-throat approach to science may seem ambitious as it runs counter to the way most academic minded scientists work and largely flies in the face of NZ's typically more laissez-faire, non-chest-beaty, laid back approach to the way most Kiwis like do business.
But this scenario is certainly not impossible and the case study further along in this story proves this. IndieBio, the world's largest market driven biotech startup accelerator programme and seed funder of early stage biotech based in San Francisco – is a clear and undeniable indication that business driven science not only works, but is perhaps now the most effective way for NZ to move forward competitively in this new era.
IndieBio: Science Disrupted
The stalwarts of the science-disrupt community, IndieBio's accelerator programme provides each biotech start ups with US$250,000 in seed funding to use how they please. Programme inclusion also includes access to fully equipped labs and co-working space, as well as dedicated mentorship and access to a comprehensive network of IndieBio alumni, investors, biotech entrepreneurs, investors, press and corporate partners. But the real key recipe for success of such of model? Biotech start-ups have four months (read months NOT years!) to get from moonshot idea to prototype and business pitch. "It's a very practical focussed programme and we are really focused on turning scientists into entrepreneurs, " says Ryan Bethencourt, IndieBio co-founder and programme director as well as and biologist turned entrepreneur.
Bethencourt says scientists often overlook the importance of the hustler. "You can't build a biotech company without selling. The selling side is the most difficult, but also the most critical. It is a pursuit that you really have to get good at. If you can't sell, you really need a co founder that can".
Proof is in the Pudding
While there are certainly countless accelerators around the world all aiming to churn out the next biggest unicorn (including Y Combinator, Rebel Bio, Plug and Play), IndieBio's ability to apply hard nosed business principles to science seems to be the most effective for beneficially disrupting the institution of science. Now almost at its 7th batch of startups, IndieBio has funded close to 70 biotechs. Its alumni include a swag of food and agriculture related biotech start ups poised to disrupt the traditional notion of food and agriculture – NZ take note! This includes Memphis Meats (lab meat), Clara Foods (lab eggs), Ava Wines (lab wine), Myco Works (lab mushroom), Finless Foods (lab seafood), New Wave Foods (plant based seafood), the Not Company and Willow Cup (plant based dairy) Geltor (lab gelatin), Miraculex (calorie free sugar) and Sugarlogix (probiotics). All of these entities have gone on to raise high interest in the international venture capital community and Memphis Meats announced today its $17M Series A funding round (see more below).
In less than three years since its founding in 2014, the combined market value of IndieBio funded companies has grown to over USD$340m says Bethencourt. "Roughly fifty percent of the IndieBio alumni raise their full round (around USD$2m) and roughly seventy percent raise some additional follow on financing".
The IndieBio model – underpinned by an incessant focus on entrepreneurship and linking scientists into the global venture capital and funding community has undoubtedly successfully turned the dated doctoral and postdoctoral research model on its head – and is precipitously unleashing breakthroughs and knowledge traditionally trapped in the slow to the academic sector into the profitable world of business. "The system has to be driven by the business – not the scientists".
Case Study: IndieBio vs Academia. The benefits of decoupling science from policy and academia
The following case study comparing and contrasting the two current darlings in cellular agriculture space – Memphis Meats and Mosa Meats – and their respective routes to market – demonstrates the benefits of adopting a market driven approach for accelerating and commercialisation science versus sticking with the establishment.
Mosa Meats: From Leader to Laggard
In 2013, Mark Post, Professor at the University of Maastricht in the Netherlands and co-founder of Mosa Meats (the spin off company) launched the world's first lab grown beef patty. The first prototype took more than 5 years in research within Maastricht University by a team of academics, and substantial funding from the tertiary sector as well as additional funding from private backers including Google's Sergey Brin.
The development costs associated with launching Mosa Meat's individual cultured meat patty was approximately USD$330,000 (excluding the additional tertiary funded research leading up to Sergey Brin's donation). The patty was reportedly a little dry and gnarly, since bovine muscle cells were the only selection of cells used to grow the patty.
In 2015, IndieBio co founder, Bethencourt, reached out to Post offering to put Mosa Meat 's cultured meat research through the IndieBio accelerator programme as a way to further expedite research and accelerate its commercialisation route to market. Post's team declined, preferring to continue the research at their own pace within the existing academic and science research system.
Despite being the first clean meat product on the market, Mosa Meats has still yet to launch further prototypes and are now trailing current global clean meat leaders Memphis Meats (more below). Mosa Meats intends to be on the European market within 5 years selling at a small price premium. The research programme is focused on producing uniquely beef clean meat production (i.e. no other animal platforms).
Some two years later, Memphis Meats – an IndieBio alumni – launched its first clean meat ball using the commercial route and now leads the clean meat space.
Memphis Meats: From Laggard to Leader
Following Mosa Meat's declining to be part of IndieBio's accelerator cohort in 2015, Bethencourt invited Uma Valeti, ex-cardiologist and tissue engineer to launch his own version of a clean meatball within the IndieBio accelerator programme.
 Valeti left his highly paid profession leading in cardiology and tissue engineering, joined IndieBio's accelerator programme and founded Memphis Meats. Within one year of joining, Memphis Meats had successfully developed the world's first and tasty clean meatball. Within the year. What's more, the cost of the prototype was USD$10,000 vs. Mosa Meat's USD$333,000!. A clear indication of the fast advancements in technology and the efficiencies associated with market driven deliverables, entrepreneurs and scrappy funding.
To add, Memphis Meat's meatball used superior technology – a selection of animal muscle and fat cells – meaning the taste, flavour and texture profiles were more akin to meat grown via an animal's body and superior in taste and texture and function to Mosa Meats.
Only a year after Memphis Meats launched its first clean meat ball, it went on to launch textured versions of duck and chicken breasts (think duck tenderloins and chicken breast consistency – not uniform mince or sludgy chicken nugget goo consistency). And at half of the price per pound of its meatball (which was already exponentially cheaper than Mosa Meat's meatball). 
Memphis Meats claims to have achieved further radical cost reductions of the clean meats produced via its unique world leading technology. And the company's multi meat focus will ultimately enable the start up to harvest all types of meat (not just beef) – a far more attractive business proposition enabling to take a far bigger slice of the global protein pie.
Only just today Memphis Meats announced that it has gained the support of a groundbreaking group of investors for its $17M Series A round – including traditional meat producing incumbent Cargill, as well as Bill Gates, Richard Branson, Atomico, and one of Europe's largest VC firms, DFJ, a leading venture capital firm that has previously backed Tesla. Memphis Meats has now raised $22M to date which it plans to use the funds to continue developing delicious products, to accelerate its work in scaling up clean meat production, and to reduce production costs to levels comparable to – and ultimately below – conventional meat costs. It aims to have its meats selling for $2/kilo or less within 4 years at mainstream supermarkets.
The IndieBio Effect: Science Fact or Science Fiction?
Yes, it is possible that Valeti with Memphis Meats may have been a rare gem capable of achieving such incredible feats in scientific progress, cost efficiencies and market launch on their own and IndieBio is a one-hit-wonder. However, one can not deny that Memphis Meat's participation in a commercially focussed biotech accelerator model, certainly enabled the company to bypass the traditional constraints of academia (such as low sense of urgency, silo'ed research mentality, inefficient state funding applications and lack of commercial focus) to now become the clear global market leader of a trillion dollar industry. IndieBio's market driven eco system entailing real market deliverables, scrappy funding (by comparison), a myriad of connections to the wider biotech ecosystem, lucrative Bay Area venture capital community and global media partners very likely taught its scientists to get creative and efficient which seem to have worked in their favour.
Paving NZ's Way Forward for the Future of Food
So, as NZ stares down the barrel of a radically changing world and where a new world of food production driven by science, technologically and biology is rapidly brewing beneath our noses, it might also be time for us to question, challenge and transform the very academic driven science system that once served us so well as a nation. And that is to realise there is a better way forward to capture and commercialise the wealth of scientific and innovation we have in NZ.
It might be time for us to let go of another one of our cultural legacies – the traditional institution of science. To decouple science from politics and academia. And to develop an efficient, market-driven and business focused approach to scientific innovation.
We already have a globally renowned reputation for being trusted food providers for the world, for developing leading AgriTech and horticultural technologies, for having a deep understanding for food and agriculture. For being small yet nimble. For having supportive funding structures. Let's use this all to our advantage to disrupt every core of science so that NZ becomes a global epicentre driving the new world of future food that the growing global population is becoming increasingly hungry for.