The third in a series of profiles of New Zealand business leaders utilising technological solutions for a zero-emission future, Pure Advantage and Westpac highlight business leaders taking that leap and look into what it might take to finance the transition as well as the resultant opportunities of a Net Zero NZ. 
---
Being a successful recycler isn't a matter of technology, and it has nothing to do with virtuous intentions. The key, says industry veteran Robert Fowler, is to secure a viable long-term outlet. "You need to know your market."
Fowler should know. The managing director of Christchurch-based compounding specialists Comspec has more than three decades of experience, including the launch of New Zealand's first plastic recycling outfit – in Otaki, of all places.
Comspec, which he founded in 2005, was supposed to be a "little recycling company that would keep us occupied and then I'd retire", he says. Instead, the venture has grown into a significant industry player, dominating the South Island scene and playing a role in "closing the loop" on a mountain of consumer and industry plastic waste.
The company essentially does two important jobs. The first – and this was Comspec's founding mission – is to be a  'one-stop solution' for general plastic waste from South Island manufacturers, transforming it into high-quality resin.
The other role involves plastic milk bottles. Comspec buys bales of used bottles from commercial sorters, converts the plastic via a wash plant into dry, flaked material, which it then feeds through a compounding extrusion plant to produce an HDPE resin.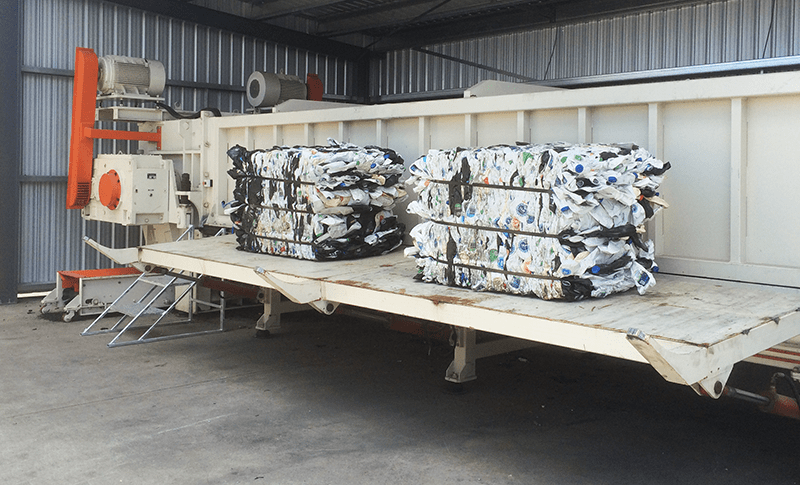 Typically, that resin is sold to New Zealand and Australian manufacturers of industrial drainage pipes, although it's also used for cable protection and other plastic products. (Comspec also re-compounds the scrap material that is an inevitable by-product of the pipe manufacturing process.) If you're looking for an image to sum up the journey involved here, visualise a plastic milk container winding up as part of that black corrugated pipe you see going into new subdivisions.
What's the win for the environment here? Fowler says this waste would otherwise be destined for recycling in China.
"Think about the carbon miles involved in a milk bottle going to China to be recycled – it's crazy. As well, for every tonne of material we make, that's a tonne less imported," he says, pointing out that all virgin resin used in New Zealand is manufactured overseas. "Three years ago, drainage pipe here was all made out of imported virgin material, whereas now, certainly in the South Island, it's all made from recycled material."
He says that there hasn't been a lot of work done to quantify the carbon saving achieved by operations such as Comspec. "But there's a figure bandied around in the States that for every tonne of resin you make, you save a tonne of carbon. And we'd do 20 tonne a day."
There are significant challenges for the company, not least the fact that it's dealing in a commodity product, the value of which is determined by the global price for virgin resin. It's also an ongoing battle to persuade commercial sorters against simply shipping their waste off to China.
"We say, 'We'll meet the commercial price of the material, and all you have to do is put the bales on the back of our truck'. So it's easy for them, better cashflow, and we're a damn sight easier to work with," says Fowler, who adds that Chinese demand for waste plastic tends to run hot and cold.  
Recently, the company purchased another extruder to boost capacity. Things look promising, he says. "And isn't it great that these plastics are being recycled?"