Sheep farmers used to rely on their livestock to provide two income streams – from both meat and wool.
But as wool income dwindles still further, forestry offers a replacement source of on-farm earnings.
Timber markets fluctuate, but are currently showing to be healthier than for dairy, lamb or beef.  Profits from trees per hectare are competitive against pastoral agriculture.
Pinus radiata harvest cycles used to be a disconcerting 30 odd years. Investment was scheduled to mature in time for the benefit of the grandkids.  But improved tree genetics are ready to produce a perfectly millable forest closer to 20 years old.
Most of New Zealand's 50,000 ha of trees harvested every year are Pinus radiata, but with significant volumes of Douglas-fir and some other species, especially eucalypts.
If beef and sheepmeat exports are counted separately, forestry is second only to dairy as an export earner for New Zealand in the primary sector.  Timber exports are four times as large an earner than seafood.  About a third as much again is consumed domestically and around fifty percent of the harvest is already processed in New Zealand.
MPI predicts forestry to increase its export value lead over horticulture during the next five years and exceed $6b a year in returns by 2018.
For the big picture environment, trees are on the side of the angels.  New Zealand plantation forests sequest as much carbon as the consumption of the world's fossil fuels blows out in 21 days.  There is none of the nitrogen discharge into streams which farming causes.  Trees shade watercourses, protecting both fishlife and aquatic invertebrate populations.  Physically the trees hold the landscape together.
Contrary to popular belief, the plantation forest is not a barren landscape of extinguished indigenous biodiversity.  For instance, the largest populations of the iconic and rare Kārearea, or native falcon, are not to be found within stands of endemic tree species.  Rather, they dwell in our pine forests.  The falcon's ideal environment is recently cut over forest for them to build nests on and find prey in – right next to mature pine stands which they use as look-out points.
It would be unrealistic though to consider all of our hard hill country landscape as potential plantation forest.  Large swathes of our land surface are too unstable to harvest trees from since the risk of erosion immediately after harvest is too great.
This risk is recognised in the draft Forest National Environment Standard.  Large areas of New Zealand which are too unstable, due to soil type or degree of slope, will require a resource consent to plant out with harvest plantation trees. 
The NES also covers logging standards.  For instance, it limits the number of axle movements a logging truck may make per day over a watercourse, to prevent excessive mud discharge which could harm aquatic life.  When it is finally approved by government, the NES will provide a uniform environmental standard to replace the inconsistencies of forest rules set up over the years by local government.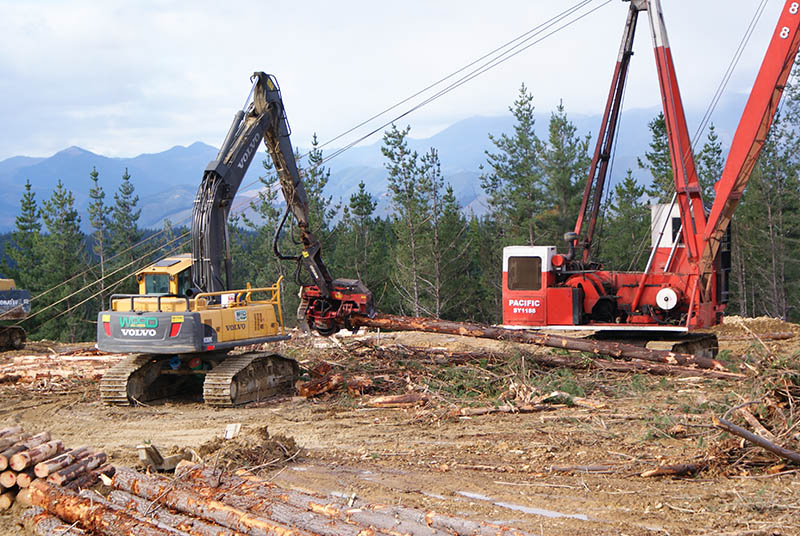 A notable inclusion in the draft allows the use of engineered sterile trees, provided they have been approved by the Environment Protection Authority under the Hazardous Substances and New Organisms Act.
Wilding pines cost some $30 million a year to control and have been branded by Conservation Minister Maggie Barry as New Zealand's worst weed.  Sterile pines or firs would solve the problem – they can't spread.
Of course there are issues particular to forestry.  The high price of rural land to plant trees on is one, pushed up not because of the value of production from it, but rather the speculative pressure of farmers re-selling their land for more money than they paid for it – not that this is a habit unique to farmers.
The period of bogus and cheap Eastern European carbon credits did forestry no favours either.  The market signals from low carbon prices in the ETS were negative for planting.  Peaks and troughs of production are not an ideal platform to market from.  Nor are they an incentive to invest in the vital and large scale domestic processing infrastructure New Zealand requires.
There are negative images from timber harvesting.  Debris flows, although rare, leave driftwood on stream banks and local beaches.  Logging trucks vie with milk tankers for space on our rural roads, irritating motorists.
Provincial local government often grapples with contending demands of its hinterland industries.  While there are many farmer friendly councils around New Zealand, forestry has yet to make the same political impact as farming for its needs and environmental advantages.
In common with much of the primary sector, more research and development would make a huge difference to industry viability.  New Zealand is a world leader in Pinus radiata research, yet clearly the potential in breeding for faster growth, site specific location varieties, timber quality, pest and disease resistance and automated seedling production, has yet to be fully realised.
Few in the forest industry believe the level of deep involvement governments once had in the wool industry, such as in supplementary minimum prices, would benefit tree growers and processors any more in the long term than such intervention eventually did for wool growers and processors.
Yet government could give a vote of confidence in the forest industry, and its environmental benefits, by doing rural polluters fewer favours on one hand and on the other hand encouraging and facilitating greater use of timber as a magnificent natural and renewable resource in our homes, industries and institutions.