The revolution in health care produced by antibiotics and the explosion in agricultural production enabled, in part, by the development of a range of pesticides, herbicides and fungicides has come full circle. We now face challenges such as superbugs and resistant weeds that threaten the sustainability of the gains made in the 20th century. Changes in our health care and food production systems must be made quickly if we are to support a global population estimated to top out at over 10 billion before the close of the 21st century.
The gut biome, the vastly complex microbial universe inside us all, is now widely recognized as a critical component of our physical and mental wellbeing. Research in virtually every area of health, from depression to diabetes, finds profound connections between ourselves and the microbes that are at least ten times more numerous than the cells in our body. We are now bombarded with a dizzying array of products, usually described as probiotics, that all promise to deliver improved health by somehow influencing our gut biome. Unfortunately, virtually every product sold as a probiotic is severely compromised by freeze-drying or other shelf-stabilization methods. BioBrew was founded in 2009 to confront this reality and bring truly effective probiotic microbial tools to the market.
Don Pearson and Andre Prassinos, BioBrew's founders, set out in 2009 with naive enthusiasm, a production prototype, and virtually zero capital. They began driving up tanker tracks to sell bemused dairy farmers a product they not only had never heard of, but also a product category, the fresh probiotic, that had never been made available before. Through good fortune and dogged determination, and the fact that their fresh product outperformed other so-called probiotic products, a key group of early adopters allowed the pair to bootstrap the company into operation.
At this point, the story took on a uniquely New Zealand aspect that provides insight for other companies that hope to develop their ideas into products and services that can challenge the very largest multi-billion dollar competitors on the world stage. Don and Andre recognized both the virtues and the limitations of their production prototype and, despite their confidence that they were already offering the finest microbial tool available, they believed strongly that much more work needed to be done to prepare the company and its products for the world stage. As a bootstrapped company surviving on sales revenue, BioBrew Ltd would need some help.
Critical to the ongoing success of the company is the fact that New Zealand possesses a system to support research and development in companies of all sizes ranging from our largest, Fonterra, to BioBrew Ltd, a tiny startup with a very good idea. The process began at Lincoln University where Don, an alumnus and the company's Technical Director, found great interest and enthusiasm for a collaboration that would see the production prototype developed into a mature line of retail products. This collaboration was enabled by a series of grants from Callaghan Innovation, beginning with support for a FTO (a "Freedom To Operate" opinion from an intellectual property lawyer) and continuing for several years culminating in projects operated by a Master's Degree student and a Post-Doctorate Fellow, each closely supervised by very experienced faculty scientists.
The R&D process produced a world-class Quality Assurance program, a deeper understanding of the complex makeup of their fresh products, and a line of products customized for production and companion animals, each with a unique microbial formulation. The first new product, EquiBrew, was launched in August of 2014 and rapidly expanded into a growing network of retail locations throughout New Zealand. With more new products in the pipeline (PetBrew, CalfBrew, StockBrew) the time came to demonstrate the international potential of the fresh approach to probiotics. In 2015 a production facility was opened in Denver, operating as a Colorado Department of Agriculture-registered feed manufacturer, to bring EquiBrew to the USA's 9.5 million horses.
BioBrew Ltd offers a key part of the solution that will allow farmers to move away from existing methods using antibiotics and other biocides, hormones and synthetic pharmaceuticals. A healthy gut biome will positively affect supply chains through lower pathogen counts and reduced injury and illness at slaughter. Their technologies help farmers to get their best return on costly feed and other inputs.

As the company and its products continued to develop, and as enthusiasm for its truly effective probiotics grew, BioBrew Ltd's founders increasingly became aware of the limitations restricting the ability of the company to leave behind the startup phase and emerge into growth in New Zealand  and overseas. Fortunately, New Zealand has resources to help with this challenge too.
Callaghan Innovation supports a network of business incubators that are dedicated to bringing New Zealand ideas and companies onto the world stage. Andre was invited by SODA Inc's CEO, Claire McGowan, to make a pitch and 2016 has begun with BioBrew Ltd being accepted into SODA Inc's programmes that help with strategic planning and implementation. SODA Inc pairs it's companies with very experienced Business Growth Advisors that coordinate an array of resources to help put companies on the path towards international growth.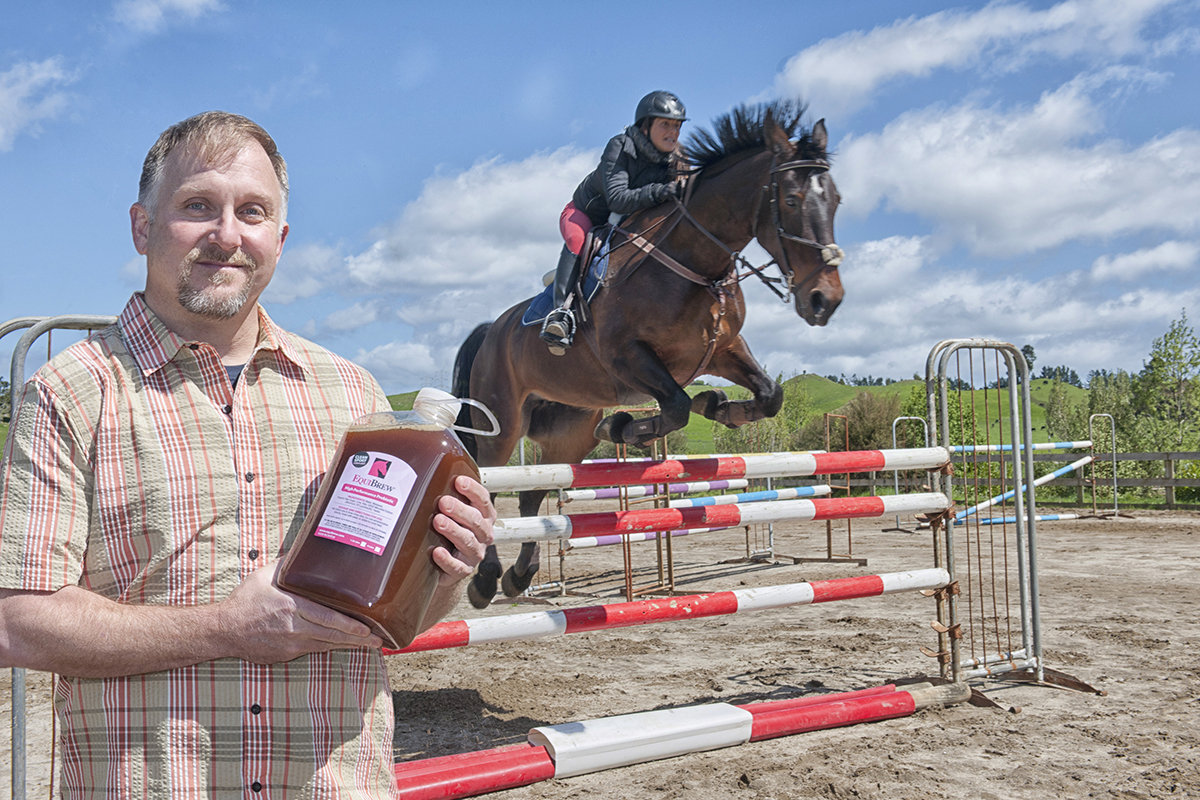 What began in classic Kiwi fashion in a shed in Motukarara is now positioned as an international biotechnology company poised to launch products into multi-billion dollar markets. BioBrew Ltd's potential to contribute to global sustainability was recognized in 2013 by the Sustainable Business Network with the inaugural Award for Sustainable Innovation. This progress would not have been possible without the support of Callaghan Innovation and Crown Research Institutes like Lincoln University. These resources are national assets that every New Zealander with a good idea must know about and utilize if we are to continue to be a world leader in sustainable innovation.
The New Zealand business environment, in terms of an accessible regulatory framework as well as support from Callaghan, etc., is highly suited to the early development of applied agritech ventures, even as BioBrew Ltd now look towards multi-billion dollar markets overseas for opportunities for scale. They have certainly already enjoyed the benefits of the New Zealand brand as EquiBrew is launched in the USA; the product's New Zealand origin story was a door-opener for many meetings in Kentucky.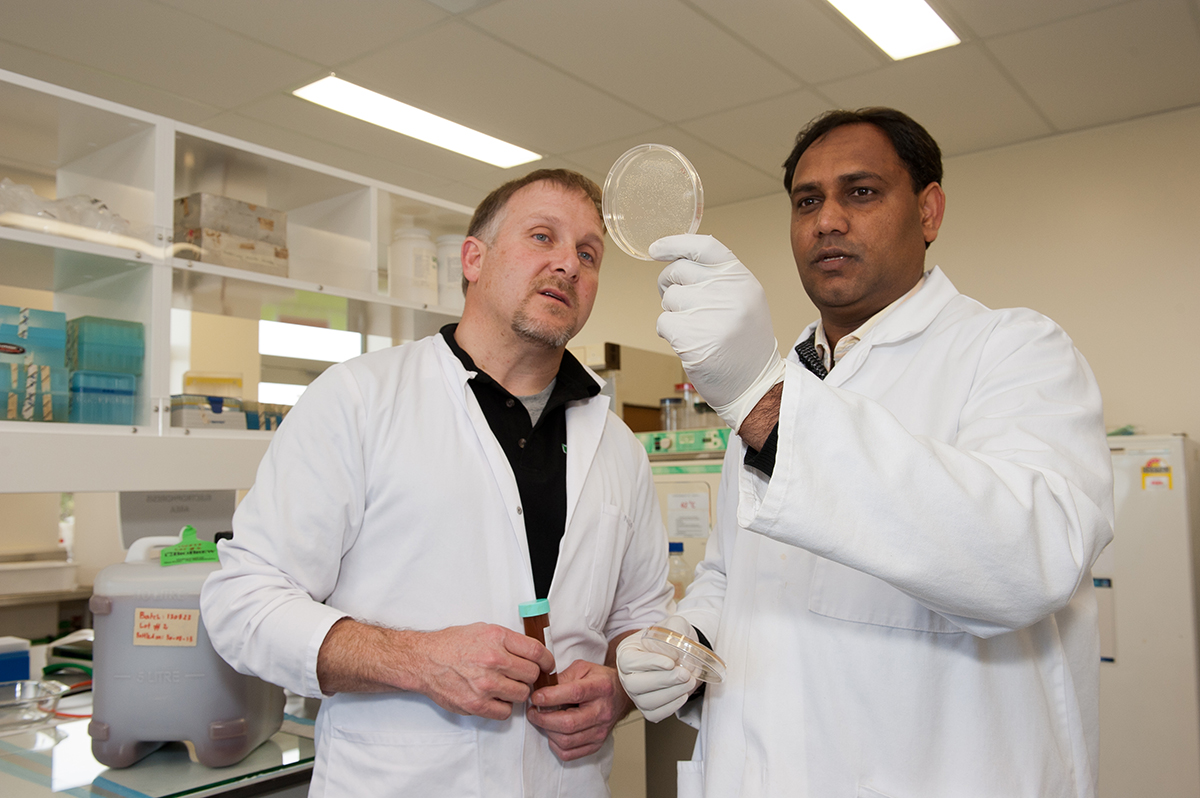 BioBrew Ltd looks out into global markets of staggering scale. Today, human and animal markets are served by probiotics that are severely compromised by shelf-stabilization techniques such as freeze-drying- and the markets have not been disrupted by innovative products in a very long time. The BioBrew Ltd venture comes along at an interesting moment in history when public and professional knowledge is rising to the point where a technically credible microbial tool has a chance of finding a sympathetic and interested customer base in many, many markets.  This is a classic opportunity for a disruptive technology.
Don & Andre aspire to develop a strong company that will see their approach to microbial tools develop globally. They believe the future for human, animal and plant health will rely heavily, as it always has, on a microbial foundation. They hope to make a contribution to the health and wellbeing of the gut biome.
BioBrew Ltd is one of those rare projects that combine solid business fundamentals with products that will truly make the world a better place. The company accomplishes its mission using deeply sustainable manufacturing and distribution systems. The founders' energy, commitment and enthusiasm have grown over the past six years, encouraged in no small part by the support provided by a loyal and vocal customer base. The foundation built through New Zealand's unique business support systems, ongoing innovation and commitment to quality, and the dedication to always meet the customers' needs with the finest products possible are launching this New Zealand success story onto the world stage.