Starfish is a New Zealand made women's and men's clothing label based in Wellington. Founder and designer Laurie Foon creates innovative and quality clothing, which focuses on the New Zealand lifestyle and environment. Starfish has successfully carved a winning point of difference in the high-end niche clothing market by creating a fashion brand predominantly centred on sustainability, ethical practice and environmental principles. Excluding contractors Starfish currently employees approximately 30 people nationwide and the majority of revenue is generated by costumers who place value on the brand's sustainable ethos and practices.
"Enduring design" drives Starfish's design philosophy first and foremost says Foon. The style, quality and wearability of all Starfish clothing has been specifically designed to ensure garments arelong lasting, can be worn for longer than one season and are well loved. "We need to push beyond throwaway fashion and consider more deeply about how clothes are being made. The future of fashion has to be stylish clothes produced in a sustainable, ethical and enduring way" says Foon.
All of Starfish's clothing range is designed, and manufactured in New Zealand. The company endeavours to source as many of its materials and fabrics locally from New Zealand suppliers, using materials with sustainable qualities such as organic denims, cottons and hemp. According to Foon by keeping Starfish's manufacturing base in New Zealand and sourcing as much as they can locally it helps New Zealand to hold onto its manufacturing base for future designers and maintains local skills & processes vital for a thriving rag trade and local economy. Foon says that maintaining strong relationships with locally based New Zealand manufacturers and finishers also ensures Starfish benefits from skilled craftspeople committed to making quality garments with care and attention to detail.
Starfish clothing is also produced using the most environmentally sound manufacturing processes and practices possible. Finishing processes are assessed to reduce the overall environmental impact of its manufacturing process and eco-friendly printing processes and denim washes are used. Contrary to popular belief, Foon also says that Starfish's shift towards more sustainable processes and local manufacturing has in fact lead to costsavings for the company, enhancing their bottom line "We were never one to buy cheap poorly made $3/metre fabrics anyway, so purchasing sustainable fabrics and developing local manufacture processes and techniques actually resulted in us achieving greater efficiencies and savings as well as providing the company with a unique point of difference".
As an operator within the fashion industry, Foon says for Starfish not to go down the sustainability route wasn't even a consideration from a business perspective. "Demonstrating sustainable practice and offerings within the fashion industry is just expected. There is a realpressure now – particularly across Europe for designers to be demonstrating and showcasing sustainable business practice". Foon says fashion designers who aren't incorporating sustainability into their modus operandi aren't even in the game and sustainability is only going to increasingly become a necessity.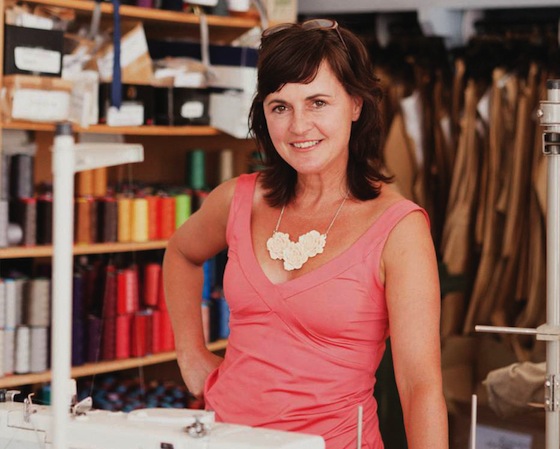 The past several years have seen Starfish retract its focus on export markets to concentrate greater efforts on creating a truly sustainable business model that the company can drive forward into the future. Now, having mastered the complex process of developing a creditable and sustainable brand the company is relaunching itself back into lucrative international markets. Foon says that creating a true sustainability story for the company will be a vital success factor in Starfish securing an enduringcompetitive position and customer base within its focus international markets. Key export markets of focus which Foon says are embracing Starfish's sustainability commitment include – Australia, Canada, North America and Europe. The company intends to double its revenues over the next two years – largely on the back of these markets.
Beyond the fashion industry, when talking sustainability from a national economic perspective, Foon thinks there is no other option for New Zealand but to engage in a committed focus on developing sustainable offerings for the world. "With New Zealand being an island nation we have this amazing opportunity, this pure spot, this oasis to experiment with new ideas and take sustainability to the word". At a global level Foon believes New Zealand has the potential to be leading the pack or, at the very least be "front footing the idea". "This (sustainability) is our only trump card – our green luscious oasis is our brand, there are no other possible brand packages NewZealand has to offer".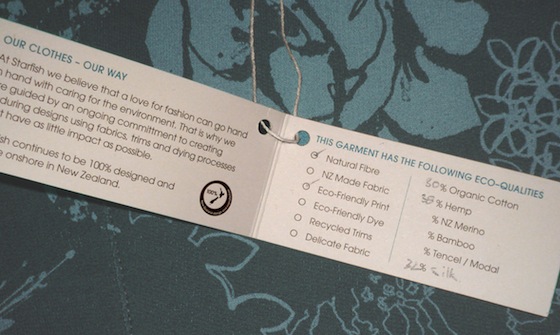 While there is great economic risk of New Zealand failing to pursue a sustainable pathway there is a big opportunity for New Zealand to turn this around. Foon says the opportunities for developing an economy based on business offerings that demonstrate and/or integrate sustainability and environmental practice into existing industries are endless. "There is an opportunity for every business in New Zealand to champion this idea, the space is only growing, and sustainability will soon become more and more of a necessity – so we may as well be doing it and taking a lead".
Foon also a strong advocate for New Zealand being a sustainability "test-bed" and sees huge opportunities as New Zealand being a ideal trial space for businesses to experiment, explore and engage in developing sustainable innovation and business offerings. "We have it all here!"
According to Foon, there is no end goal for sustainability nor textbook method of implementing it. "We just need to experiment, embrace the challenge and see where the journey takes us. It's going to be an ongoing journey of successes and challenges". Foon is also firm on the point that New Zealand must demonstrate active commitment to maintaining the clean and green New Zealand Inc brand. "Sustainability requires a leap of faith, we don't know what is around the corner, but we have to be committed. So let's just grab it, own it, be it and smell it".
UPDATE: This company has been acquired or is no longer operating.