The role community support plays in successful transitions to regenerative agriculture
From the hyper regulated agriculture industry in Europe to the sprawling mega-farms in the United States, and from massive rangeland stations to the small plots of land tended by peasants in rural Ecuador, Sam Lang has observed a distinct pattern amongst farmers who are trying to move towards more sustainable and regenerative forms of agriculture.
Across all these diverse farming ecosystems, it is the farmers who have the support of their neighbours, their families and their communities, who have the greatest chances of success in the transition. Conversely, it is those farmers who are misunderstood or ostracised by their families or neighbours who are struggling to break the mould of conventional farming and adopt more regenerative practicesDefinitions and Principles of Regenerative Agriculture:
1.The Original Principles of Regenerative Agriculture (Rodale Institute)
2.Definition of Regenerative Agriculture (Terra Genesis International)
3.What is Regenerative Agriculture? (The Carbon Underground) on their land.
Sam explains that when farmers transition their farm systems, others in their community can interpret that as a criticism of current or conventional practices, or as someone trying to farm with 'better' morals or ethics. It can feel like a direct challenge to the deep identities that are tied up with traditional farming practices.
"Your farm is a mirror of yourself.
When you change your farm, you change your reflection.
Some people find that really challenging and confronting."
The social fabric of rural communities is an element often left out of the discussions around how we adopt models of more sustainable and regenerative agriculture (regen ag) across New Zealand. Much of the talk centres around top-down, policy solutions and regulation focused on addressing the adverse environmental effects of agriculture, or debate that narrows in on data surrounding one piece of the problem.
Sam is in a better position to understand these intricacies than most. An upbringing split between urban Lower Hutt, rural Wairarapa, and Central Hawke's Bay, a degree in environmental management, and an extended involvement in climate change activism eventually saw him working at the Environmental Protection Agency helping manage a consent application for a regional plan change and irrigation dam. He didn't enjoy the process, nor the outcomes. It was then that he decided to make the move from central government to grassroots farming, starting as a shepherd on an uncle's farm in Central Hawke's Bay.
Getting accepted into the Kellogg Rural Leadership Programme gave him the opportunity to test some ideas and interview thought leaders about the future challenges and opportunities for hill country farming. Sam was then encouraged to apply for a Nuffield Farming Scholarship, which he won in 2015.
Across nine months, he visited over 100 farmers from 18 countries, each of whom were making concerted efforts to farm in a more sustainable way. Sam was convinced that many NZ agricultural practices would soon be falling short of economic, regulatory and/or consumer expectations. Consequently, his research focused on discovering where and how farmers and farming communities had successfully transitioned to more sustainable systems, and how he could learn from those experiences to better manage the impending changes in NZ. Before he began, Sam had never heard of regen ag, or other less conventional methods of farming. After visiting farmers who were doing intensive horticulture, rangeland farming, conservation agriculture, permaculture, holistic farming, agro-ecology, biodynamic farming, and everything in between, he began to see the value in these models.
"Once I'd seen a few living examples of farmers
doing things that conventional agronomists tell us aren't possible,
[regenerative farming] became pretty convincing."
Sam's report, entitled Community-Centric Innovation and the Regenerative Farming Frontier,  indicates that while many of the shifts witnessed towards more sustainable/regenerative systems were driven by necessity, including the unsustainable cost of public subsidies, loss of public trust, and shifts in consumer preferences, there was also an exciting atmosphere of possibility in many of the conversations he had. Sam discusses NZ's opportunity for regen ag in a panel discussion at the Edmund Hillary Fellowship New Frontiers Conference 2019 in this video, along with Erin Crampton.
Sam's focus has shifted from research to action, and he is now providing support and a sense of possibility to farming communities to help them navigate towards more regenerative methods of farming.  Sam has recently become the manager of Quorum Sense which was co-founded by Leeston-based farmer Jono Frew along with two other arable farmers; is acting as an advisor to Mike Taitoko 's Calm the Farm initiative; and he is also working with Dr Gwen Grelet from Manaaki Whenua Landcare Research to develop research proposals to look at regen ag in different NZ contexts. He is excited by the amount of momentum in NZ, and hopes it will inspire other farms to come aboard.
"People will change when they are ready, when they want to – you can't force them. But there are hundreds of farmers across the country stepping outside their comfort zone and starting to trial practices that seek to reduce harm and improve health. That's very encouraging."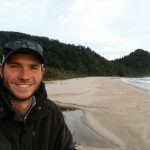 About Sam: Sam loves that he gets to work with many of Aotearoa's pioneering regenerative farmers as the manager of the Quorum Sense farmer network. He's been heavily involved in the regenerative agriculture community since completing a Nuffield Farming Scholarship in 2016. Sam works with a wide range of farmers, practitioners, scientists, entrepreneurs and others on the things he cares about – supporting grassroots networks to transform our farm & food systems to deliver greater ecological and human well being. Check out the regenerative farming network Quorum Sense here.
This story is part of a series called "Our Regenerative Future" produced in collaboration with Edmund Hillary Fellowship which investigates the current state of regenerative agriculture in New Zealand, and highlights future opportunities for the country's primary production sector. 
Back To Our Regenerative Future
Alina Siegfried