They say you can't take coals to Newcastle, but how about sunlight to California? In a sense that's what Palmerston-North based startup BioLumic has been doing for the last few months, trialling its proprietary UV light treatment technology on a large lettuce growing operation in America's sunshine state. The California trial is a milestone for the Massey University spinout company, which has developed a way of harnessing ultraviolet light to grow stronger and more productive crops – priming plants to "thrive and survive", as the catchy tagline puts it.     
Biolumic CEO Warren Bebb says the trial on behalf of a prospective customer is going well. "We've been able to get an 11 per cent increase in yields so far. After 60 years of growing practices aimed at getting yields to the max, to be able to throw another 11 per cent on top is significant. The growers are very excited by the results."
The California field trial follows on from a pitch to potential US investors and strategic partners at an agriculture innovation showcase in St Louis last year. Among attendees there was plenty of interest in what Biolumic had achieved in its New Zealand trials, but they wanted the technology proven on their own patch before making any commitments.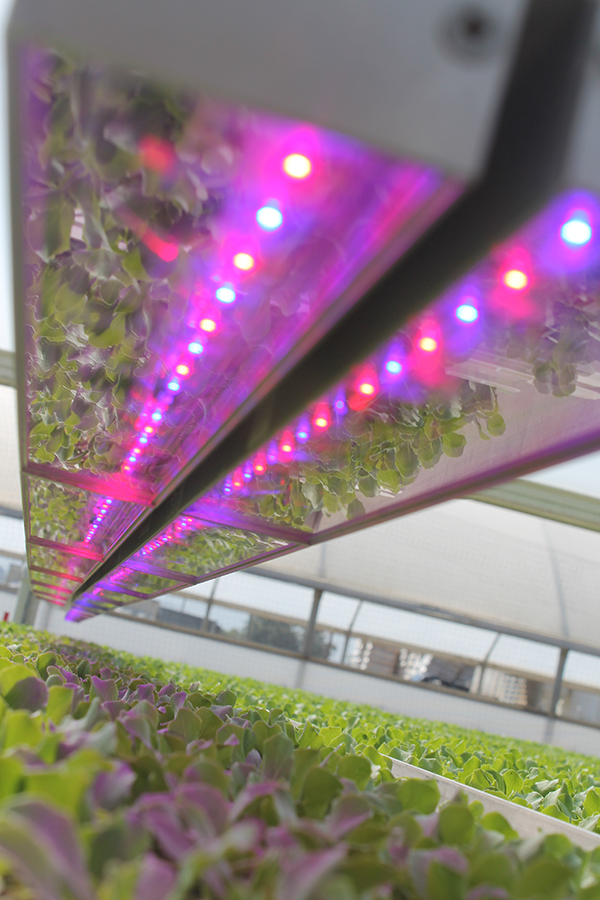 "They want to see it work in their backyard if they're going to invest or purchase, so it made sense for us to perfect it in the US earlier rather than later. Also, from a strategic perspective, the companies that could really scale up [the  technology] and make it into something used around the world, are all based over there, and they want to see it working in their backyard, too."
It's been a relatively rapid trajectory from the lab to the boardroom for BioLumic, although it probably doesn't feel like that from the inside. The company was founded in late 2012 by Dr Jason Wargent, a senior lecturer in horticulture at Massey with a keen interest in commercialising science. Dr Wargent's interest in the growth stimulating properties of UV light arose counterintuitively: he'd set out to research the negative impact on plants of the hole in the ozone layer.
Financed initially by a Callaghan Innovation grant and with investment from a number of seed funds, including the New Zealand Venture Investment Fund, BioLumic has developed what it calls Smart Light Array technology, which manipulates quantities of UV light at different wavelengths. Using individual "light recipes", growers are able to accelerate or slow particular characteristics in plants.
The potential applications are various, from bolstering disease resistance in leafy vegetables, to enhancing in-season flavours in out-of-season herbs, to increasing yields of certain compounds in medicinal herbs, and so on.
"Part of our challenge is being focused and not trying to do everything at once," says Bebb, who adds that the technology is applicable not only to seedlings, but to seeds, too. "We've been doing trials with maize and looking at soy, as well, massive crops that are used all through the global food chain. We're seeing good early stage results there, replicating to a degree the results we are getting with seedlings, including better water-use efficiency, and hardiness. It's early days, but that's an application we're focusing on because it could have huge impact."
Bebb's first involvement with Biolumic came when he was seconded to the company from the Palmerston North-based business incubator BCC, which has been instrumental in the company's development thus far. The former business growth manager was so impressed that he signed on as CEO. 
"The technology we are developing is gamechanging, and it's exciting to be part of something that could have a profoundly good impact on the industry – even though it is early days. What we are looking at is potentially replacing – potentially, I say, because we haven't been able to do it entirely – chemical treatment of plants with light treatment."
For now, however, the approach is to apply light treatments in addition to what growers are currently doing. "That allows these companies to grow more from the same land, while potentially using less water. In itself that's a tremendous gain, because there isn't a hell of a lot of high quality arable land left out there. Having that ability to grow more with less is very important to growers – in fact, it's important to all of us at the end of the day, if we're not going to be paying through the roof for our veges."
Indeed, there's plenty at stake here, given that we live in a world experiencing climate change and with a population closing fast on nine billion. Growing more from less is a defining challenge of our times, and harnessing the power of light is more palatable than some of the alternatives.
"For the last 60 years or so, plant breeding has become an industry in its own right. We've had advances in irrigation and fertilisers, tremendous advances that have helped growers increase their yields. But without going into genetic modification, those advances aren't necessarily able to keep pace with the growth in world demand. So we need to start doing things differently. Here is a tremendous opportunity to take advantage of a completely under-utilised resource for optimisation – light."
It's not just about increasing crop yield; consistency is also a priority. "Growers want a straight line in their growing season," says Bebb. "They can't afford to go into the field twice to pick, so if a certain percentage of their crop is undersized or under-spec, it's wasted. If we are able to get homogenous specification across a whole crop then that's of massive benefit, because it means a much higher proportion of that crop will be picked."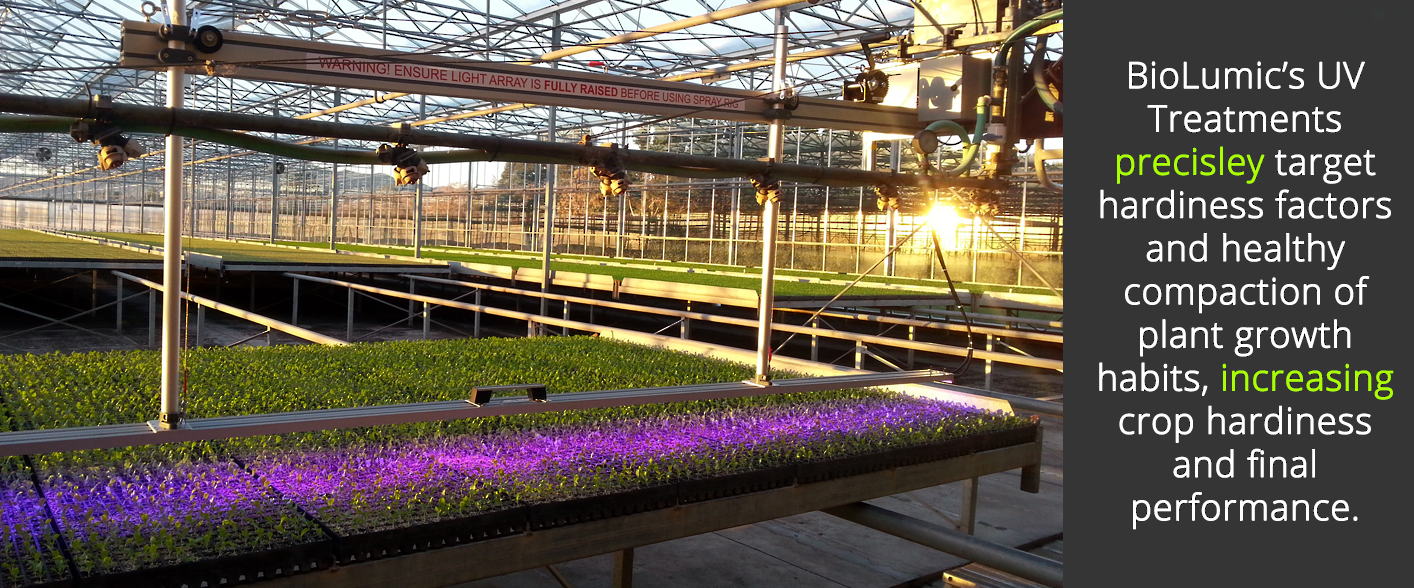 Getting traction in the US is the initial priority, but the company's plans include several other territories. What's the market opportunity? According to Bebb, the American lettuce market alone is worth $US 2 billion. Globally, the five crops that Biolumic is eyeing for its technology are worth $US 80 million, and when you include soy and maize the numbers become eye-watering. "These are large markets we are targeting, and we think we can make a significant difference."
For now, however, this is very much still startup territory. The Californian trials will be concluded in February, with the first customer likely to be signed within a further three months, and a second later in the year. Meanwhile, the company is looking to raise $1.8 million domestically, with a Series A funding round likely to follow some time next year.
For Bebb, who arrived at the helm with extensive experience in business development, it's been almost a textbook case of successfully commercialising science. "Two things have aligned here. The most important is having a university reseacher [in Jason Wargent] who has always looked outside the lab – or the field, in this case _ and is really wanting to leave his mark on the world, to make a positive difference. Add to that the fact there's been very strong support around this company from the word go. There were investors who were able to get in behind it at an early stage and bring a much more commercial focus to the research. That's been key."