I have been a problem solver from way back.
At 12 years old, I participated in a Future Problem Solving team. We won the nationals and then placed 10th globally at the world championships in Rhode Island, USA.
At the time, I thought it was not that cool – calling it 'geek camp' – but little did my naive and juvenile self realise, that problem solving would become the part of my career that I love the most.
At Sustainable Coastlines, we develop local solutions that address the global problems of marine debris and freshwater quality.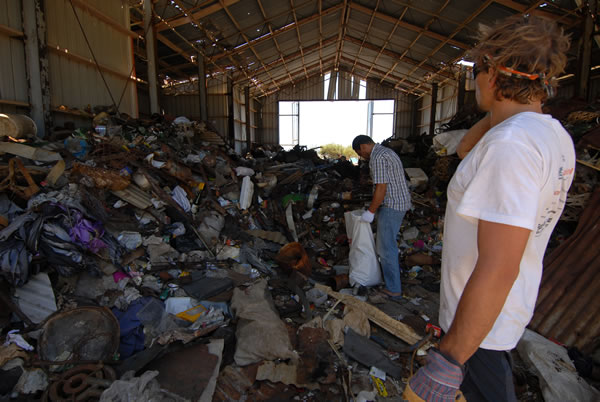 In the beginning, we ran large-scale coastal clean-up events. After removing 2.8 tonnes of rubbish in 2009 from Aotea/Great Barrier Island, we returned a year later to collect 3.1 tonnes from the same beaches. We realised there was a constant flow of rubbish entering the Hauraki Gulf and that clean-ups were essentially the proverbial ambulance at the bottom of the cliff. So, we decided to build a fence at the top through compelling and comprehensive education programmes.
But to scale up a solution, you have to prove the effectiveness of what you are doing in order to give certainty to investors. We approached psychologists from the private sector to help us deliver a longitudinal study showing the impact of our work.
We figured the leverage points of our programme that function well for different demographics of people. For example, younger children (especially girls) really engage when they see the impact plastic has on wildlife and we have seen them become extremely passionate about saving birds and turtles.
Adolescents are in an egocentric phase as they go through puberty, meaning that they care less about adult influence and more about issues that affect them and their peers directly. We found an excellent way to get this difficult-to-motivate group to care, by highlighting the impact that endocrine disrupting chemicals (commonly present in plastic), which mimic oestrogen, have on the size of boy's private parts.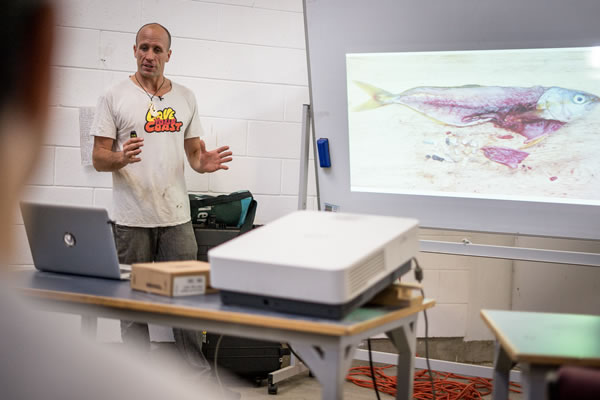 For adults, the fact that plastic contains multiple carcinogens resonates strongly because of the significant (and rising) occurrence of cancer and the devastating effect it has on families.
When it comes to prisoners, it is another kettle of fish. They tend not to care so much about wildlife – not surprising considering they do not have access to nature. I motivate them by explaining that when too many endocrine disrupting chemicals get into young girls through the food chain, it can make them go through puberty early and become infertile – thereby impacting my ability to become a grandfather through my daughter Juliette, which is a goal of mine. All prisoners miss their family (whether they are still around or not) so this gets the emotion going.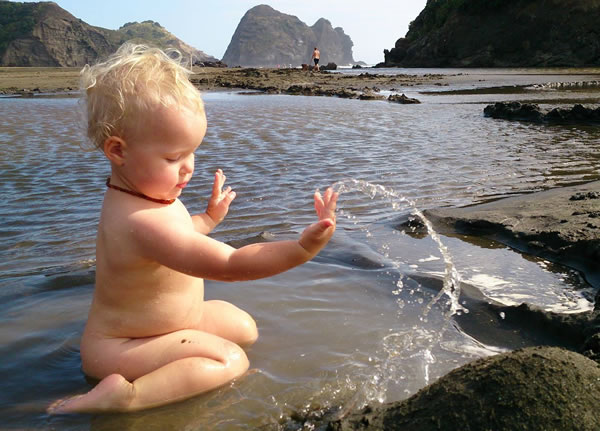 I then tell a story about getting back on your feet after being knocked down, using the context (and gory images) of a shark attack that I survived, right around the time that we started Sustainable Coastlines in the Galápagos Islands. This is about how to react to adversity and the choice I made to get back in the surf post-attack resulting in increased confidence and resilience. I have seen it work really well by recognising that although they don't have many choices available to them, they can decide how to react to challenges and they can elect to go into training and give something back to the community.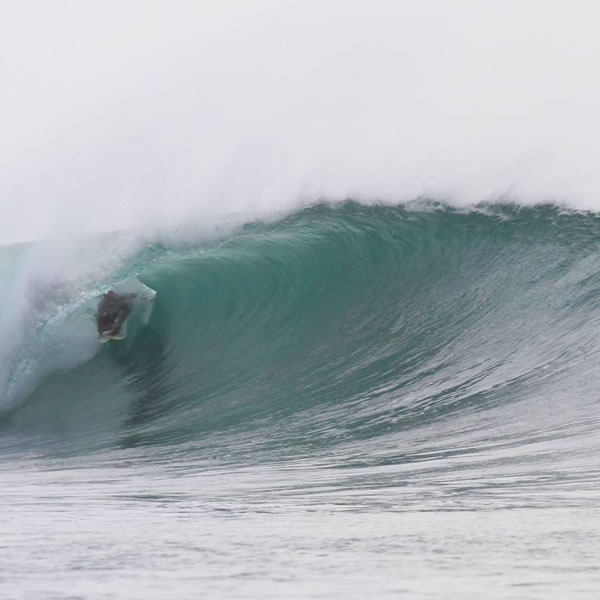 When the proven results started to come through from this education work, it really dawned on me how important evaluation is and how much of a challenge it is to create frameworks that enable environmental education to deliver certainty of outcomes to investors.
Once we could see the lasting impact was clear, we shifted our strategic focus on enabling people to look after the places that they love, through problem solving, by using tools that we had developed. So now, we deliver capacity development programmes, which consist of training local organisations in public speaking, event management, fundraising, evaluation and governance.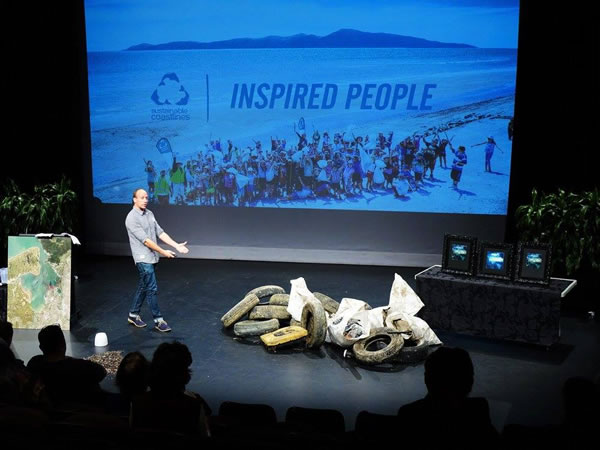 Trainees gave us feedback that the 'Love Your Coast' and 'Love Your Water' platforms (which we have open-sourced to make it easier for people to deliver solutions for the environment) were really helping them to do a better job.
We are determined to generate more investment to make these platforms state-of-the art from a technology perspective, as any efficient solution these days must harness the power of a hyper-connected population. But I think that environmental solutions still need to be combined with experiences that connect people to the nature so they will work harder to protect.
I think that people everywhere (but particularly kiwis), are more likely to change their behaviour positively when they have been physically involved in an intervention. This means getting your hands dirty cleaning the beach, planting trees, trapping pests or essentially having an experience in a place that inspires them to make better decisions.
We thought that an inspiring training venue would enable people to experience sustainability in a built environment and leverage this trait. Engineering and building design is also about solving problems by creating exciting spaces so this was an idea that really resonated with us.
First we considered: if we were to make a building, where would the best location be?
Having been a small part of making programmes delivered by Panuku Development Auckland in the past, we were familiar with the Wynyard Quarter on the waterfront in Auckland City. It was their vision to activate sites, amongst a hive of construction activity, that enabled us to secure a prime location that fitted well with our brand.
But if we were to create a building, what would it be?
Clearly, it had to represent our values. This meant using salvaged, non-toxic materials and it had to be as sustainable as possible. I had heard a rousing presentation by Jerome Partingdon from Jasmax architects, about the Living Building Challenge – which is touted as the most rigorous performance standard for construction on the planet – and decided that we had to strive for it.
'Living Building' certification is a pathway towards building becoming regenerative. This means that they actually showcase examples that give back to the environment, rather than harm it – an extremely challenging goal in construction which has massive impacts of water quality and produces more waste than any other sector.
So – how could we, as a small charity, go about creating a living building with little funding? The only existing building in New Zealand that has been designed to this standard was Te Kura Whare – the Tuhoe headquarters in Taneatua (and came at a cool +$16 million – well beyond our reach).
Then I had an idea. For six years, we have been collaborating with the Department of Corrections Community Work centres to collect data from coastal rubbish and help with riparian planting. Could we work with this labour force to salvage and repurpose materials to make a building?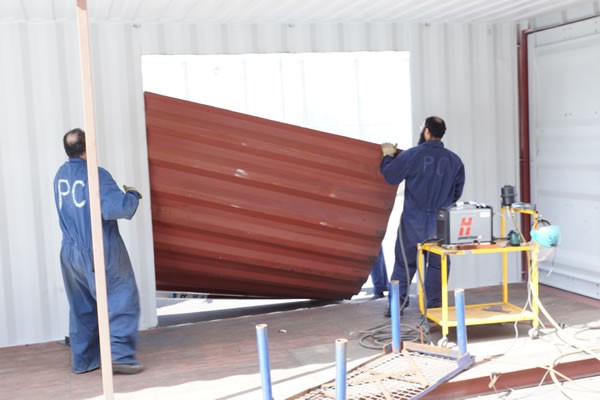 One of the parameters for Living Buildings requires the project to include social justice values. It was rapidly clear that this would be an excellent fit for the training programmes that Corrections delivers to up-skill offenders in prison workshops. Studies have shown that vocational training helps to reduce recidivism when it comes to people integrating back into society after a sentence is completed. Considering that each prisoner costs the taxpayer about $100,000 annually, an opportunity to save multiple birds with one stone came about.
We negotiated an MOU with Corrections to modify two forty-foot shipping containers and prefabricate 230 sections of decking and ran thousands of hours with Community Workers to salvage materials for this from pallet wood.
We even had the modification engineer from CSL Containers help to instruct the prisoners on how to do the job properly. Pulling this off gave me even more confidence – the private sector could see how the project was good for the community rather than kicking up a fuss about potential competition from the prison workshops treading on their patch.
We are now proud to say that we are close to completing the Flagship Education Centre in a prime spot in the Wynyard Quarter.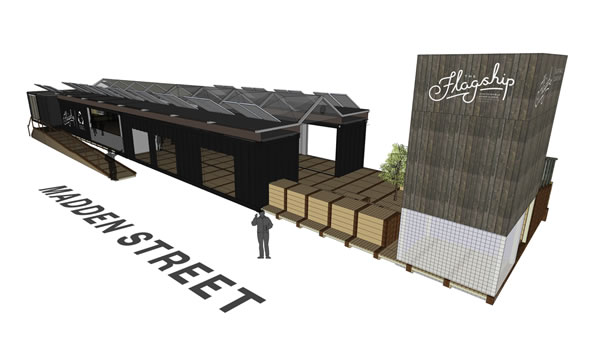 We have successfully raised over $65,000 through a Kickstarter campaign and have been humbled by the response.
[mks_button size="small" title="View the Kickstarter campaign" style="squared" url="https://www.kickstarter.com/projects/1105302897/help-us-complete-the-flagship-education-centre" target="_blank" bg_color="#0075a9″ txt_color="#FFFFFF" icon="" icon_type=""]
Having the chance to tell the story publicly has been inspiring for our team and supporters. You can listen to coverage on National Radio's Nine til noon program here: [mks_button size="small" title="Go to Radio NZ" style="squared" url="http://www.radionz.co.nz/national/programmes/ninetonoon/audio/201824983/'just-being-a-part-of-something-i'm-rapt'" target="_blank" bg_color="#0075a9″ txt_color="#FFFFFF" icon="" icon_type=""]
Or check out the short video below that we created:
Over 185 stakeholders have been involved in this intrepid journey and we estimate that we have raised over $2.5 million of in-kind support from consultants, materials suppliers, tradespeople and mentors.
This weekend, we are casting the net even further, by holding a good old-fashioned working bee, to build planter boxes from salvaged timber for a community garden that we will establish on site.
If we are able to find support for 38 solar panels to generate more power than we consume and certify The Flagship as a Living Building, it could be a contender for being the most sustainable commercial building in New Zealand. In the least it will be a showcase for innovative solutions that improve the environment, human health and reduce the costs of construction solutions through innovative problem solving.
Even more exciting is where this project may take us – already multiple requests have arrived for us to help with community building projects at marae and other non-profits to replicate design elements and the construction process. We are also collaborating with the construction sector and Corrections to set up pathways to employment for recently released prisoners. Our role has been to motivate offenders to engage in the training while inside the wire, by giving them an opportunity to look after the places that they love, even while locked up.
We are looking forward to launching the Flagship this summer – it will be available as an events space (free for non-profits) and open to the public as a museum-style display – a solution that we are proud of having the opportunity to show the world.
This has literally taken blood, sweat and years to complete and we are now staring down the barrel of a huge amount of work to certify the centre as a Living Building. But if it were easy, then everyone would do it.
I think that the best solutions are those that solve multiple problems at once – saving multiple birds with one stone. It has been an honour to play a part in developing this showcase that has measurable benefits for the environment, the taxpayer and the safety of our people.