A Northland whānau looks back over four generations and plans its forest management strategy 750 years into the future. The whānau's vision is to manage the land in perpetuity, and to combine modern science and technology with traditional values of caring for Papatūānuku, restoring cultural practices and providing for their extended whanau.
Our tūpuna advised her children and grandchildren:
"Kaua e tūraki nga rākau i nga tahataha o nga wai"
(Do not cut down trees along the waterways)
She was amazed that this Pākehā tree, the Monterey pine (Pinus radiata) could mature in 25 years and actually started planting these in the early 1920s. She (our grandmother) planted about 7 acres of Pinus radiata.
A generation later, our tūpuna's children flattened the native trees to clear the land for pasture – right down to the waterways. My Dad planted about 70 acres of Pinus radiata.
A further generation later – my generation, her grandchildren – flattened all vegetation with the use of roller crushers and modern machinery – right into our waterways and planted genetically improved varieties of Pinus radiata. I planted about 1750 acres of pines.
Another generation later, her great grandchildren have seen the error of our ways and look towards correcting those historic wrongs to the environment. They have planted about 1180 acres in Pinus radiata and about 410 acres of kahikātoa (tea tree).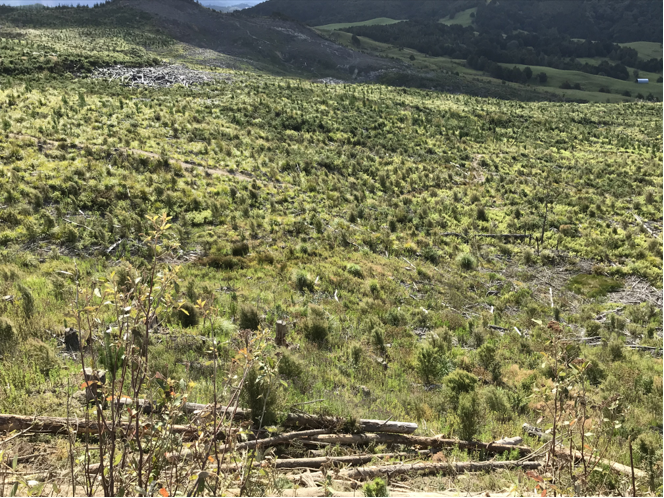 Our whānau have three primary objectives: the first that the land is kept within the whānauin perpetuity; the second is to ensure that the quality of water exiting our property is as good or better than the water coming into our property; the third is that we care for Papatūānuku, and leave our whenua in a better condition than we received it.
"We have a 750-year plan to be harvesting mature native trees like kahikatea, mātai,tōtara,rimu, tānekaha, miro, taraire, by the year 2350 and kauri by the year 2750. It is now 2021.
Changing land use for better environmental outcomes
Of the 1067 hectares our whānau farm, about 200 hectares is used for cattle grazing. One stream runs through this area and it is fenced off to prevent cattle having direct access to the water. Livestock are one of the contributors to pollution in our waterways, so we hope to phase out cattle farming within the next 40 years and only keep sufficient livestock for tangi and whānau consumption. Meanwhile we will try to find alternative cash crops that can generate income and improve our environmental footprint.
The remainder of our land is in indigenous vegetation or pine trees.
Over the last five-year planting programme, we have planted 50-metre minimum buffers of kahikātoa (tea tree) along the four streams that run through our existing pine forests. In total 168 hectares of kahikātoa have been planted in a 650-hectare forest.
Planting these tea tree buffers will filter out the tannins, nutrients and poisons that have polluted our water and affected the in-stream plant and animal populations over the last 100 years. We plan to use modern science and technology to improve breeding of tuna (eels), torewai (freshwater mussels) and kēwai (freshwater crayfish) and encourage the reintroduction of native species like karawaka and kōkopu.
Within the tea tree plantings we have planted plots of other native trees like kauri, taraire, kahikatea, tawa, rimu, pūriri and tānekaha in the hope that as the trees mature, birds will spread seed to increase the native vegetation.
We have a 750-year plan to be harvesting mature native trees like kahikatea, mātai,tōtara,rimu, tānekaha, miro, taraire, by the year 2350 and kauri by the year 2750. It is now 2021.
Combining old and new practices and technologies
In terms of cultural practices, we are introducing modern techniques to grow traditional food (puha, tameraeona, poroporo) crops for consumption. We are also re-introducing traditional methods of storage for kūmara, potatoes, kāngawai etc, and cultivating traditional natural foods like nīkau,tīkouka, pikopiko, tāwhara in a sustainable manner.
We are promoting rongoā, so we revive the understanding and use of traditional medicinal plants. Another initiative is to restore populations of indigenous fauna for harvesting once sustainable numbers are reached.
Our vision of the future
Our vision is for our whānau to be managing this land sustainably in perpetuity, for the benefit of our extended whānau.
This could involve using the most advanced technology so clear felling of radiata pine forests can be discontinued by 2050. Our future pine harvests will be on a sustainable, continuous cover basis. In general we will thin out the larger trees commensurate with the growth of the forest to give room for smaller trees to put on more girth.
At this stage we calculate that we could be sustainably harvesting native trees in 230 years. Thus we will still need to keep planting pine trees or some alternative species to generate income in the meantime to meet the management costs of weed and pest control and rates, to achieve some form of sustainability. Wilding pines that miss the early cull (while they are small) will be allowed to reach maturity and later harvested. We anticipate greater advances in technology where robots would be used to harvest these 'unwanted trees' without harming the regenerating native forests. We expect to gradually phase out pine trees over the next 250 years, earlier should we find an alternative income-generating land use to help us meet land management costs.