With food waste becoming an imminent global issue, students from Kaikorai Valley College are doing their part to minimise food wastage in Otago. Their business, Kaika Energy is a biotechnology social enterprise focused on collecting food waste and turning it into bio-fuel and fertilizer.
Almost half of the world's food is thrown away every year, while over 800 million people go hungry. In New Zealand, it is estimated that we throw away over $870million in food waste every year. This is enough food to feed 250,000 people for an entire year, or the entire population of Dunedin more than twice over. Food waste is one of the most pressing social and environmental issues of our time, one that requires immediate action.
Cities all around the world are seeking innovative and sustainable means to deal with their waste, in order to decrease the negative impact waste is having on cities, both environmentally and economically. One country focusing on doing their part is France, with the French parliament taking a bold step to cut food waste in half by 2025. Grocery stores in France which are 400 square metres or more will be banned from throwing away or destroying unsold food and must instead donate it to charities or for animal feed, under a law set to crack down on food waste.
The Lion Foundation Young Enterprise Scheme students from Kaikorai Valley College are doing their part to improve the food waste management here in New Zealand, starting locally in Dunedin. These year 13 students have established Kaika Energy, a biotechnology company that turns local food waste into biofuel and fertiliser. The company aims to support Dunedin in becoming a sustainable city, through providing a means to dispose food waste in the city, an obvious absence in many New Zealand towns. These clever students are working towards transforming their future, one apple at a time.
Introducing teens to business
The Lion Foundation Young Enterprise Scheme (YES) offers the opportunity for students aged 15-18 to participate in a national programme, where they set up and run an innovative and sustainable business. This provides students with the opportunity to form a company with fellow students, research and write a business plan, raise funds to use as start-up capital, produce a new product/service and market this product/service to the public. Students are supported by their teachers, and local business mentors. An estimated 60,000 students have taken part in YES since it was first rolled out nationwide in 1981. Some of these alumni, such as Rod Drury and Seeby Woodhouse, have gone on to enjoy multi-million dollar success as an entrepreneur. This year there are over 3000 students involved in the YES programme all around the country, including Kaika Energy.
Kaika Energy
Kaika Energy is starting small, with an initial goal of producing enough biofuel to run the equipment on the schools Urban Farm, and to produce a liquid fertiliser to use on the crops. Once this is achieved they plan to expand, locally and then nationally. As there is no current service for disposing non-edible food waste in Dunedin, the team are focusing on managing the disposal of food waste unable to be consumed by using their Anaerobic Digestor. Their service will include going through a process of collecting food waste and turning this into a product of bio fuel and by-product fertilizer.
This business initiative was inspired by the recent reseach into the annual food wasted by New Zealand households. Most of this is dumped into landfills, producing damaging greenhouse gases which are released into the atmosphere. Kaika Energy plans to change this statistic, starting with providing a solution to the waste in Dunedin. Chief Executive of waste and recycling industry body WasteMINZ, Paul Evans, says that "households throw away about 80 kilograms of food annually". He also says that "wasting food also wastes the fuel used to transport it, avoiding this food wastage would take the equivalent of 118,000 cars off the road for a year."
How does it work?
The Urban Digestor can be compared to a 'human made cow'. Firstly, all food waste must be pre-treated through an industrial sized macerator that grinds down 30-60 kilograms worth of food waste every day for a 21 day process. This is where a partnership with FoodShare and local businesses will be essential in order to collect enough food waste for the 21 day cycle.
The ground food waste is then put into a 5m3 Anaerobic Digestor, a gravity outlet system, which requires approximately 35 kilograms of food waste to operate. This food waste is then processed and separated into a product of gas and a bi-product of liquid. The Biogas, made up of 45% Carbon Dioxide and 55% methane, is then used for the BioFuel. The liquid fertiliser (with an NPK value of 7 g/kg of nitrogen, 0.9 g/kg of phosphorus and 2.5 g/kg of potassium) remains non-concentrated, ready to put straight onto the garden. From the 35 kilograms of food waste about 30 litres of treated liquid fertiliser and 6.4m3 bio-gas will be produced at the end of each day.
Between 630 – 1260 Litres of liquid fertiliser will be produced after the 21 day cycle. Kaika Energy will sell 1 and 4 Litres bottles of fertilisers to be used on crops, plans and grass. There is a huge market for this fertiliser in Otago with the large numbers of dairy and cattle farms. There is currently no fertiliser available on the market that is non-concentrated and can be directly applied, creating an enormous opportunity for the budding entrepreneurs.
The idea behind selling the fertiliser is the hope that it will create a sustainability cycle that will begin with the fertiliser being produced from food waste, which is then put onto gardens or crops and then contributes to the group of gardens and crops. This will then result in food waste for the Urban digester and completes the cycle. This ingenious idea poses a key solution to New Zealand's impending food waste dilemma.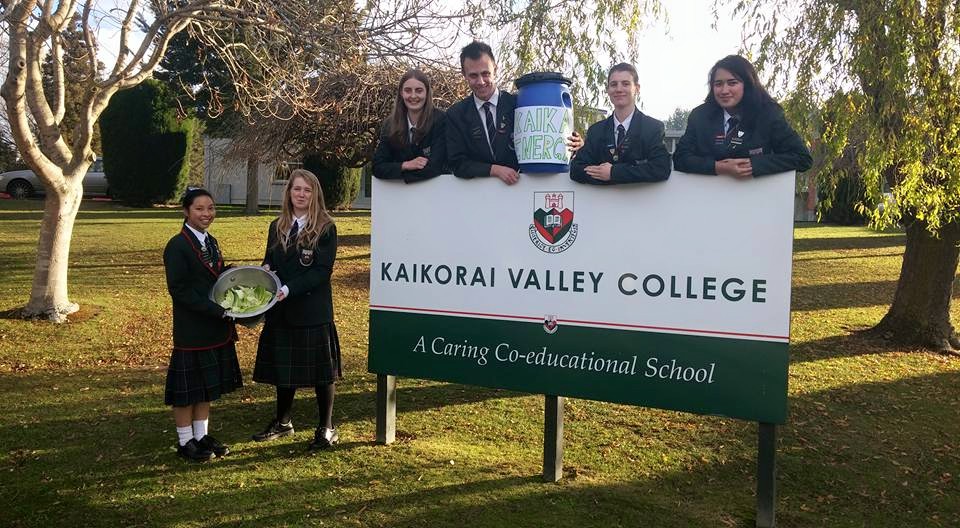 The importance of networking
Kaika Energy have already made many strong connections with community organisations, including Keep Dunedin Beautiful, the Fonterra Grass Roots Fund, Food Share and the Dunedin City Council, all of which enthusiastically support the project. Kaika Energy managing director Sophia Taing says, "Through each connection we make we are offered names of other companies who may be of help and from there it has been connection after connection, with businesses who are very generously willing to help us achieve our goals." The support and expertise business mentors in the local community can offer these young entrepreneurs is invaluable and crucial to the future success of the company.
Kaika Energy are working on a partnership with FoodShare, a local company that collects unwanted but edible food from grocery stores, restaurants and cafes and delivers it to service agencies who run food banks and distribute to the hungry. FoodShare have rescued over 100,000 kilograms of food and from this have provided over 297,000 meals for the Dunedin community. Kaika Energy plans to utilise this network and take the remaining, inedible food to put into their machine and transform it into BioFuel and Fertiliser.
Kaika Energy's ambitious goals are becoming a reality through the help of technology teacher, Peter Dodds. Peter ensures that students are able to utilise the equipment in the Hard Materials Technology Department in order to manufacture their own products. This year's ambitious project we have also been able to form cross-curricular links with Science, Maths and Food Technology. Peter believes that "science in particular will prove useful for analysis of the fertilizer and monitoring of gas production, thus giving senior science students a very important real life, learning opportunity."
Equally as important is Kaika Energy's relationship with their business mentors ADI Systems, a wastewater treatment specialist company. Steve Brewster, an electrical engineer with over 25 years' experience in anaerobic digestion, and Alzbeta Bouskova, a process engineer with a PhD in wastewater technology, have been mentoring the students through providing expert knowledge and advice to the budding entrepreneurs. Steve's interest in Kaika Energy comes from his desire to see a project that can provide insight into practical, biological waste treatment processes and to encourage the younger generation about sustainable practises and renewable energy. Steve believes the implications from this project will be essential to the future.
Future Plans
Kaika Energy envision this company becoming a regular fixture of their school and the service Kaika Energy offers can extend to operating mechanical vehicles such as tractors, cars and buses.
Being located in Otago, the team have a large target market of gardeners, farmers and people who want their food, crops, plants and grass to grow. As their business expands they hope to push the liquid fertiliser towards these ventures to enhance customer's grounds and crops. This subsequently helps the economy and produces more opportunities for food that will create food waste which then can be either put into a digestor.
Kaika Energy's idea is both beneficial to the community and creates awareness about the amount of non-consumable food that is wasted. Informing and educating the public about the importance of waste management and how separating food waste from other rubbish can transformed into something that is useable. This ingenious project aims to change people's perceptions about food waste and habits, and plans on transforming Dunedin's outlook on sustainable living.
Future plans extend to reducing food waste throughout New Zealand, and Pacific Islands. The team plans on taking their Urban Digestor idea to the Pacific Islands to help overcome their food waste issue, by integrating a food waste management system. Kaika Energy managing director Sophia Taing has already made contact with the Chamber of Commerce in the Cook Islands who has made contacts with local business owners to assess the amount of food waste available for use in a bio digestor.
These students need all the help they can get to develop their business into a fully functioning sustainable movement in Dunedin. If you would like to help through donating food waste, offering business wisdom, or a way to promote their idea throughout New Zealand please get in touch with the team at kaikaenergy@gmail.com.