An organic entrepreneur's advice on scaling up regenerative agriculture in New Zealand
In the 37 years that he has been in the business of organic food production, Gary Hirshberg has seen the US market for organic products grow by over 2.6million percent, from US$2m in 1983, to the US$52.5b industry it is today. 
Consider that figure for a minute. And then consider that the market is growing in double digit figures year over year, and you can begin to get a sense of the opportunity for NZ, if we were just to look at increasing our organic exports to the US alone.
Now, give some thought to the fact that the biggest challenge in the US organics market is not one of demand, but of supply. US regional markets regularly run out of organic products – and herein lies the scale of the opportunity. Beyond the US, the global organics market is forecast to reach almost US$680b by 2027.
Market opportunity for organic and regeneratively produced foods in the USA
100% of US mainstream supermarkets now sell organic foods.
Organic foods accounted for 5.5% of all food sold in retail channels in the in 2017
Fellow in the Edmund Hillary Fellowship, Gary is co-founder of Stonyfield Organic, which dominates around 80% of the organic yoghurt market in the US (Listen to the story of Stonyfield here). He also sits or has sat on the boards of numerous organic firms in multiple sectors, from proteins to cereals, pasta, plant-based dairy alternatives, meat, tea, juices, candy and even beer. He first visited NZ 12 years ago when he was invited to present the film Food Inc (TakePart), in which he features, and has been interacting with the Kiwi organic agriculture movement ever since. The organics movement is a lot older than the concept of regenerative agriculture (regen ag), but as an early pioneer of the former, Gary maintains that true regen ag is not possible without a full conversion to organic. His view is that relying on chemical fertilisers and pesticides is by definition, not a regenerative activity. It's not a view that is shared by all and there are certainly some farmers who define their methods as regenerative yet still selectively use chemical fertilisers and pesticides. 
Over his many decades in the organic sector, Gary has worked with hundreds of farmers who have embraced regenerative methods on the way to becoming certified organic. Some have chosen to stop short of becoming organically certified and others have recently pushed further to become certified under a recently developed voluntary Regenerative Organic seal.Gary accepts that every farmer needs to make the choice that is right for them and encourages progress wherever possible. But he notes that regenerative agriculture is a set of principles Definitions and Principles of Regenerative Agriculture:
1.The Original Principles of Regenerative Agriculture (Rodale Institute)
2.Definition of Regenerative Agriculture (Terra Genesis International)
3.What is Regenerative Agriculture? (The Carbon Underground) , rather than a fixed set of standards as is the case with certified organic methods. He underscores that most countries have precise laws that define and regulate organic standards, whereas regenerative methods are descriptors that lack the legal "teeth" and enforcement consequences that can give consumers, retailers and other customers clarity and certainty about the actual growing and processing practices.
The new voluntary Regenerative Organic seal put in place in the US doesn't help to provide any of that absolute certainty as it lacks enforcement mechanisms, yet is a step in the right direction, encouraging the following regenerative practices: certified organic, engagement in an active soil carbon sequestration measurement and improvement programme, zero tillage, humane treatment of livestock, and establishment of living wages and health protections for farm workers. And since there is a growing proportion of US millennial consumers who are buying organic foods, he remains laser focused on continuing to grow the marketplace and supply of certified organic products. And that is his focus and obsession here in NZ.
 "Farmers need a market signal – they need to know
that if they're going to invest in doing things differently,
that someone is going to pay." 
One of the biggest barriers to organic growth in NZ's premium products market is the lack of a legislated and standardised organic seal. Currently NZ has three organic certification agencies, each with their own standards, BioGro NZ, AsureQuality, and Organic Farm NZ, some of which still allow practices that would be banned under stricter standards such as those used across the EU. Organic producers can choose to meet voluntary standards to attain these certifications. This approach has resulted in widespread wariness of the organic sector within NZ and a lack of trust from international markets. 
Gary and colleagues from the US including former Whole Foods Co-CEO Walter Robb have met on multiple occasions with numerous NZ officials including Damien O'Connor, the current Minister of Agriculture, to urge NZ's expedited adoption of a unified organic standard that complies with global standards in the US, EU and many other countries. He hopes that the Organic Products Bill recently introduced to NZ Parliament will help remove this barrier. 
"There is this clean, green halo surrounding NZ,
but without an accompanying organic standard,
our products are not worth as much
on the international market as other countries."
Gary thinks another hurdle to the widespread adoption of organic and regenerative organic methods of farming in NZ is a gap in understanding the market opportunities that exist. This contention is supported by environmental consultant Cerasela Stancu, who says that the movement towards regenerative agriculture needs to engage all sectors of society to have maximum impact. To help solve this challenge, and to share his wealth of experience built through 40 years of research working with thousands of farmers across millions of acres of land, Gary has been hosting annual entrepreneurship bootcamps in Auckland for the past three years for emerging organic and natural enterprises.He is also establishing a working education and demonstration centre on a farm near Motueka that he and his wife purchased two years ago. Everyone from existing farmers to lifestyle block owners and young future farmers will be able to learn about organic methods of soil management, crop and livestock production and organic conversion techniques. In addition they can also learn about marketing, sales, cash-flow management and the many other related business skills that organic entrepreneurs need to succeed. He will be bringing over US retailers and distributors to help educate producers about how to break into the vast US market. The farm is two years into the organic certification process with BioGro NZ, which means they have one year remaining before they can be certified organic.
"A handful of NZ's bigger organic brands
such as Ceres and Lewis Road Creamery are doing a great job of telling their story, but many organic producers are small scale and lack marketing skills. This is the problem I intend to help fix – getting producers stories out into the markets."
On his farm, Gary is building the infrastructure for producing manuka honey, orchard fruits, grapes, nuts, olives, market garden vegetables, and lamb. He is investing in fencing, irrigation systems, road construction, renewable energy, removal of invasive species, planting of natives to help increase biodiversity, establishment of conservation easements and a 50-person classroom. The farmers who will gain access to the farm will contribute a percentage of their yields to help pay for costs, and will commit to passing on knowledge by agreeing to help teach courses at the centre. 
In addition to leading workshops on organic methods, Gary is planning to share important  aspects of international business to primary producers including how to sell their products, how to tell their story to engage international markets and how to engage in e-commerce. Capitalising on growing markets for NZ's organic dairy across Europe and Asia are just one example for Kiwi farmers. In this way, Gary hopes to catalyse and accelerate the emergence of a new generation of organic NZ farmers, and in turn to drive organic production to become a significant portion of NZ's domestic and export production.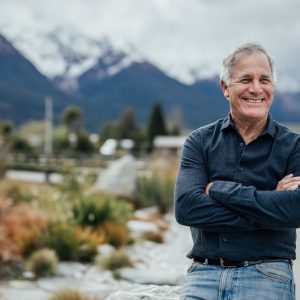 About Gary Hirshberg:Gary Hirshberg is CEO of the Hirshberg Entrepreneurship Institutes and Co-Founder and Chief Organic Optimist of Stonyfield Farm, the world's leading organic yogurt producer.  The author of Stirring It Up: How to Make Money and Save the World (Hyperion, 2008), Gary frequently speaks on topics including sustainability, organic agriculture and the profitability of green business.  Gary serves on several corporate and non-profit boards, including Beyond Broth (organic broths), Blue Apron (meal kits), Halsa (plant based dairy alternatives), Orgain (organic nutrition), Organic Voices (organic messaging and education),  Peak Organic Brewing (craft beer), and UNreal (natural and organic chocolates), as well as an Advisory Board member for Applegate (organic and natural meats) and Handsome Brook Farms (organic pasture raised eggs). He has received 12 honorary doctorates and numerous awards for corporate and environmental leadership including a 2015 Champion for Children Award from Mount Sinai Hospital's Children's Environmental Health Center and a Lifetime Achievement Award by the US EPA.  Among his current projects, he is establishing an Organic Entrepreneurship Centre in Motueka, NZ. 
This story is part of a series called 'Our Regenerative Future' produced in collaboration with Edmund Hillary Fellowship which investigates the current state of regenerative agriculture in New Zealand, and highlights future opportunities for the country's primary production sector.
Back To Our Regenerative Future
Alina Siegfried