How a Kiwi soil expert is leading the global conversation on building healthy soils through regenerative agriculture
Whenever Nicole Masters tells international audiences that New Zealand farmers are experiencing drought conditions, they are amazed. The typical response tends to be, "how is it that a temperate-zone country like NZ with comparatively high rainfall is in the middle of a drought?"
Nicole explains that while certain other country's farmers experience drought due to a prolonged lack of rainfall, many of NZ's drought woes stem from the fact that the soil doesn't retain enough moisture. NZ isn't experiencing the distinct and obvious desertification that other regions of the world are facing due to climate change-driven droughts, but our issue is with the compaction of soil and the consequent high rates of run-off. Nicole attributes this compaction to shallow rooting plants and poor biological functioning of the soil due to the liberal application of soluble fertilisers.
"In some parts of the country and on some specific types of farms,
they only need 2 or 3 weeks without rain to experience drought-like conditions."
Throughout the process of researching this series of articles on regenerative agriculture in NZ, virtually every single person I talked to said I need to talk to Nicole. A long-time leader in regenerative agriculture (regen ag), Nicole studied soil science and ecology at the University of Otago. She had originally intended to become a researcher of great white sharks, but after taking some agro-ecology and botany papers, she became fascinated by how much soil was at the core of so many of the challenges we face as a global society.
"Soil impacts on everything – the health of fishery beds, the acidification of oceans, the level of greenhouse gases in our atmosphere, food quality, human health, water cycles, and desertification patterns. The lack of moisture retention in soils across the world due to our modern systems of farming is a massive driver of climate change."
After university, she moved to her father's property near Katikati, and began to research regenerative farming as a solution to soil-related problems. She applied some of those principlesDefinitions and Principles of Regenerative Agriculture:
1.The Original Principles of Regenerative Agriculture (Rodale Institute)
2.Definition of Regenerative Agriculture (Terra Genesis International)
3.What is Regenerative Agriculture? (The Carbon Underground) in the planting of 700 avocado trees, 2,500 wetland plants, and an orchard as well as learning about commercial vermicomposting. In 2003 Nicole began teaching the principles and practices of regen ag, starting with a class on the role of mycorrhizal fungi in the soil for avocado growers.
In 2006, Nicole launched Integrity Soils a company focused on training farmers, and to advocate for NZ to seriously consider supporting regen ag as a means of improving ecosystem function. At that time, however, few people within both the government and the ag sector were ready to hear her message. This didn't stop Nicole developing multiple large-scale projects with major ag industry businesses, but when certain contracts remained unsigned she began to turn her energy offshore by 2015.
Nicole has spent the last five years developing an international reputation travelling in the US, Australia and Canada, training farmers, speaking to thousands of farmers and ranchers at conferences, and advising governments on the opportunities to be gained by regenerating and maintaining healthy soils. Offshore audiences are proving to be enthusiastic; within the first few months of this year, Nicole will have delivered 8 keynote addresses and workshop sessions at sold-out major conferences across Australia and the US, including , Western Colorado Food and Farm Forum, EcoFarm (1650 attendees), and the Quivira Coalition's Regenerate conference (500). She recently addressed 700 farmers in Iowa, a place she describes as the belly of the beast of conservative, conventional farming, and points out that much of America's rural heartland is becoming more interested in soil health.
"There is an opportunity for NZ and that we need to own it."
In an effort to help catalyse the movement, Nicole is involved in a Manaaki Whenua Landcare research project being led by Dr Gwen Grelet,  and looks to engage with a burgeoning set of willing farmers. She points to our strong influence of indigenous culture in NZ as a great foundation for building a commercially scalable regen ag industry.
"Many people talk about regenerative agriculture like it's this new thing,
but that's doing a great disservice to indigenous people around the world. They've been regenerating the land for hundreds of years; the Māori worldview is inherently regenerative. Look at what Māori were doing when the Europeans first arrived – they had the incredibly fertile, productive gardens all around the Auckland region."
Nicole has witnessed more openness from the NZ government in recent years to have the conversation about the benefits of regen ag, but thinks that we are a long way behind other countries such as the United States, which has put in place a legislated standard, albeit it voluntary, for organic, regeneratively produced foods.
She is frustrated by the narrative from some factions of the agriculture community that NZ farming is already regenerative because our animals eat grass, we practice rotational grazing, and we have comparatively high levels of soil carbon. She suggests that those assertions come from a misunderstanding of regenerative agriculture and a narrow, reductionist view of the inherently complex issue of soil health.
"One of the major principles of regen ag is to minimise disturbance. However, many people within the farming community and industry interpret that to be purely about avoiding tillage and cultivation. Disturbance is rotational over-grazing, disturbance is the use of soluble fertilisers, disturbance is using herbicides. Anything that you're doing that disrupts the natural biological functioning of an ecosystem is disturbance."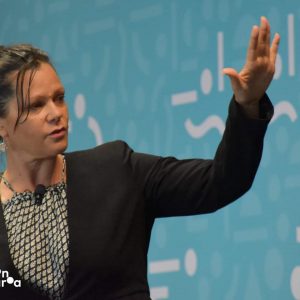 About Nicole:
Nicole Masters is an independent agroecologist, systems thinker, author and educator. She has a formal background in ecology, soil science and organizational learning. She has been providing agricultural consulting and extension services since 2003.  Nicole is recognized as a knowledgeable and dynamic speaker on the topic of soil health.
Her team of soil coaches at Integrity Soils work alongside producers in the U.S., Canada and across Australasia. Supporting producers who work with over 1.1 million acres to take their operations to the next level in nutrient density, profitability and environmental outcomes. She is one of a growing number of people who are facilitating a rapidly expanding world of quality food production and biological economies.
Her book titled "For the Love of Soil" showcases examples of the tools and principles producers are using to regenerate their soils. Describing a step-by-step triage of actions, so that you too can regenerate your land.  
This story is part of a series called "Our Regenerative Future" produced in collaboration with Edmund Hillary Fellowship which investigates the current state of regenerative agriculture in New Zealand, and highlights future opportunities for the country's primary production sector.
See Nicole on Pure Advantage TV
Back To Our Regenerative Future
Alina Siegfried