Today Pure Advantage released the results of our Climate Survey which talked to 1000 New Zealanders about their perspectives on New Zealand's climate policy position. The results show that a vast proportion of New Zealanders have the appetite required to effect change and reduce our greenhouse gas emissions.
Following the US announcement that they would withdraw from the Paris Climate Change Agreement, we asked if New Zealand should follow suit. A whopping of 92 percent of Kiwi's disagreed, not wanting our country to follow President Trump's decision. New Zealanders are even more united in their commitment to the Paris Accord than Australians who show 87 percent support. This finding reflects research by Statistics New Zealand which found that the environment topped a list of things Kiwis consider as defining to New Zealand.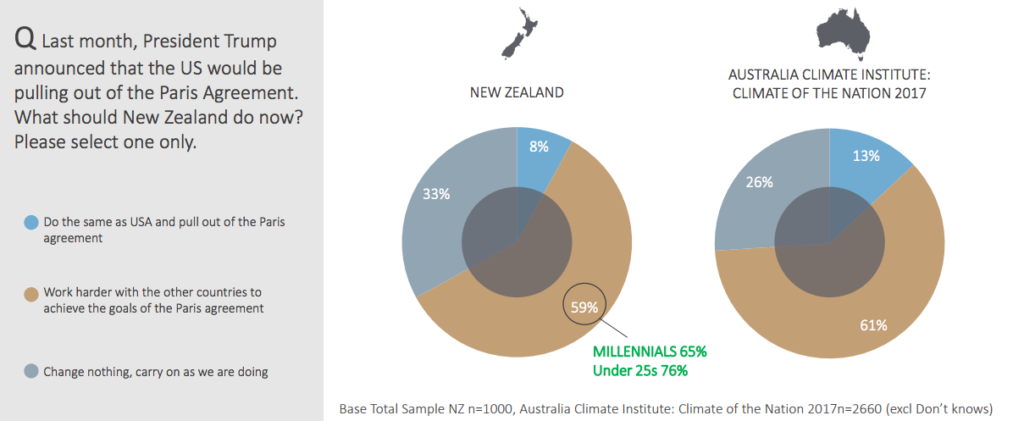 Our research comes hot on the heels of the Parliamentary Commissioner for the Environment's latest report Stepping stones to Paris and beyond: Climate change, progress, and predictability which calls for emissions reduction targets to be written into law. The Commissioner's recommendation has been well received by business leaders from the agriculture and energy sectors who have stated strong support for the economic certainty provided by legally binding targets.
Our research backs this up, indicating New Zealanders are increasingly united in our commitment to the Paris Agreement. Moreover, six in ten Kiwis believe, in light of the US withdrawal from the accord, that we should in fact work harder with other countries to achieve the goals of the Paris Agreement.
Seven in ten Kiwis are comfortable with the current carbon reduction targets that have been set by New Zealand as a signatory to the Paris Agreement, yet one in five think our emission reduction targets are not ambitious enough and could be even higher than they are. Younger generations (under 35's) in particular support the strong and accelerated reduction of carbon to combat the effects of climate change.
Our research once again highlights the stark philosophical gap between New Zealanders over age 55 and those 18-54. Some eighty five percent of under 25 year olds feel the targets are about right or could be even higher. Compare this to the one third of over 55 year olds who think the current targets are too ambitious. Across all our questions, the younger respondents were, the more strongly they felt about New Zealand increasing its efforts to combat climate change. Those under 25 were significantly more likely to agree that measurement of economic growth in New Zealand (GDP) should include the impact of growth on the environment, significantly more likely to agree that New Zealand should be a world leader in climate change, and wanted our country to accelerate efforts and set higher targets.
These results are inline with international trends for the generation of millennials are in workplaces with decision makers they may not necessarily agree with on climate change and to drive change they need to take things into their own hands. This is a global phenomenon as younger generations are focused on improved health, work and life balance.
However, it is heartening to see that the population of New Zealand at large is increasingly accepting of the need for action. Two thirds of Kiwis believe New Zealand should be a world leader in finding solutions to climate change, and perhaps more strikingly, as previously mentioned, support the measurement of economic growth in New Zealand (GDP) to include the impact of growth on the environment, which would reflect a huge ideological shift in the way we account for growth and potentially open up a myriad of opportunities to lead accountability economic green growth internationally.
Our survey results show that New Zealanders want bold targets and action. Business leaders agree. Despite our 'clean and green' global brand, New Zealand is trailing many countries in our carbon reduction efforts. The Government is yet to lay out a clear plan for how we will achieve the targets we have set, let alone increasing our ambitions. In an interview with Radio New Zealand Climate Change Minister Paula Bennett said that it is not necessary to enshrine emissions reductions targets into law. However New Zealand's net emissions have been steadily increasing, rising by 64 percent between 1990 – 2015 and they show no sign of reducing within the current policy environment.
For a country that prides itself on being clean and green, our performance on the international stage is well below world leading and puts New Zealand at huge reputational risk. Our survey shows that a strong majority of New Zealanders want more opportunity and leadership, they are ready to up their game, and the policy environment needs to reflect this.