Urgent Couriers is one New Zealand's largest specialised, on-demand courier services companies. Founded in 1989 by managing director Steve Bonnici, Urgent Couriers has 25 per cent of the Auckland fast-delivery courier market.
Urgent's largest environmental impact? A "no brainer" according to Bonnici "with all those cars driving round out there". As fossil fuel burning transportation based business leaving a fairly sizeable carbon footprint is an unfortunate, but necessary part of Urgent's courier services. "Initially we thought there wasn't much we could do". But as marketer, Bonnici saw sustainability as a potential differentiating point. Managing sustainability and reducing Urgent's environmental impact has since been at the core of Urgent Couriers since the late 1990s. Urgent's catch phrase is now 'faster, smarter, greener" and the company is continually looking for ways the company can improve its overall sustainability and mitigate or offset carbon emissions associated with its courier fleet.
In 2007 the company joined the carbonZero programme offsetting all driver emissions making Urgent New Zealand's first and only carbon neutral courier company and the first to achieve carboNZero Cert TM status. As part of the programme Urgent Couriers voluntarily off-sets both the greenhouse gas (GHG) emissions from its contractor couriers as well as all of its company owned vehicles.
Bonnici thinks reducing emissions is a financial no brainer for any company and no business should think it too difficult or expensive to implement a GHG emissions reduction plan. "No matter what the nature of the business or amount of emissions, reducing greenhouse gas emissions makes good business sense, and it's good for the environment as well". Setting the industry standard in the sustainability space, emissions from Urgent's vehicle fleet are minimised in the following ways:
Introduction of Smarter Technology: GPS and automatic dispatch technology has improved the efficiency of the fleet in the reporting period, allowing smarter, more efficient route and job planning, resulting in fewer kilometres travelled on each job – saving fuel and money.
Low Emission Vehicles (LEV): Urgent Couriers has changed the vehicle fleet to more modern, lower emission vehicles (LEVs) such as the Honda Jazz -significantly reducing fuel consumption. To facilitate vehicle uptake into the new LEVs Bonnici financed couriers into the fleet on 100 percent loans. Lower emission vehicles now account for 87 per cent of the companies fleet and this figure is still steadily rising.
Carbon emissions measurement and offsetting programme: Urgent Couriers measures its emissions and has them independently audited. To demonstrate its commitment to accounting for its true environmental impact, the company also purchases carbon credits to offset all remaining and unavoidable emissions from Landcare Research's carboNZero Cert TM programme.
Alternative Courier Modes and Driver Efficiency: Urgent also uses of cycle couriers when practical and assists its contractors with maintaining its vehicles to ensure they run efficiently.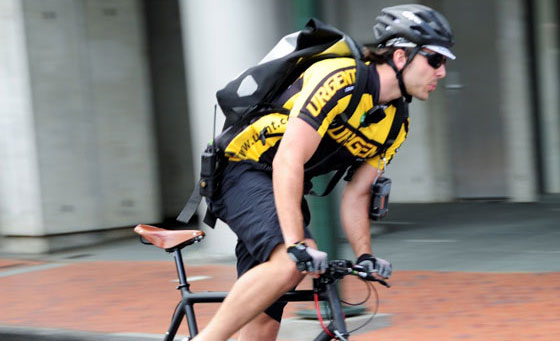 Other sustainability initiatives reducing Urgent's carbon footprint include carefully managing and monitoring energy consumption and waste output for its head office, and partnering with the Auckland City Mission to volunteer its courier services for major appeals collections. Urgent also provides staff with free gym facilities and health checkups to keep staff healthy, active and well.
For Bonnici, it's all about getting the business model right first and making small steps that ultimately deliver financial rewards. While some of Urgent's sustainability initiatives such as its carbon off set programme costs money, most have lowered the company's fuel energy costs and increased efficiency resulting in more sustainable income for drivers.
In addition to enhancing drivers' back pockets, Urgent's sustainability focus has produced several great spinoffs for the company in terms enhanced brand value. "Our differentiation in a crowded market is well worth it" says Bonnici. "It would pretty much be a brand assassination exercise if we decided not to do it now because it is so intrinsically linked to our brand – people recognise us as the carbon neutral couriers".
Urgent is rewarded for its sustainability initiatives by custom from those looking to decrease their own environmental footprint. Bonnici says its carboNZero certification status has attracted new customers and allows Urgent to network with like-minded businesses and be a preferred supplier to companies striving to become more sustainable themselves.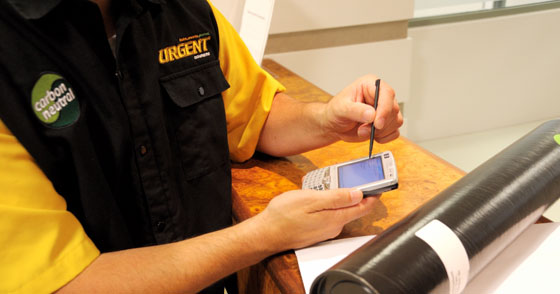 Urgent has also received a host of awards on the back of its sustainability initiatives. These include winning New Zealand's Sustainable Business Network Award's Trail Blazer and Medium Sized Business categories. Urgent also cleaned up as the overall winner at the 2010 NZ Sustainable 60 Awards.
Testament to Urgent's bottom line success through sustainability, in 2010 while the country struggled to come out of the recession, and its customers sought ways to reduce expenses such as freight, Urgent Couriers retained its market share – and crucially driver viability. This was all while its competitors engaged in aggressive price cutting actions.
While environmental sustainability is core to Urgent Couriers' philosophy, Bonnici believes enacting sustainability is a vital lifeline for any Kiwi business intending on securing long-term competitive advantage – especially those with an international focus. "It's only a matter of time before companies will be required to become aware of their emissions and reducing them- this is particularly important for future generations to ensure long-term sustainability".
According to Bonnici becoming carbon neutral demonstrates that it is possible for a large carbon emitter to take responsibility for, and to reduce, its environmental impact while reaping financial rewards. "While others wait for leadership, Urgent Couriers demonstrate it every day: commercial excellence underscored by a considered response to their social and environmental impacts."
More Info: Urgent Couriers