Establishing native forests on a large scale is far easier said than done, and there are many examples of costly but disappointing native forest regeneration and planting schemes. Dr David Bergin is one of New Zealand's most experienced native forest scientists and practitioners. His Ten Golden Rules provide an essential reality check and starting point for anyone keen to establish new native forests.
Issues with large scale reforestation
The Ministry of Primary Industries with its One Billion Trees Programme (1BT) and the Climate Change Commission (CCC) have advocated for large-scale establishment of permanent native forest to help New Zealand achieve its goal of being carbon-neutral by 2050 and to improve environmental, social, and economic outcomes. The expectation of successfully establishing tens of thousands of hectares of native forest a year is daunting.
There are major issues to consider when establishing native forest at such large scales using planting or natural regeneration. I have seen many examples of unsuccessful planting programmes, most due to not getting the basics right and especially a lack of the commitment and resources required to manage plantings over several years until at least canopy closure. A degree of realism is required in developing and implementing policies for successful establishment of native forest at scale. We do not want to over-promise and under-deliver.
Based on over 40 years of experience and using a similar format to a recent paper, ten golden rules are proposed to help policymakers, advisors and practitioners increase the success of large-scale native forest establishment in New Zealand.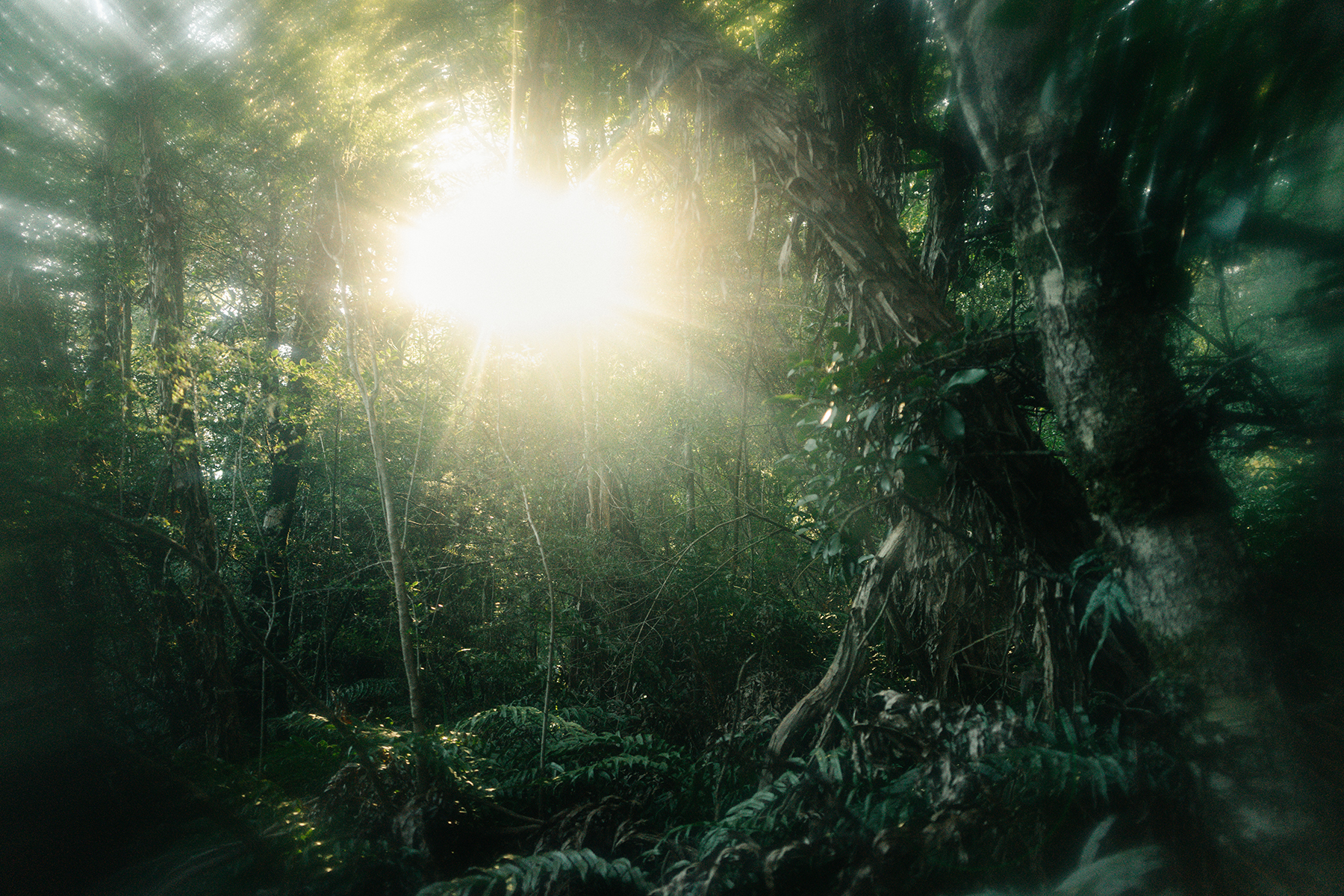 Ten golden rules for establishing native forest
1. Protect existing forest ecosystems first
We need to look after what we have left and build from there
Eighty-five percent of New Zealand was clothed in native forest before the arrival of humans. Deforestation has had devastating environmental impacts. While 28% of our land is still in native forest, most of this is on upland sites not suited to other land uses. Much of this is highly modified and in decline or threatened due to introduced animals, invasive weeds, and biosecurity issues such as myrtle rust.
Even more significant is the almost total loss of lowland forest from productive landscapes now dominated by agriculture, plantation forestry and urban sprawl.  Remaining forest is often limited to degraded fragments.
As part of a holistic restoration programme for New Zealand's native forest, we need to protect and enhance what we have left as repositories of local biodiversity, and pragmatically, as sources of seed and birds as vectors for restoration programmes. This includes fencing, pest animal and weed control, and by planting linking fragments to form corridors across agricultural and urban landscapes.
2. Identify appropriate areas for establishing native forest
Where is the problem, where is the land?
There are over one million hectares of marginal hill country. The Climate Change Commission (CCC) indicates most of this would benefit from reforestation. While exotic plantation forestry has often been the default option, there is increasing concern about the impacts of clear-fell harvesting on steep land. Together with long-distance haulage from remote locations to ports and mills, this makes exotic forestry on marginal hill country not only environmentally detrimental but also marginally economic or indeed uneconomic. Permanent native forest may be the best environmental  option for much of this land but is it realistic to expect tens of thousands of hectares of less profitable or uneconomic pastoral land to be retired from grazing per year for conversion to native?
There are also many opportunities for more native forestry in productive lowland landscapes further supporting current restoration programmes. These include enhancing existing remnants, establishing corridors linking remnants, planting riparian zones to improve water quality, establishing shelterbelts and shade trees, and extending recreational and amenity areas.
Priority areas need to be identified in collaboration with landowners, communities, iwi, and agencies for ramping up establishment of native forest and to be resourced accordingly.
3. Engage with landowners
Providing incentives for landowners is pivotal to any hope of land use change
With a proposed 25,000 hectares to be established in permanent native forest per year (CCC), the major hurdle will be convincing landowners to commit to large-scale conversion. Without buy-in by landowners, the area of marginal hill country and riparian zones required for establishing native forest at scale will not eventuate. While many farmers see the benefits of reforestation on less productive land, why should they retire pastoral land that continues to provide some income and adds to their bottom line? There are also significant ongoing costs too, so it is not just forgoing some income.
Many of the ecosystem services provided by native forests – reduced sedimentation of waterways, flood mitigation, carbon sequestration, improved water quality and biodiversity values – accrue more to downstream landowners and the general population than to the landowner retiring or planting the land.
The economic and environmental case for changing land use to native forestry needs to be made to landowners. How can we make permanent native forest cover pay? Incentives potentially include:
some form of biodiversity credits as promoted byTrees That Count and others
carbon credits
industries based on non-timber forest products such as honey
in the long term, the option of selective harvesting of high-value timber under a continuous cover forestryregime whilst retaining high forest values.
Equally is the need to engage with all stakeholders in any discussion about large scale land use change to more permanent native forest including local communities, iwi, managing agencies and the general public.
4. Work with nature and time – natural regeneration
What can we do to help nature do it for us?
Despite many years of research into reducing the establishment cost of natives, the cost of blanket-planting native forest is still about 10 times that of planting radiata pine. In reality, it is not feasible to restore tens of thousands of hectares of native forest by planting alone. New Zealand's native forest has a remarkable ability to regenerate naturally. So, what can we do to help nature restore marginal land and riparian areas to native forest?
An understanding of the natural successional processes in native forest can guide us in how we can assist natural regeneration of native forest in degraded landscapes. Most sites will require some combination of fencing to exclude grazing stock, control of pest animals including those that predate on our birds and reduce seed production and spread, control of invasive weeds, and supplementary planting to provide seed sources for tree species that have become locally rare.
Assisting natural regeneration is far cheaper and easier than planting and is the only practical option for large-scale reforestation of permanent native forest. Succession back to native forest can be hastened by strategies such as planting 'seed islands' – groves of key canopy tree species that will attract birds. Mimicking nature in the selection of hardy shrub species as nurse cover, will in time allow later successional high-forest tree species to be introduced, either via planting or natural regeneration (if seed sources are nearby).
5. Get serious with planning, resourcing, and time scales
We need to lift our game in planning, resourcing, and implementing native afforestation
If we are to take up the advantages of economies of scale, we need to get serious about planning and supporting the infrastructure required for large-scale establishment of native forest. This is not a business for community groups alone – we need professionals involved at all stages, including ecologists to determine what is required to promote natural regeneration, and practitioners experienced in planting natives and controlling weeds and pest animals. Community planting is suitable for small, accessible sites, but large-scale planting and remote areas requires contract planters experienced in native planting and management. I despair at any notion that a major lift in establishing more native forest can be done by our already hard pressed volunteer community.
So, let's get serious with the business of increasing permanent native forest. This includes:
the need to start planning early including practicality of planting vs regeneration,
seek advice of restoration ecologists and experienced practitioners who have a track record of successful establishment of native forest on sites like yours,
order seedlings from native plant nurseries with a history of providing good quality eco sourcedstock, and
develop a management plan suited to your site, objectives and resources.
Paramount to success is an understanding that natives require extended and additional maintenance compared to exotic forest and that this essential post-planting care needs to be planned and resourced so that it is economically sustainable.
6. Get the basics right
Most native plantings fail due to lack of attention to the basics
Do your homework. There is a lot of information out there as well as local experience in planting and managing native forest for multiple purposes. In my 40 years of applied research with experience in auditing dozens of planting projects each year, I find there are still too many planting projects where the basics of good planning, site preparation, use of quality seedlings of appropriate species, good planting technique, and timely management and monitoring have not been thought through and adequately resourced. Check out successful local restoration programmes and find out how they did it, including issues encountered and pitfalls they avoided – warts and all!
For the inexperienced, test by establishing a small trial first before expanding to a larger scale. This will quickly provide you with a realistic indication of the commitment and resources required to successfully establish native forest. With this experience, you can expand your planting programme in subsequent years. While you are building up valuable information from a small-scale pilot, ensure the remainder of the site to be planted is in a holding pattern (e.g., continued grazing) that will maintain it ready for restoring forest.
Don't put all your eggs in one basket.  Plant different sites over several years to spread risk and avoid major losses due to factors like drought. Some factors can come out of left field and damage your plantings, so take time to find out what the issues will be.
7. Give nurseries a fair go
Native plants don't materialise overnight – ramping up production needs time and resources
Even though natural regeneration may take the heavy lifting for the tens of thousands of extra hectares proposed to be established in native forest per year, planting will still need to be a major component. Native plant nurseries have seen boom and bust cycles in planting and are reluctant to expand to accommodate any increase in plant production without forward ordering and deposits to ensure they are not left yet again with unsold stock. The recent survey of native plant nurseries and action plans by the New Zealand Plant Producers Incorporated (NZPPI) highlights the challenges facing the industry with many nurseries expanding their business in the past few years, and some with capacity to grow further. However, the overall challenge faced by the industry in scaling up requires supply chain coordination between landowners, industry organisations, nursery sector and government.
The question of support for start-up new community and iwi-based nurseries versus providing support for those existing native plant nurseries interested and with capacity to expand production is also one of many issues. We have all seen how competitive the native plant nursery is even for long established nurseries like the Taupo Native Plant Nursery and Oratia Native Plant Nursery, both closing just as the Billion Trees Programme started. And there are smaller community nurseries struggling to maintain quality and retention of skilled management and workers once the initial start-up capital has been exhausted. We need to avoid a race to the bottom in producing low-cost plants at the expense of good quality eco-sourced seedlings to meet requirements of planters.
Nurseries require at least 12 months notice to ramp up production and for some of the slower-growing tree species, at least two years lead time is needed, longer in southern regions. Multiple species are often involved with different seed collection times and with annual fluctuations in seed crops, so start talking to nurseries early.
On top of this, there is the need to ensure planting stock is of high quality, eco-sourced and fit-for-purpose in terms of the right species for the right site planted at the right time. It is up to those paying for the seedlings and funding the planting to check seedlings are meeting requirements. You get what you pay for – cheap, small or end-of-season stock may be a bargain but may not survive on your site.
8. Monitor success
Assessing performance provides insight into how to do it better
Systematic recording of the performance of your planting project is essential to determine whether your restoration initiatives are meeting objectives. This information will help you modify management practices to improve success and provide you with a track record demonstrating your success to funders when seeking further support.
Monitoring needs to be done from the day after planting – there may have been a rabbit or deer that took out your palatable species within the first 24 hours, so you need to know what the issues are as they happen, not six months later when evidence of how seedlings died has long gone. Timely weed and pest animal control before your planted natives are swamped by weeds or eaten by animals can only be scheduled using a well-planned monitoring programme.
The success of planting programmes should be measured on what has successfully established at least two years after planting, or better still when canopy cover has been achieved, rather than on how many seedlings were planted during the working bee! Be flexible – modify your management based on the performance of last year's endeavours.
9. Thinking of innovative solutions? Test them out first!
It's OK to think outside the square but be wary of those that have a deal for you!
Many different options including high-tech ones are being promoted for reducing the cost of establishing native forest. It is good to keep an open mind and to look for site-specific solutions using local resources and site factors to assist successful planting and encourage natural regeneration. But be wary of new technology as the saviour – it is often over-rated, expensive, energy-hungry to produce, potentially polluting, and impractical on a large scale – and often promoted by those wanting to sell you something! The best option with a new product or method is to test it out on a small scale first. This allows you to determine if it will be practical and cost-effective before implemented at a larger scale.
Many innovative ideas, while site specific, are not high-tech. These include:
the successful use of gorse as a nurse for regeneration of native forest as demonstrated by Hugh Wilson and his team at Hinewai Reserveon Banks Peninsula.  . But it can be site specific too – gorse mixed with aggressive vines like blackberry and old man's beard can persist for decades
grazing can be a tool to help establish the relatively unpalatable manuka, kanuka and totara on steep hill country
establishing 'seed islands' to enhance establishment of diverse high forest on a large scale is also worth exploring as part of large-scale reversion
and there is a lot of debate and unknowns about the potential for using exoticssuch as pines and eucalypts as a method of establishing native forest, especially with carbon in mind.
There is considerable interest and research underway in direct seeding, drones to deploy seed and seedling bombs, and biodegradable pots for raising plants in nurseries to reduce plastic waste. In addition, there are a myriad of consumables such as stakes for relocating planted seedlings, tree protectors to reduce rabbit browse and increase shelter on exposed sites, weed mats and mulches to reduce soil water loss, fertilisers to boost growth and hydro-gels to extend moisture availability in dry periods. Some of these have proved their worth on some sites. For your site, it is good to see 'with' and 'without' comparisons of such add-ons in planting trials or test them yourself first on a small scale and compare with your standard practice. These extras take time to implement in the field, come at a cost, and may need maintenance and retrieval to reduce pollution. So, check they will provide you with greater success.
Consider easier solutions. For instance, if rabbits and hares prove impossible to control completely, then consider planting a larger proportion of less palatable species to get initial cover, or see if regrowth of tall grass, while not swamping your plants, deters rabbits – they don't like wet backsides!
10. Keep your ecological gains
Ongoing resourcing is essential for sustaining ecological gains
The practical challenges and costs of the long-term management of existing and regenerated native forest are high and continue long after establishment, in fact will never stop. Unfortunately support for the costs of pest and weed control, fencing and maintenance is limited after native forest has been restored. We become complacent thinking the job is done, but maintenance and management of our restored and existing ecosystems needs to be sustainable – back to Golden Rule 1.
Funding sources are critical as a source of ongoing funds for the maintenance of new and existing healthy indigenous forests and their long-term sequestration of carbon, and contribution to biodiversity and freshwater ecosystems. Funders often want to fund something new rather than maintain existing projects yet our ecological gains must be sustainable and resourced accordingly. Once pest animal and weed control stops, ecological gains are quickly lost so it is imperative that long-term funding strategies and mechanisms are developed to maintain healthy, diverse restored indigenous ecosystems as habitats for our endangered plants and animals on both private and public land.
Establishing native forest requires integration
Successful large-scale establishment of native forest will depend on working with nature and better integration of those involved. Encouraging natural regeneration can only be done in tandem with pest animal control to prevent damage of establishing seedlings, working with Predator Free NZ, neighbouring landowners, iwi and local communities to boost bird populations and seed production for a diverse forest ecosystems, selective weed control to remove or reduce the most aggressive and persistent exotic species, and undertaking targeted supplementary planting to bring back once abundant species now locally extinct or scarce.
New Zealand's forests are remarkably resilient. They have survived aeons of changing climate and geological and volcanic catastrophes but now they need our help, something that takes time – years or even decades. Restoring a fine cloak of native forest over our whenua requires us to work together, work with nature, and take the time.
Dr David Bergin
"Restoring a fine cloak of native forest over our whenua requires us to work together, work with nature, and take the time.