Although international maritime transport is considered to be the most energy efficient mode of mass transport, contributing to a mere 2.7 percent to global CO2 emissions, the UNFCCC note that further improvements are required for energy efficiency and emission reductions due to the predicted growth in sea transport associated with increasing growth in world trade. SkySails answer this need through its innovative solution to reduce emissions through the use of a wind propulsion system.
It was flying a kite on a beach one day that entrepreneur and founder of SkySails, Steffan Wrage, came up with the idea of kites to develop, produce, and sell an internationally patented wind propulsion system for cargo ships based on large towing kites. "Turning wind into profit," the Hamburg-based company, SkySails' slogan echoes its key process for facilitating sustainable development in the shipping industry. Currently, the company is the market and technology leader for automated towing kite systems and aims to enable maritime shipping to profitably harness renewable wind energy by using towing kites. As the International Maritime Organization (IMO) estimates, up to 100 million tonnes of carbon emissions can be eliminated worldwide every year through the use of SkySails technology alone.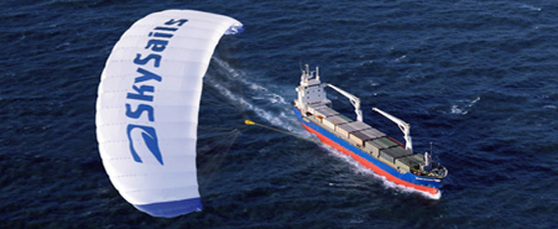 So how is Skysails linked to New Zealand you might ask?  It is undisputed that the 2003 America's Cup brought with it a number of opportunities to New Zealand.  One of the spinoffs, as Ove Misson highlighted (Skysails Project Manager) was promoting New Zealand's reputation as having the sail making technology and experience equipped to tackle such a task of engineering these kites that would be able to pull an oil tanker approximately 30,000 tonnes through the ocean.
North Sails New Zealand Ltd, a worldwide leader in sailmaking, is a partner to SkySails and a critical connection to New Zealand.  With it, the partnership to SkySails brings many new opportunities not yet harnessed for New Zealand and its associated hurdles for transporting produce to international markets, particularly, the European food produce market.  As identified in the New Zealand Herald's article, a study conducted by Landcare Research found that 41 percent carbon emissions was attributed to the shipping for all European exports.  Such figures alarm New Zealand's vital European market due to sensitivities to "food miles".  Locally based company, Zespri has been working with Skysails in response to such market demands.  This is a great opportunity for New Zealand because we are internationally competitive in our food produce.
North Sails contact Ove Misson highlights this was a "great opportunity to get into as sail makers" that opened their horizons and market requiring innovation and pushing the limit of sail making and importantly, contributing to environmental sustainability.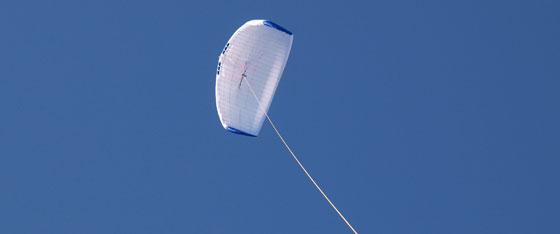 The SkySails themselves can be built up to 600 m2 and are required to be built strong enough to pull around 30,000 tonnes.  As such, unique fabric canopy is used made of polyester manufactured in Germany.  The shape mimics that of a paraglider and by means of dynamic flight manoeuvres (flying a figure of "8") the SkySail can generate from five to 25 more power per square meter sail area than conventional sails.  Hoistin the towing kite to altitudes between 100-400 metres and flown using a auto pilot that can detect the angle of the ship and the wind direction.
Motorsailing using SkySails these ships can save from 10 to 35 percent on energy costs.  Under the optimal wind conditions, fuel consumption can be halved.  Currently Skysails offers towing kite propulsion systems for cargo vessels with an effective load of between eight and 16 tonnes and is developing for up to 32 tonnes with a planned product for up to 130 tonnes.
However, with all the benefits outlined, the shipping industry is very price sensitive, sais Ove.  He noted that with recent decreases in fuel prices, ships are more likely to rely on fuel than the kites for energy.  Nevertheless, Skysails are aiming for energy savings of 35%.  At $ 16,000 per day that is substantial.  However, as Ove highlights, shipping companies don't worry about the costs of fuel as they pass these costs onto the next intermediary or customer.  Skysails then highlights that a major challenge for them is acceptance to use the kites to save on fuel.  The major driver to instil acceptance has been relying on global pressure for environmental sustainable practices to convince change in policy and practice.  But at the end of the day, it comes to the figures and weighing those benefits and costs.
Tackling the world's shipping industry one kite at a time, SkySails' focus was on fuel saving; however, this industry is complex, multi-scalar and very political.  Nevertheless, SkySails is innovative and has opportunities to be harnessed, particularly for New Zealand internationally.
More information: www.skysails.info