Woodside Forest, North Canterbury, is one of the few commercial New Zealand forests with a long history of being managed on 'near to nature' forest principles for multiple benefits. The black beech resource has been selectively harvested under an approved management plan for many decades. Financial modelling indicates that the sustainable yield and revenue from the beech could increase markedly as the resource reaches its full biological potential. Woodside provides other landowners with an example of what is possible over the long term.
Woodside Forest is a small-scale integrated production/conservation forest located 11 km west-northwest of the township of Oxford, North Canterbury and 56 km northwest of Christchurch, New Zealand (Figure 1).
The 121 ha property comprises 82.3 ha of regenerating New Zealand black beech (Fuscospora solandri) forest, along with 26.7 ha of radiata pine (Pinus radiata) that was planted onto the parts of the property originally covered by heavy gorse.The current landowners (John and Rosalie Wardle) acquired Woodside in 1973.  At that time, the property was covered in scrub weeds such as gorse, low-producing pasture and remnants of black beech forest, which was severely modified by logging, wildfires and attempts at pastoral farming. Since 1973 the landowners have managed Woodside as a forest using multiple-use principles, i.e. forest management has both wood production and conservation objectives.
The landowners use the ecological characteristics of black beech to practice 'near to nature' forest management.  Along with harvesting black beech and producing beech honeydew honey, the landowners also grow exotic plantation forests, primarily radiata pine, under a unique continuous-cover silvicultural system.  Through the income from the forest, the landowners can sustain a livelihood while maintaining or improving both their black beech and radiata pine forests.  At the same time, they invest back into pest control and maintenance of indigenous biodiversity (both flora and fauna) on the property. Woodside Forest is covered by a QEII National Trust covenant, a legal agreement that protects the forest and its biological values in perpetuity.
Revenue from Woodside's black beech forests comes from harvesting selected trees, sawing suitable logs (both jobs undertaken by skilled contractors) and then seasoning the sawn timber on-site. The sawn timber is sold in air-dry condition, and low quality logs are converted to firewood.  There is also some income gained from selling dead trees or trees unsuitable for sawlogs as firewood.  This was an important early source of revenue for the forest owners, but has now diminished to a relatively low level.  Revenue from the honey operations can either be from renting out 'hive rights' to contractors, or the owners managing honey production and sales.
Here we analyse the economic performance of the black beech forestry and honeydew production at Woodside.  The analysis is based on a Master's thesis investigation carried out in 2017 by Michael Thornton-Pay, then a student at the NZ School of Forestry|Te Kura Ngahere.  It shows that the management of black beech forests practised at Woodside is both economically and ecologically viable.
Black beech forest management
Black beech is a disturbance-regenerating species, requiring the creation of forest canopy openings (most commonly caused by wind) for it to successfully regenerate.  This makes black beech particularly suitable for silvicultural management since it will regenerate readily after forest harvesting.
The landowners have modified their silvicultural systems at Woodside since its acquisition in 1973.  At first, the forest was harvested using small coupes (harvest areas) of less than 0.5 ha.  The current management system now focuses on harvesting individual (often wind-thrown or dying) trees or small groups of trees.  This approach provides better protection to regenerating seedlings and results in higher wind stability of residual trees.
Thornton-Pay1 developed a forest growth model to predict forest growth and investigate sustainable harvest volumes for Woodside's black beech forest over the next 30 years.  Woodside's beech forest currently contains an estimated 9,000 m3 of standing wood volume.  The forest is still recovering from the effects of historical sawmilling, wildfire and grazing, and as the stands within the forest develop, their harvestable volume will increase.  In another thirty years total standing volume is predicted to be 22,000 m3 assuming there are no harvesting removals over that time (Figure 2).
This volume increase forms the basis for a sustainable level of harvest removals, since harvesting in Woodside's beech forests can legally be undertaken up to any volume providing it does not decrease the standing volume of the beech forest.
It was proposed that the best combination of high productivity (timber harvest volume) while improving the overall standing forest volume would be achieved by only cutting annually 70% of the predicted available volume of mature trees.  This strategy would result in a steady increase in sustainable harvest volume removals, from 262 m3 /year in years 1-5, up to 565 m3/year in years 26-30 (Figure 3).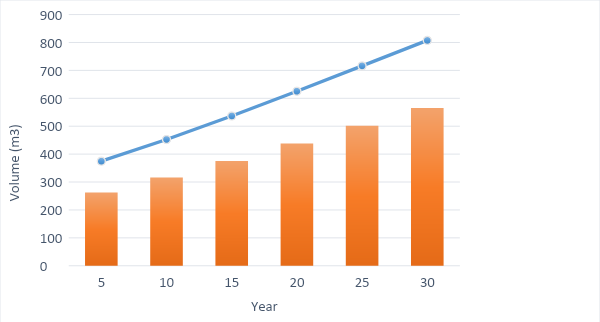 Honey production
Black beech is susceptible to infestation by tiny scale insects that excrete excess sugars from their consumption of beech sap in a form known as honeydew. Beekeepers in New Zealand have traditionally utilised beech honeydew for feeding bees outside nectar flow periods. Extensive use of beech honeydew for this purpose was made in Canterbury from the early days of commercial beekeeping.  Since 1968 honeydew honey has gradually become accepted in New Zealand as comparable to floral honey, and an export market to Europe has become established.
Forest management revenue and costs
Here costs of forest management are deducted from the revenue from black beech sawn timber and honeydew sales to estimate the net revenue from these operations at Woodside.
Costs
Land costs included rates and a rental for the land. Land value was assumed to be $5000/ha, a realistic level for low-producing hill country farmland in the South Island at the time of the study.  Labour costs include a full-time manager/forester to oversee the Woodside operation.  A before-tax annual salary of $60,000 for beech forestry and $10,000 for honey operations was assumed for this role.  This annual salary can be seen as the personal income that would be earned if the property were managed by an owner/operator. Farm accountants might call this 'farm owner drawings'.
The annual salary cost also includes time spent on control of invasive pest and predator populations such as wasps, rats, brush-tailed possums, wild cats and mustelids.
The direct cost of silvicultural (forest management) work for beech was charged at $50/hour. The honey sales activity was charged at the same rate of $50 /hour, for an estimated 1000 hours of contract time.
Revenues and net returns
Revenues were calculated using predicted log harvests and current hive numbers, multiplied by current market unit prices for black beech sawn timber and honeydew honey or else hive rights.
Total annual costs were deducted from revenues to calculate net annual returns for each forest management activity (Figure 4). Based on returns to productive land area for each activity, beech timber and honey sales result in positive net returns after land, salary and direct labour costs were deducted.  Sale of hive rights only was not as profitable as honey sales.  The much higher profit earned from beech timber reflects the value added by sawing and drying the sawn timber before it was sold.  The (most profitable) combination of producing beech sawn timber with honey sales resulted in an annual net return of $29,708 initially and increased to $118,809 by year 30.  Note the only increases in costs with increased harvesting are the direct costs of logging, sawing, seasoning and marketing the black beech.  Therefore, while sawn timber revenue only doubles over thirty years (in proportion with the doubling of harvest removal volumes), total costs do not double, and the net profit therefore increases by five-fold.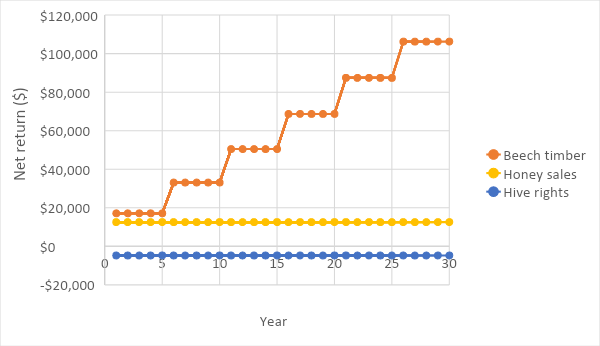 Discussion and conclusions
Woodside's black beech forests provide a valuable resource for promoting biodiversity and generating income in support of biodiversity outcomes as well as private use.  The beech forests have the potential to sustainably increase the level of net income they generate from sawn timber by five-fold in thirty years.
A financial analysis of the Woodside operation highlights the importance for profitability of beech timber being milled and seasoned on-site (rather than sold as logs).  Income from honey would also be much higher if the operation were directly managed by Woodside's owners (rather than leasing hive rights). Of course, the owners also need to develop additional skills to conduct or oversee sawmilling and drying operations, and honey operations. In the case of small niche markets like sawn beech timber and honey, this often extends to sales and marketing expertise as well.
Woodside generates sufficient revenue to support a reasonable income (equivalent to a manager's salary), but this depends on selling sawn beech timber (rather than beech logs).  The price and volume production of sawn beech timber are most critical for Woodside's profitability.  The predicted increases in harvest volume are reasonably reliable, as they are based on forest measurements and a conservative growth model. Less certain is the ability to market the increased volume of sawn timber that will potentially be produced in 30 years' time.  Black beech is a specialty timber used mostly for decorative and joinery purposes.  While the current market for black beech sawn timber is steady, it is not clear that market demand (and therefore price) will match a considerably larger supply.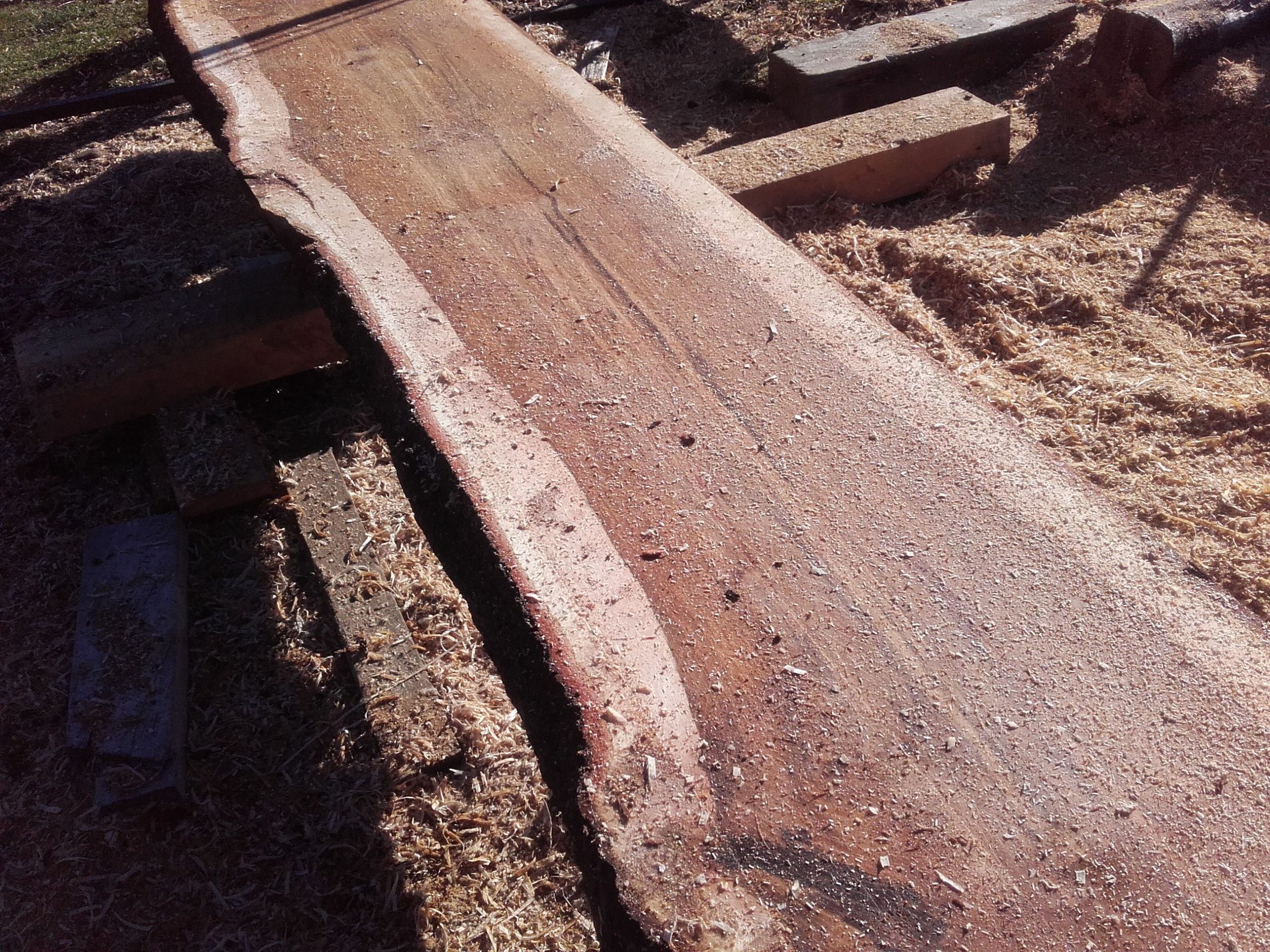 It is attractive to manage a regenerating forest in this way because it offers the opportunity to increase harvest in the future, in a way that would not be possible with a mature natural stand. In addition, forest management costs are much lower than would be incurred if the forest was established by planting.
Honey inputs (honey price and hive numbers) are also important for Woodside's profitability.  Including biodiversity management objectives therefore presents an opportunity cost for Woodside since increasing beehive numbers would raise profitability but would also compete with native biota for the honeydew resource.
Notwithstanding uncertainty about future sawn timber markets for black beech, Woodside Forest demonstrates what can be achieved financially from hill country that is economically marginal for pastoral farming.  This study suggests the financial potential exists for other landowners to adopt a similar multiple-use model to Woodside Forest, using both indigenous forest management as well as other forms of land use to earn a sustainable livelihood.