Digital Water is a smart system for managing water use in residential properties. The system achieves water conservation and protection goals that water users and utilities need by using the latest technology. The heart of the system is the smart control valve: this allows the water supply flow rate at each property to be adjusted and remotely controlled, and provides metering of water using the latest ultrasonic technology.
The system includes a touchscreen application allowing the consumer to monitor and control their water use from a smart phone or PC. For instance, the maximum flow rate to the property can be adjusted so that water is not excessively used. The system protects the home by monitoring for excessive use, from causes such as open taps that have been overlooked, failed plumbing or appliances, frost damaged pipes, malicious action inside or outside the property, etc. These actions give the home occupier or property manager peace of mind that conservation goals are managed, property damage will be prevented and that water bills will be fair and accurate.
Other applications of Digital Water will detect the smallest of drips from plumbing, allow timed water use, quota delivery etc. The smart valve may be used in zones around the home to control water use separately for kitchens, bathrooms, garden irrigation or at pools. Hot water is also protected, ensuring that heat energy is not wasted, saving additional costs.
The smart valve ensures that water is used efficiently at a property, and water waste is minimised. The precision ultrasonic water meter ensures that consumption is measured accurately. Using modern materials and technology, the valve is designed for a very long service life with no deterioration in performance or accuracy.
More and more people around the world are choosing to live in urban centres, there are predictions that two-thirds of the world population, or 5 billion people, will be living in cities by 2030. Many of these cities and regions are water stressed, meaning that available supplies cannot meet demand sustainably. Even if sufficient water can be sourced there can be high capital costs for storage, pumping and treatment. Efficient demand management can defer these costs, and avoid contentious debate over water extraction.
Water utilities have the challenging task of providing sufficient safe water to support life and enable prosperous cities, at an affordable price. In some regions there are predictions that monthly water bills will exceed those for electricity. Residents and bill payers will inevitably look for actions to address these concerns.
With more people choosing to live in apartments there is an important principle that each unit should use water fairly. The Digital Water system enables this with a smart valve at the supply point to each unit, so that water demand is controlled and can be billed individually.
The control valve ensures that any water leaks do not affect other unit occupiers – a constant worry – and that empty units may have their supply shutoff. This application provides property managers and occupiers confidence that each unit is paying fairly for their water use, and that leaks are immediately detected and controlled.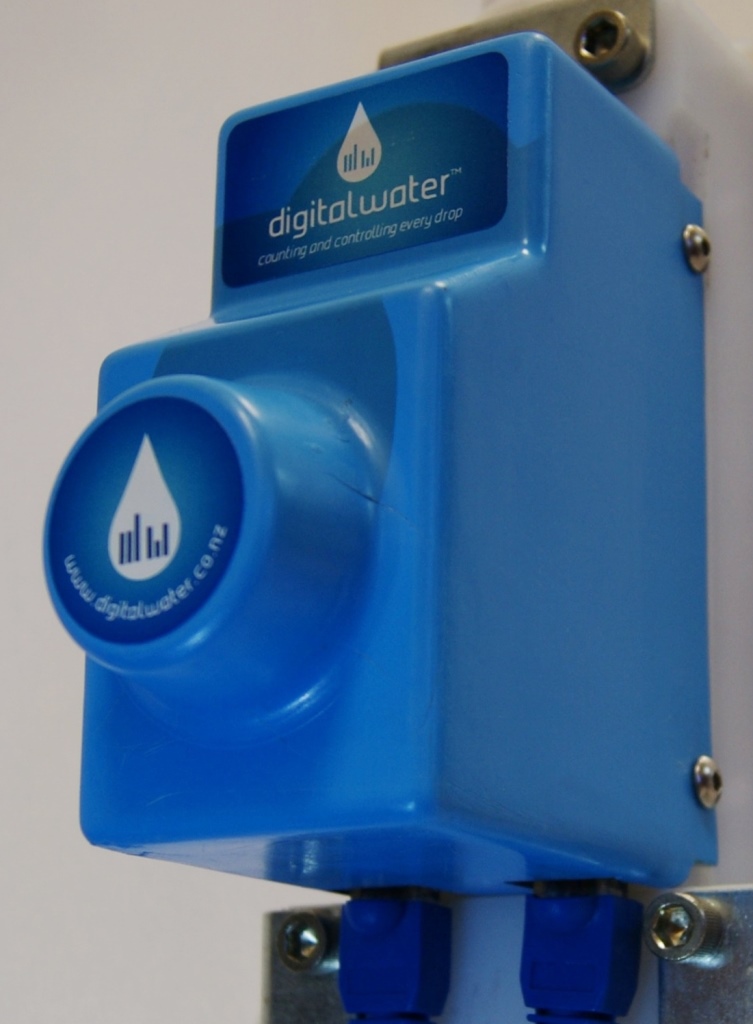 There are understandable concerns over the introduction of technology with these capabilities, so the Digital Water system ensures that information and controls are given to the occupier and property owner. In circumstances of an overdue bill, the water utility can implement a restriction, which will reduce but not cut off water supply.
Digital Water is a significant improvement on current water meter technology that ensures consumers, property owners and utilities can monitor and manage water use at every property. The combination of consumer applications and connection to cloud services allows continuous monitoring.
The system can be integrated with utility systems where appropriate using wireless communications. The combination of new technology and consumer focussed operation enables conservation goals to be achieved for the individual consumer, property owners and water utilities.
Digital Water is leading the world in smart technology for residential water supplies. The development team believe that the system is superior to any alternative water meter technology because of the demand management capability, and the focus on water conservation and protection. The system is developed entirely within New Zealand and is comprehensively patented.
Digital Water is a division of Buteline Ltd, a leading New Zealand company that proudly designs and manufactures an innovative plumbing system for domestic and commercial applications. The experience gained from supplying plumbing products for over 35 years has been the impetus to develop Digital Water.