Matt Yallop is feeling battered and bruised, but triumphant.
It's 48 hours since Yallop and his FarmShed Labs colleague Fraser Smith received word that their FlashMate cow-in-heat detector won the International Innovation award at Fieldays, and in the interim he's been neck-deep in R&D work, retrieving devices from a herd in the Waikato. Think cow dung and blows to the side – dirty work, but someone's got to do it.
"If you're going to be solving farmers' problems, you have to live in their world, smash yourself around in there," says Yallop. "That's where all the insight and value comes from."

The problem that FlashMate solves is of significant economic consequence to dairy farmers. When a cow comes into standing heat, there is a tight 30 hour window in which to breed it. Every missed pregnancy means reduced profit due to lost milking time, additional breeding and labour costs. By contrast, DairyNZ calculates that even a 15 per cent improvement in detection is worth $300m a year to the industry.
Yet until now farmers have relied on an experienced eye to make these crucial decisions, aided by low-cost mount indicators such as scratch patches and tail paint. Given growing herd sizes and greater use of unskilled labour, it's no surprise that detection efficiency is on the decline.
FlashMate combines technology similar to the touchscreen of your cellphone and an intelligent microchip in a limpet-like package attached adjacent to a cow's tail ridge. Once in place, the device scans for specific patterns of riding activity (cows in heat are typically mounted by their herd mates, a response triggered by hormones peaking prior to ovulation), flashing red for 26 hours to indicate that the animal is ready for artificial insemination. Should the insemination fail, the unit flashes red again at the next opportunity, otherwise it flashes green to indicate the cow is likely to be in calf.
The response from farmers has been enthusiastic, says Yallop.
"At Fieldays, it got so much attention it was ridiculous. Farmers were selling it to other farmers in front of us!"
You can't blame him for savouring the moment, because it's been a long time coming. In fact, Yallop and Smith began kicking around the basic concept of FlashMate back in 2008. But it was a case of great idea, poor timing: they would have to wait a few more years for the kind of technology needed to deliver a truly low-cost solution.
It was a 2012 fact-finding trip to Iceland that encouraged them to try again. Yallop, who trained as a geologist but later worked for the now defunct government investment entity TechNZ, wanted to know how a country of 320,000 could have been so successful at scaling high-value tech businesses. In Iceland, he learned that innovative technology was often applied first in the fishing industry, where that country has a significant competitive advantage.
He returned recommitted to "trying to solve some of the big challenges in our dairy industry" where New Zealand has its own edge. By now their timing was immaculate, with microchips and batteries having become smaller, more powerful and considerably cheaper than in 2008.
The pair spied a yawning gap in the market between the basic tailpaint-style aids, and movement-based solutions such as neck collars and ankle bracelets which were expensive and required lots of consulting and installation time. FlashMate would have to be low-cost and easy to use, not to mention accurate and reliable.
One challenge: developing a device that wasn't constantly being knocked loose when a cow was mounted. Early prototypes were activated mechanically and designed to be attached on the sacral tail ridge, and consequently suffered the same retention problems that bedevilled other low cost solutions.
"We've got a great device, great accuracy, if only the thing would stay on the animal! So how do we do this differently? We decided to switch to a touchscreen approach, which doesn't require force.
That allowed us to get it off the tail head and down the side of the animal, which straightaway solved a lot of our retention problems. But we still had to figure out a way to keep them on moulting animals."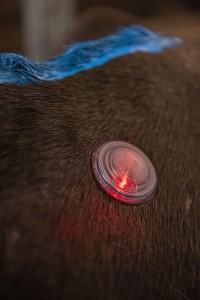 Their backgrounds came into play here. Yallop grew up surf-lifesaving at Piha, while Smith began his working life as a freshwater biologist. Looking to the marine world, they found their solution in the holdfast of bull kelp and the shape of limpets in rock pools around the surf zone. The result is a dome that anchors like a limpet to animal hair, with 90 per cent retention across the first round.
It's an aspect of FlashMate that Yallop likes not only for the obvious practical reasons, but in sustainability terms. Instead of having patches of PVC littering farms, the domes mostly stay on until the end of the breeding season, when they are removed, popped in return envelopes and sent back to base to be disposed of responsibly. "We recover what we can. All the metals get recycled, for example. We're having conversations, too, about rapid breakdown plastics and so on."
Arguably more significant are the efficiency gains for farmers using FlashMate. Yallop says that the device has shown it can improve six-week in-calf rates and tighten up the calving spread. As well, it's shown heat in so-called 'silent cows'. "They're the ones you can't mate, because they don't show heat. But they do, it's just more subtle and our devices are picking it up."
The result for farmers, he says, is they're not carrying as many non-milking cows. "It's all about waste and efficiency, and if you can achieve the same output with fewer cows …"
The bonus is that farmers are getting help at what has always been one of the most stressful times of their year. As Yallop points out, anyone can read a flashing red light. "I was talking to a farmer who said 'This is the first year I've been able to take time off during breeding'. It's life-changing for these guys."
What's next? By partnering with Gallagher, FarmShed Labs has a proven channel to market here and across The Ditch. "The next step is to push on internationally. We need to explore other potential markets."
Meantime, he won't be shirking the rough-and-tumble of on-farm R&D. "It's that old Chinese proverb: 'Anything is possible, but everything is hard!"