According to a report prepared by the American Union of Concerned Scientists 'Motor coaches and trains are a carbon bargain' .Their 2008 study notes that 'a couple boarding a motor coach will cut their carbon nearly in half, compared with driving even a hybrid car. And if they take the motor coach rather than flying, they will cut their emissions by 55 to 75 percent, depending on the distance they travel.' With long distance electric vehicles, including buses and trucks, now in prototype phase the differences in carbon emissions could soon be even greater . Already there are hydrogen powered commuter buses and, as shown on the Pure Advantage website, in New Zealand electric powered rubbish trucks and hybrid diesel/electric commuter buses.
As ManaBus chairperson, Sir Brian Souter, said in a 2014 Radio New Zealand interview (while promoting his then new start up), a long-distance bus traveller's carbon footprint is much less on a purely diesel bus than travel by plane or car. According to Sir Brian, when riding on his double decker bus between Wellington and Auckland a passenger will use just three litres of fuel (just 15% of the fuel burned by a passenger travelling by air and 25% of the amount used if travelling in a small car).
NIWA notes that 2016 was the warmest year on record for New Zealand, based on their seven-station series which commenced in 1909. In light of this finding, New Zealand's target to reduce greenhouse gas emissions by 30 per cent below 2005 levels by 2030 seems even more important. Given this goal, one might assume that bus travel would be given a high priority in New Zealand environmental and transport policy. But even the political party arguably most tuned into climate change issues, the Green Party, in its Green Transport policy document, does not focus on long distance bus travel. If another government target – that of reducing social and economic inequalities – was also considered, the case for backing this transport option becomes even stronger. Yet, the infrastructure supporting bus travel makes it a poor cousin of other types of long distance travel.
For a variety of reasons a number of tourists and New Zealanders continue to travel by long distance coach. One is simply that New Zealand no longer has a long distance passenger rail system. For those on low incomes, which includes a disproportionate number of Maori and Pacific peoples as well as new migrants, bus travel is often therefore the cheapest means of long distance transport. For others, coach travel offers the opportunity to enjoy 'slow travel' and to take in the varied rural landscape and get a taste of New Zealand's small towns. For a small, but hopefully growing number bus travel is a commitment to reducing their carbon footprint. But for some New Zealanders, mainly the young and the elderly living in small towns, it is often the only way of travelling from town to town or accessing major cities.
Most travellers, whether from overseas or New Zealand, are impressed with our landscape. But far less impressive is the infrastructure supporting bus travel, especially the toilet facilities. The lack of toilets for freedom campers and other tourists in the regions is currently on the national agenda. But toilets for bus travellers need attention too.
On a recent trip from Auckland to Paekakariki I saw several examples of 'terrible toilets'. The first was in Auckland at the downtown Intercity terminal. Currently you can catch a bus in Auckland's CBD to destinations all over the North Island. The main long distance bus depots are handy to other forms of transport, to hotels, and to the lower cost end of the accommodation market, including YHA, YMCA, YWCA and various backpackers. The toilets for Auckland's Intercity depot are provided by Sky City Casino. In 1996 Sky City was required to build the current bus station on the Hobson Street side of its complex as a condition of the resource consent to construct the hotel and casino development.
According to a recent report by Radio New Zealand, Sky City now favours removing the bus station. Sky City's reluctance to support the Intercity facilities is evident. The couple of times I have used these toilets they were cold, dismal and dirty. Not a great advertisement for Clean, Green New Zealand! When I mentioned this to InterCity staff they said they received frequent complaints about them. The Auckland depot is probably Intercity's busiest and for many overseas travellers arriving in Auckland it will be their first example of a bus depot. A poor first impression!
The ManaBus/Naked Bus terminal is currently located in downtown Auckland although quite some distance from the Intercity terminal. Not great for people with disabilities or the elderly to transfer easily between long distance bus companies.
Still, according to Radio New Zealand, this situation may well worsen. Soon there may be no downtown Intercity bus depot in Auckland. Similarly, ManaBus have been told to leave their downtown terminal by 2018.
Perhaps all southbound bus travellers would have to make their way out to the Manukau bus depot. There they could wait in the cold at the roadside shelter which currently serves both Manabus and InterCity. While this shelter has a roof it has open sides letting through any wind.
In Wellington, all the long-distance buses set off from, or close to, the central railway station. The station itself is close to the suburban bus transit point. Similarly, it would seem sensible that all long-distance buses from Auckland depart from Britomart, Auckland's main transport hub. 
From Auckland there are three main long distance bus options. ManaBus focusses primarily on long distance travel with limited stops. To enable it to do this the coaches generally have on board toilets. But it is InterCity and ManaBus owned Naked Bus that service New Zealand's small towns. Unlike ManaBus these buses do not have onboard toilets.
Travelling south from Auckland on an Intercity bus, almost all of the bus stops are very basic, mainly open shelters, or even worse, no bus shelter. This is particularly unpleasant during winter or on a windy or scorching day. Nor do most of them have nearby toilets, making it difficult for passengers to quickly hop off for a toilet visit when the bus stops to pick up or let off passengers.
Hamilton's transport centre with good toilet facilities and a warm waiting room shows that local authorities and bus operators can provide good facilities.
Unfortunately, it gets worse again going south. Ironically, the most surprising, and disappointing, port of call is the prime tourist destination of Taupo. The bus stop for both InterCity and Naked Bus is a couple of hundred metres from toilet facilities making their access a challenge for all but the young and able bodied, especially given often tight timetables. One set of graffiti-covered, unheated toilets is free and one is the 'Superloo' which charges a small fee. Passengers cannot get to either of these toilets under cover.
I have watched elderly and disabled people hobble their way to and from the free toilets. I have also heard bus drivers grumbling about the inconvenience of these so-called 'conveniences'.
Although it is an important interchange, Taupo's main bus shelter is also unheated. It is not a good place to wait in cold weather. There is also no electronic board indicating if a bus is on time. Yet, people get on and off buses here going up and down State Highway 1. It is also the change point for other destinations such as Rotorua, Tauranga or Napier.
At Turangi the bus stop is again a hundred metres from the toilets, despite space for a bus to park directly outside these facilities. On one trip, passengers were informed that there would be no more toilet stops south of Taihape!
Even the Bulls stop, where buses stop to pick up and drop off passengers, can be difficult. On one trip, the InterCity terminal toilets were closed and passengers had to go into the neighbouring Subway toilets or hike off down the road to the nearest petrol station.
No one would put up with such facilities when travelling by air. Politicians and planners passing through the Koru Club are unlikely to have an understanding of the shoddy facilities facing bus travellers.
Long distance bus travel is likely to become more important to rural communities as New Zealand's small towns shrink. Not only are many small towns declining in population, but the average age of people in these areas is increasing. At some point many older people may lose their drivers licence or just feel challenged driving into large cities for events such as specialist medical appointments. They may not have relatives living nearby who can provide transport. One sad feature of getting old is that the ability to travel long distances without regular toilet stops tends to diminish, as does the ability to do a quick sprint to a far distant toilet. Inequality in New Zealand takes many forms, one being inequitable access to good quality transport. Regional development often focuses on improving road or air links. However, the Green Party wants to strengthen the national rail network to help create 'resilient regions'. This is a very worthy goal for rail freight but for passenger travel buses provide a more flexible option serving more small towns than trains. Buses would benefit from the money already invested in the 'roads of national significance'.
Of course the lack of good bus shelters and toilets is not just a problem for long distance buses. I live on the Kapiti Coast. It is an area that already has a large older population. But while it is long on the elderly it is short on good quality bus shelters. Often older people – and those younger people catching buses – have to stand in the rain and the wind when waiting for a bus. Yet millions of dollars have been spent on an expressway to allow cars and trucks to travel more quickly through this region. Evidently money can be spent on road transport, but facilities for bus travellers appear difficult to fund.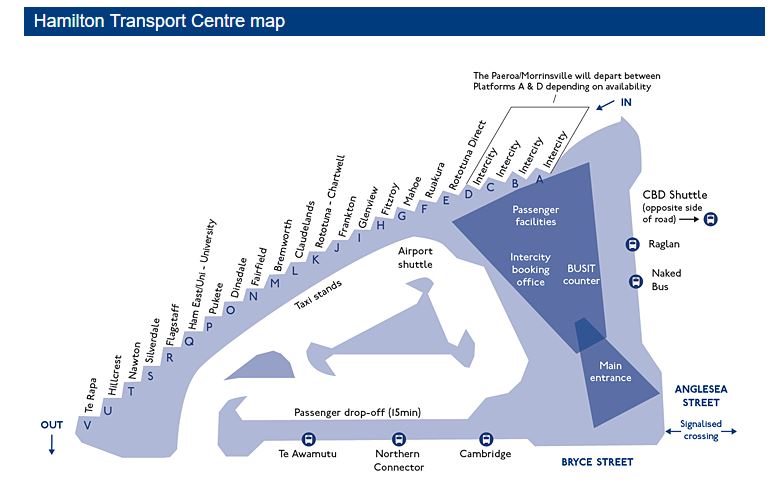 As an obvious contribution to tackling climate change and reducing social inequalities, we should be encouraging more people to use buses, whether it be for long or short distance travel. Far more attention needs to be placed on making this a pleasant experience. One improvement would be for all long-distance buses to have on board toilets. At some point in the near future these buses should be electric – or hydrogen powered – rather than diesel.
It also seems sensible that, in partnership with local authorities and central government, bus companies should ensure that there are good quality waiting rooms, toilet facilities and perhaps soon rapid battery/hydrogen chargers next to each major bus stop. A good first start would be a downtown terminal in Auckland where travellers can easily transfer between long distance bus companies, as well as between local buses and trains. These main bus stations and smaller bus stops do not need to be dreary, graffiti covered structures that might be associated with bus travel. Internationally, there are excellent examples of attractive bus stations and bus stops. Just as tourists visit Hundertwasser Toilets in Kawakawa so could the long-distance bus network become a feature of New Zealand tourism, with well-designed stops enhancing small towns.
In New Zealand, long distance bus travel is one important way to help reduce carbon use and overcome inequalities. Currently, the supporting infrastructure seems more like that seen in developing countries. First world travel requires first world travel infrastructure!