Waste to Value
Waste to Value is the means of taking the waste we generate and repurposing it to serve a social purpose.
Waste is value today. As the circular economy prepares to put the world's 1.3 billion tonnes of waste to work and extract value from its US$4.5 trillion economic opportunity to 2030, New Zealand must capitalise. By designing and developing better waste-to-energy, bioenergy and resource recovery infrastructure, New Zealand could make massive efficiency gains. Embracing sustainable and efficient processes is not really a choice. It's an economic imperative.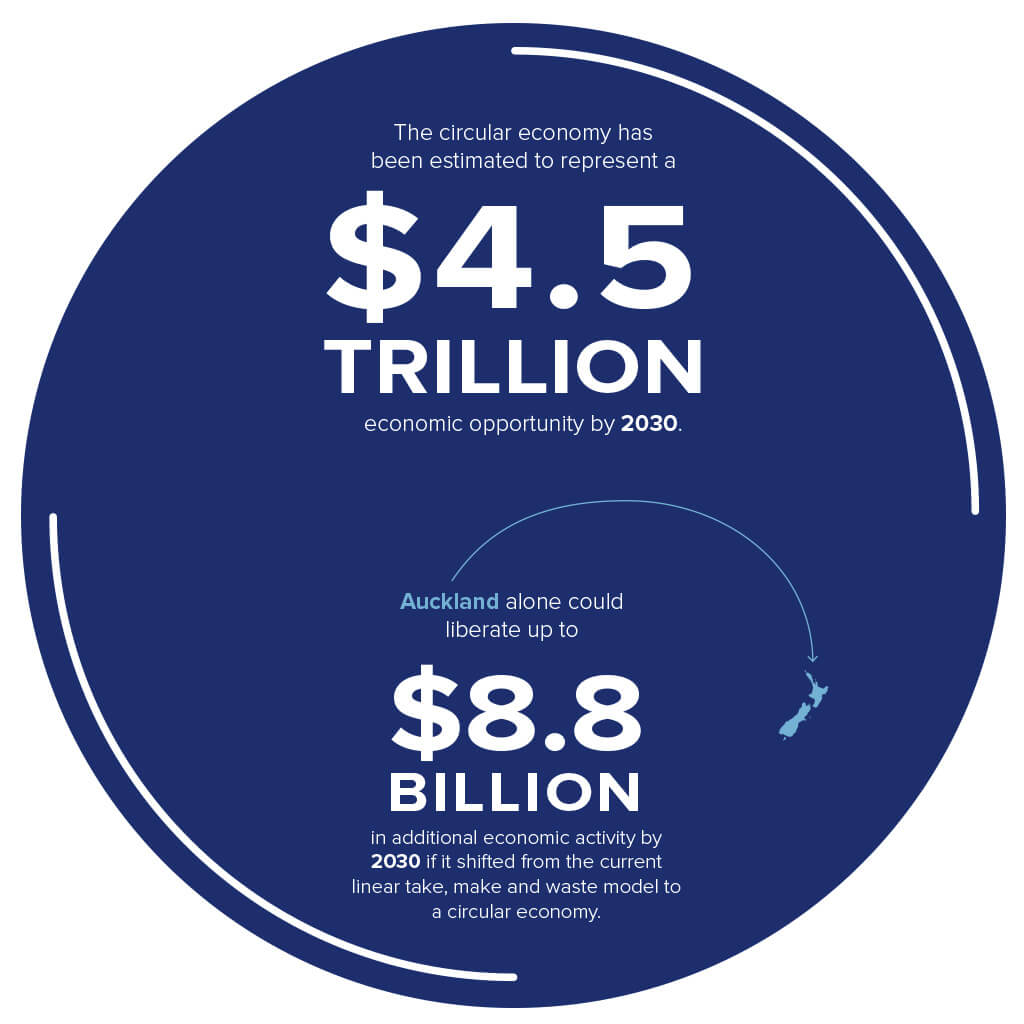 Waste in New Zealand, as around the world, has typically been viewed as a problem – and usually one that can impose burdensome costs on business. But that mindset is undergoing a revolution. In New Zealand, both startups and incumbents have been rethinking their relationship with waste and responding, for example, to the economic opportunity of turning Auckland's 1.6 million tonnes per year of domestic and commercial waste into cash. Startups are embracing traditional waste-to-value practices such as recycling but also taking advantage of new ways of extracting value from waste through product as a service, modular design, lifecycle stewardship and the sharing economy. As raw material costs continue to rise, conscious consumers bang their drums louder and barriers to overseas markets increase, choices are often being made for business. A 2018 report highlighted the need for New Zealand to improve in the food, transport/logistics and construction sectors especially. How precisely? By designing for a circular economy (instead of retrofitting existing systems), generating more demand, investing in infrastructure and making circularity desirable.
Pure Advantage understands the benefits of showcasing how circularity is domestically desirable, but it also knows that while the data is new, the damage is still being done; all whilst the missed opportunities mount up. Applying policy pressure will be needed. For example, increasing the Waste Levy from $10 to $140 per tonne could deliver ~$500 million to the economy per year and create up to 9,000 jobs. Other top-down measures could also be considered, such as banning the most troublesome single-use materials or implementing fiscal incentives to reward recycling (for example changes to GST).
A fundamental change in our collective thinking has begun: linear waste is out; circular value is in. But for status-quo inclined companies, thinking is one thing, doing is another entirely. The Waste to Value Advantage requires concerted cultivation to help move New Zealand from thinking to action, en masse. A challenge, yes, but by identifying the efficiencies, opportunities and benefits across the entire waste spectrum — from food to biomass to transport — Pure Advantage looks forward to promoting this transition from our head to our hands.
The 2018 updates to our original Advantages were written and designed by John Lang, founder of Consult Climate.
Reference:
A circular economy for Auckland – scoping the potential economic benefits, Sapere Research Group, April 2018
SBN, The Circular Economy Opportunity for Auckland