Bioproducts
Bioproducts are materials, chemicals or energy derived from renewable biological resources.
New Zealand is endowed with millions of hectares of biological material. Yet we like to ship it offshore almost as fast as we cut it down — to the tune of about $5 billion per year. That figure sounds impressive, but Pure Advantage knows New Zealand can do better.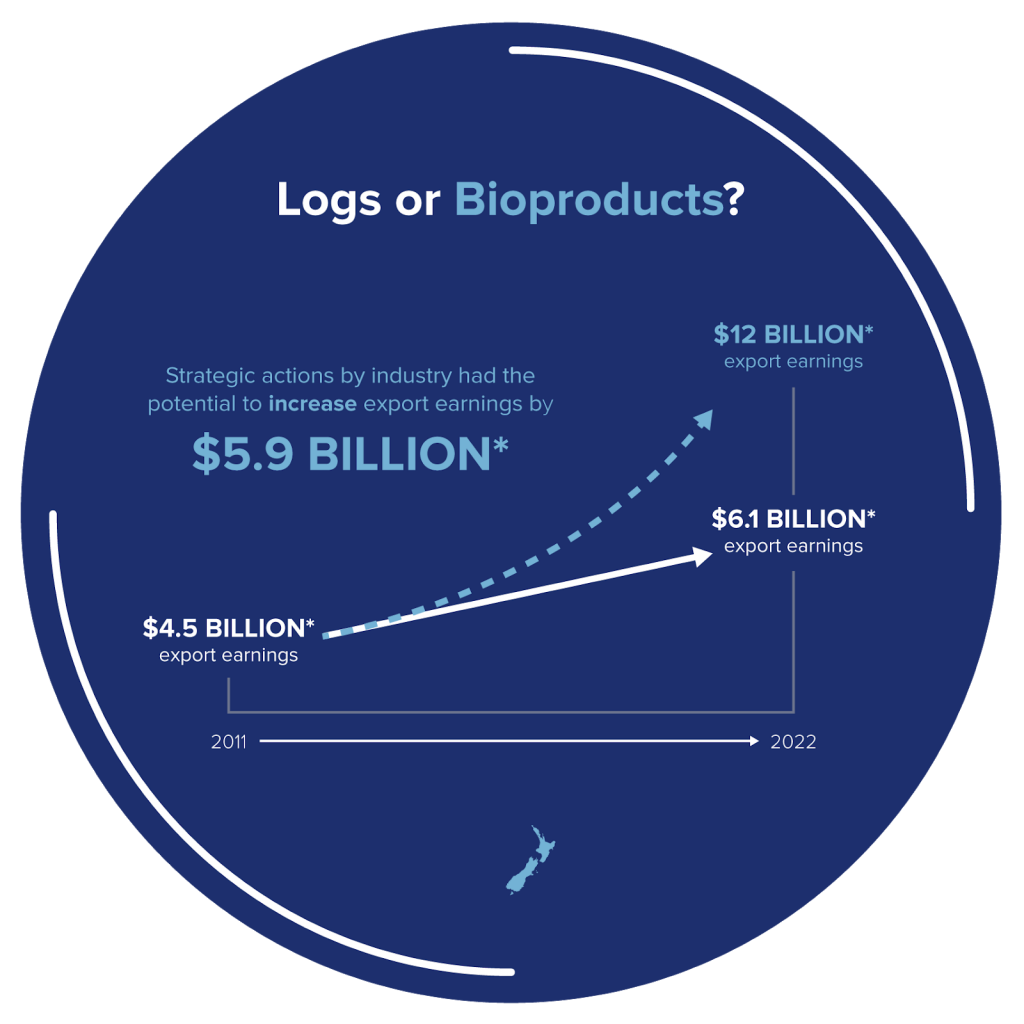 Internationally, the bioproducts sector is forecast to expand to over US$200 billion by 2021. PricewaterhouseCoopers puts the annual value of additional global opportunities in sustainable forestry at as much as US$300 billion by 2050. Given our impressive advantages in forestry — including expert knowledge, existing forest stocks and the potential for expansion — New Zealand must grab a bigger piece of that pie. Research suggests two areas for especially strong returns and value-enhancement in Aotearoa: engineered wood products (especially CO2 modified wood and wood fibre composites), and fuels and chemicals (e.g. biofuels). Meanwhile, the product we rely upon — logs for export — sits at the bottom of that value scale.
We enjoy an above-average entrepreneurial culture in New Zealand, but according to The 2017 Global Cleantech Innovation Index, we lag behind in cleantech-specific drivers. We can blame limited private financing and lacklustre public R&D expenditure all we like, but the point is, we can do better with what we've got. For example, New Zealand's annual bill for imported oil stands at $5 billion — we still import close to 60 million barrels of oil a year from the Middle East alone. It doesn't have to be that way. By bringing key industry players together to grow, utilise and better manage our forestry stocks, New Zealand can build upon its natural forestry advantage to contribute to energy security, for example, via biofuels.
With a coordinated national forest strategy to secure adequate supply, we could also become giants in domestic bioproducts. By any sensible account, forestry will play the leading role in offsetting our agricultural emissions to 2050 and honouring our commitments under the Paris Agreement. Pure Advantage will not stand idle and let a million hectares of new planted forest grow into lumbering logs. Rather, New Zealand can join those materials-science researchers and entrepreneurs around the world pioneering "super woods" that are bullet proof, nanoplatelets that replace high-emitting concrete and lignin-based polymers that replace oil-based plastics. Buildings and furniture will be joined by cars and even aircraft made of natural fibres sooner than you think.
The 2018 updates to our original Advantages were written and designed by John Lang, founder of Consult Climate.
Reference:
Woodco, 'New Zealand Forest and Wood Products Industry Strategic Action Plan' (Wellington, NZ: Wood Council of New Zealand, March, 2012), 6. (Pulled from 'Our Forest Future')