Biodiversity
Biodiversity is the variety of plant and animal life in a particular habitat.
As an international "hotspot" for biodiversity, we've gained and given aplenty. Pure Advantage knows we will gain and give more — with a bit of vision and some pragmatism.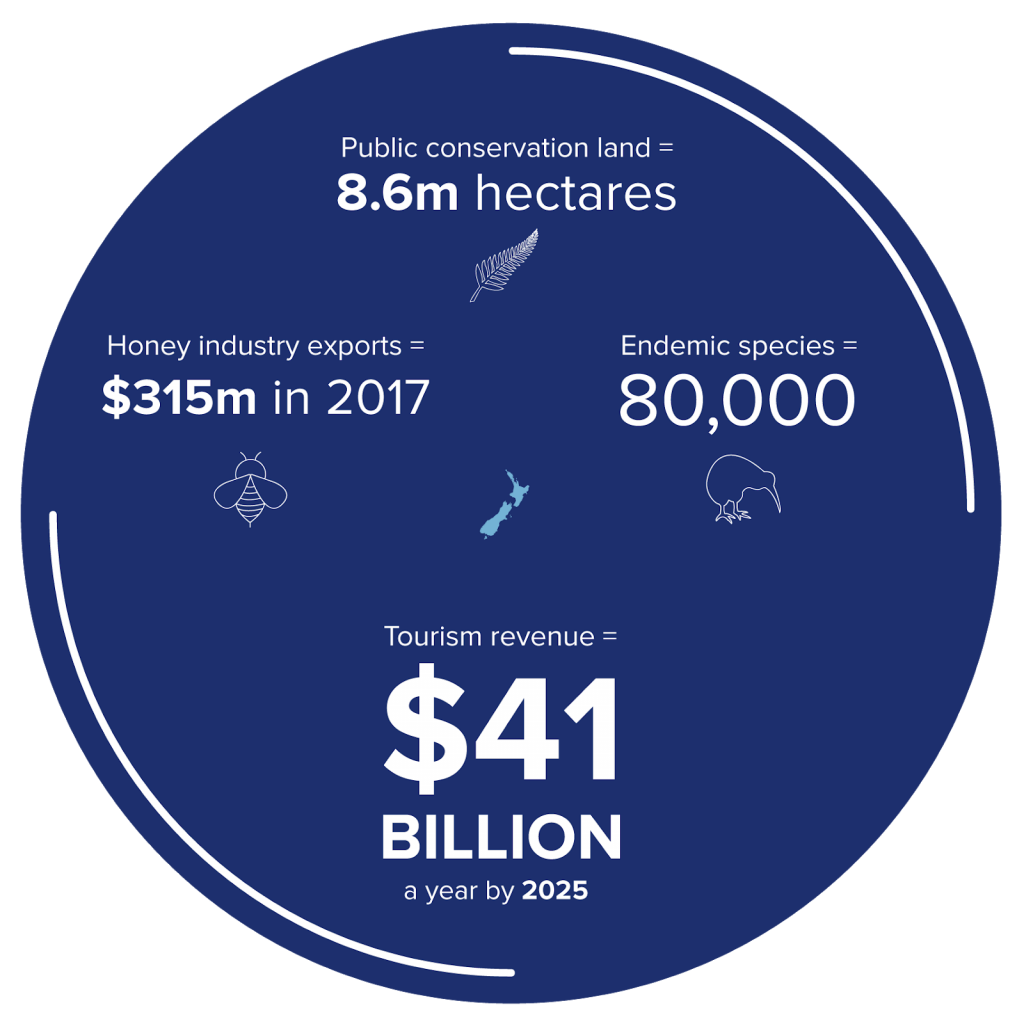 We've gained by providing world-leading biodiversity-supported ecosystem services to our dominant primary industries, including dairy, food, forestry and seafood. Tourism overwhelmingly relies on our natural taonga and New Zealand's unique flora and fauna; it recently surpassed dairy as our largest export earner. By 2024, foreign tourists are expected to number five million a year, and the amount they spend will reach $15 billion — up 40 per cent from 2017. Most importantly, biodiversity provides New Zealanders with an unrivalled quality of life, a sense of national identity and a yearning to preserve our home for future generations. In 2012, Aotearoa's 'ecosystem services' were estimated to contribute $57 billion to New Zealanders' welfare every year. But let's be honest, that's putting a figure on what's priceless.
We've also given. New Zealand makes a significant contribution to global biodiversity with an estimated 80,000 endemic species. A quarter of New Zealand is under native forest cover, 8.6 million hectares is public conservation land and our knowledge of conservation and pest control has resulted in gains in biodiversity beyond our borders. However, in order to continue giving, there is much to do. Actively managing pests in more than a mere percent of our conversation estate would be a good first step. Similarly, working with the private sector and protecting biodiversity on farmed ecosystems has become as pressing an imperative as any. Our collective attention must also reverse the biodiversity decline in many of our indigenous populations; The Duvaucel's gecko, the North Island weka and our freshwater Whitebait (to name but a few) are relying on that reversal.
Successfully implementing initiatives such as 'Predator Free 2050' and 'Cape to City' will help. Making good on Our Forest Future by discarding siloed thinking, and planting according to a strategy of "appropriate diversification" (especially on erosion-prone and marginal land) will also help. We'd give more by helping to address the dual problems of wicked climate change and biodiversity loss. We'd gain by enhancing biodiversity in forest canopies, eroded soils and degraded waterways, not least through the filtration of nutrients and reduced biogeochemical run-off. The trailblazing Trees That Count — an initiative based on Dr David Hall's design concepts, Pure Advantage's foundational support and developed and funded by The Tindall Foundation — leads that forest future.
Pure Advantage supports the Department of Conservation's Biodiversity Action Plan to deliver more bang for buck to alleviate pressure from humans, predators, weed invasions, land use and more recently, the intensification of indigenous vegetation clearance for farming. But it also seeks to supplement public strategy with the promotion of private sector action, for example in international conservation education and eco-tourism. As an upstream social and environmental advantage, biodiversity is often taken for granted by business. But for New Zealand to continue giving as good as it gets, this pure advantage requires special attention.
The 2018 updates to our original Advantages were written and designed by John Lang, founder of Consult Climate.
Reference:
https://tia.org.nz/about-the-industry/quick-facts-and-figures/

Read