Comprised of business leaders who believe the private sector has an important role to play in creating a greener, wealthier New Zealand, Pure Advantage is a not-for-profit that investigates and promotes opportunities for green growth. 
Against a gathering storm of population, climate and resource pressures, sustainable living has become an urgent challenge for everyone.
There is, however, a silver lining to this cloud – a growing awareness that environmental sustainability and economic growth are not mutually exclusive, and that significant opportunities await those who meet the challenge with speed, creativity and firmness of purpose.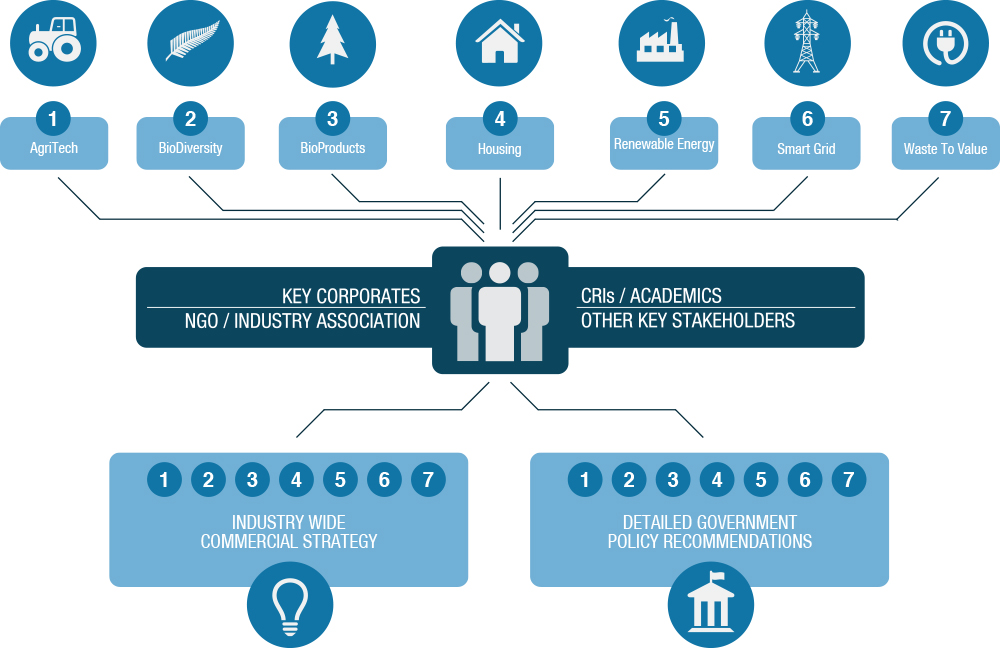 The natural environment plays a huge part in New Zealand's national character, our international prestige and the lifestyle we enjoy. We have a unique opportunity to take the lead in the global shift to green growth.
"New Zealand has an enormous opportunity to develop a high-yield, low-emissions agricultural system that would both increase national prosperity and contribute to solving a major global problem."
Professor Lord Nicholas Stern, IG Patel Professor of Economics & Government and Chairman of the Grantham Research Institute on Climate Change and the Environment, LSE.
New Zealand is widely perceived as a clean, green country, but the reality is there are gaps between our eco-friendly image, our economic aspirations, and our current modes of doing business. Pure Advantage seeks to close these gaps through a multi-sector communications strategy that champions the many benefits of green growth and plots a course towards achieving these.
Once New Zealanders fully understand the fact that environmental sustainability can and does catalyse economic growth, we will be better positioned to pursue opportunities to create wealth and skilled jobs while simultaneously conserving our natural resources and improving our environmental performance.
To realise these opportunities we need to act now. In 2011, New Zealand was ranked number one in the Global Green Economy Index assessment of 27 of the world's leading economies. In 2012, we had slipped to sixth and in 2014 we are ranked 18th from sixty survey countries. Similarly, in the 2006 Yale Environmental Performance Index New Zealand was ranked number one. In 2012, we were ranked 14th and in 2014 ranked 16th in perception yet 12th in performance.
Vision
Pure Advantage believes that through the adoption of transformative economic strategies based on green growth, the people and businesses of New Zealand will realize a healthier, wealthier future that is more sustainable in every sense.
Mission
To create and aggregate content that speaks to New Zealand's domestic and global green growth advantages. To ensure the Pure Advantage site becomes the primary destination for a national discussion about the long-term economic and environmental benefits of these advantages to New Zealand.
In 2012, Pure Advantage commissioned research by Vivid Economics (London) and the University of Auckland Business School to survey and assess the global green growth situation and help identify New Zealand's best opportunities in this arena. The initial result – New Zealand's Position in the Green Race – used existing local and international examples to focus attention on how, when given the right policy incentives, the private sector has a large and very important role to play in driving green growth.
A second macroeconomic report – Green Growth: Opportunities for New Zealand – expanded upon, and brought specificity and economic rigor to, opportunities identified in the earlier research. This second report marries the key economic advantages New Zealand enjoys with areas of environmental performance that need improvement. It shows that we can have the best of both worlds – but it takes leadership by our big businesses and politicians, significant investment and policy change to speed up the process. Download the full report, here.
Pure Advantage's research has not been driven by environmental idealism or fear of climate change. Rather, our reports are an accumulation of impartial economic data. They demonstrate that not only can New Zealand rescue itself from environmental decline, but that there is significant economic benefit in doing so.
"The global low carbon and environmental goods and services market is [estimated to be] worth $6trillion per annum."
Innovas, for the UK Government (2009)
We will also point out that our campaign has been charitably funded by our trustees alone. There are no corporate mandates or shadowy Government funding – just successful Kiwis interested in seeing a lot more successful Kiwis. 
Utilising the research, Pure Advantage has identified the following primary areas (Advantages) as New Zealand's best opportunities for green growth: AgriTech, BioDiversity, BioProducts, Housing, Renewable Energy, Smart Grid, and Waste to Value.
We're now in a position to communicate these opportunities to New Zealand, and cordially invite you to browse our abundant reports and resources.
We would also love you to assist us with identifying further valuable, feasible actions that NZ can take to help capitalise on these opportunities. If you have expertise to contribute, please join us at the Submittable page.